Cecelia Torres, Dancer, Designer, Arts Advocate
Cecelia Torres is inspired by life. A twelfth-generation Taoseña, she credits her parents Teodora (Montaner) and Arturo Martinez y Salazar with her love for the arts. Her mother, who gave her the gift of music and an appreciation for opera, was a pianist. Mother and daughter often gathered around the piano to sing and even sang in the church choir. Cecelia learned to ice skate and swim from her father. An innovative builder and contractor who built solar panels on the family's roof, he also taught her to read house plans for the buildings he designed.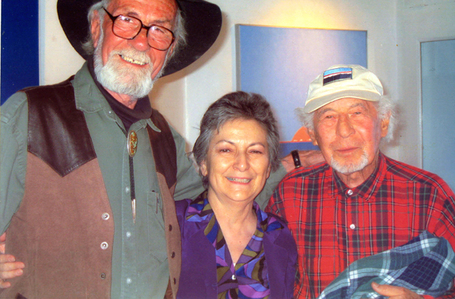 In her teens she was exposed to the many artists, starting with Cliff and Barbara Harmon, who came to Taos to study with Emil Bisttram in the 1940s and became friends with Cecelia's parents (as did Emil Bisttram). Her father met Helene Wurlitzer in 1947 through Taos opera singer Eduardo Rael, and designed and built an adobe home for her. This led to meeting some of the Taos Modernists, like Earl Stroh, Robert Ray and Tom Benrimo, who Mrs. Wurlitzer supported as creative artists. Cecelia recalls that her father gave modernist painter and sculptor Ted Egri his first job making tin wall sconces for a bar that her parents later opened. "When Ted said he didn't know how to do tin work, Daddy told him to learn, and he did." Eventually Cecelia's parents became acquainted with other modernist painters, including Louis Ribak and Bea Mandelman, who also came to Taos to study with Emil Bisttram at his Bisttram School of Art. Because of these relationships and her parents' friendship with Eulalia Emetaz, who opened La Galeria Escondida (Hidden Gallery) in Taos in 1947, Cecelia had a special introduction to the world of fine art. She remembers how exciting openings at La Galeria Escondida were, and the enthusiastic conversations artists conducted over new ideas they were exploring. Another institution played a strong role in Cecelia's life. In those days, her great-aunts lived west of Harwood Foundation (now the Harwood Museum of Art) housed a library. The house belonged to Cecelia's great-uncle Eliseo Gonzalez, first mayor of Taos, and the family rented rooms to Agnes Martin, Ted and Kit Egri and the Harmons, forming another thread of relationship with these early Taos Modernists. Cecelia remembers that the librarian Mrs. Toni Tarleton encouraged her to read the classics and ask questions. (Recently Cecelia wrote about one of her great-aunt, the author and historian Cleofas Jaramillo.)
At age six Cecelia began exploring her own artistic interests. She began dancing, studying first with Marie Wilson who taught basic ballet techniques and years later took her class to Denver to see a performance by the New York City Ballet Company. Afterwards Marie took her students backstage where they met the dancers, including Jacques de Ambois, Alicia Markova and Maria Tallchief. This experience caused Cecelia to pursue a career in dance. She partnered with flamenco dancer Vicente Romero and became so proficient that she later studied in Los Angeles with Jose Cansino.
The influence of Cecelia's Aunt Rosa, (her father's younger sister) led to an interest in fashion. An excellent seamstress who introduced Cecelia to beautiful fabrics, Rosa sewed annual school wardrobes that she based on her niece's design ideas. The summer before Cecelia graduated from high school she got a job with Martha Reed, who designed and created southwest styles. Cecelia already knew the basics of cutting patterns and sewing garments, and had spent summers sewing and making clothes with her cousin Josephine Bode from Abiquiu. From Martha she learned how to make broomstick skirts and other southwestern designs. The next summer Betty Roy, another southwestern designer, hired Cecelia and she modeled clothes for both Betty Roy and for Martha Reed. After Louella James' arrival in Taos, she opened her shop, Gay Nineties, that sold Betty Roy's designs as well as clothes designed and made by Cecelia. In 1955 Cecelia moved to Beverly Hills, California, to attend the French School of Dress Design.
In her two years there, she learned draft patterns and design clothes in the tradition of French haute couteur. Cecelia's talent showed. After finishing tailoring courses at Mary-Louisa Maison's school, the prestigious Lanz clothing line in Los Angeles offered Cecelia a job. Located at 6160 Wilshire Boulevard, Sepp Lanz and his partners sold ski clothes and sleepware inspired by designs from their native Austria. According to Christopher Scharff, son of one of Lanz's partners Werner Scharff, Lanz had one of the hottest dress lines in the early 1950s; young women had to have a Lanz dress, as popular then as Gucci bags are today. As it turned out, intense competition both in fashion and the world of dance put an end to Cecelia's pursuits in these arenas.
Upon her return to Taos, she dated and married Frank Torres. After Frank got his science degree from Highlands University in Las Vegas, New Mexico, the couple moved to Taos. Frank got a job teaching chemistry, math and physics at Taos High and Cecelia took care of their three children: Ramon Francisco, Raul Miguel and Maye Carmela (who later became, respectively, district manager for H&R Block, a building contractor, and an artist.) After the children were born, Cecelia taught flamenco at the Harwood Foundation. One of her most famous students was young Maria Benitez, another was poet, writer and literary publicist Willard "Spud" Johnson.
When Frank took a teaching position at Highland High School, the family moved to Albuquerque. Cecelia took more dance classes from Suzanne Johnston. She studied flamenco with Clarita Allison whose daughter Eva Encinas later founded the flamenco program at UNM. She also studied ballet and jazz dance in Albuquerque. In spite of her enjoyment of dance, Cecelia wanted more definition in her life. Frank encouraged her to go to school. He wanted his wife to develop her talents and gave her the confidence to accomplish her life goals. Cecelia earned a Bachelor of Art in psychology and anthropology at the University of New Mexico. This training served her well when the family spent nine years abroad in San Salvador, El Salvador, Quito, Ecuador, and La Paz, Bolivia. Frank served these three countries as the educational program director. He set up and implemented national programs for teacher trainers, supervisors, and for curriculum development. While in Ecuador, Cecelia completed her degree at the Andean Center in Quito.
Home from their last station in Bolivia, Cecelia went to work for artist Larry Bell and then for Mary Sanchez at Gallery A, where she learned how to run a gallery. A year later, Cecelia opened her own space, New Directions Gallery. She was going to hang adobes and hollyhocks in her gallery until Tally Richards, another Taos gallery owner Cecelia greatly admired, introduced her to the work of Gloria Corbett. Artist Larry Bell, who had once hired Cecelia as a secretary, told Frank of his interest in being represented at the gallery. New Directions Gallery became one of the few galleries at the time to show the work of abstract and modernist art. Besides Gloria Corbett and Larry Bell, Cecelia represented and gave exhibitions for abstract and modernist artists Tony Magar, Robert Ray, Keith Crown, R. C. Ellis, Ted Egri, Linda Tasch, Ann St. John Hawley, Cliff Harmon, John DePuy, Burrell Brenneman, and Natalie Goldberg. Cecelia's daughter Maye Torres who worked with Larry Bell, became a well known artist and also showed in the gallery. Cecelia opened New Directions Gallery on the plaza in Taos in 1988 and closed after seventeen years in March 2005.
She and her husband Frank (who passed away October 26, 2009) established a scholarship fund in 2001 in the name of Cecelia's mother in music. First the grant served graduating seniors from Taos High School in music, and later it evolved to include science. After closing the gallery, Cecelia focused primarily on acquiring art for New Mexico's Capitol Art Foundation in Santa Fe. She also serves on the Advisory Board at the Harwood Art Museum, an institution she has visited and supported since her youth.
by Elizabeth Cunningham and Dancer Dearing
Photo by Dancer Dearing, 1993. L-R John DePuy, Cecelia Torres, Ted Egri
Cecelia Torres's favorite sights and sites: Taos Plaza, the Harwood Museum of Art and the Taos Community Auditorium.