Cleofas M. Jaramillo, Author, Historic Preservationist, Businesswoman
(1878-1956)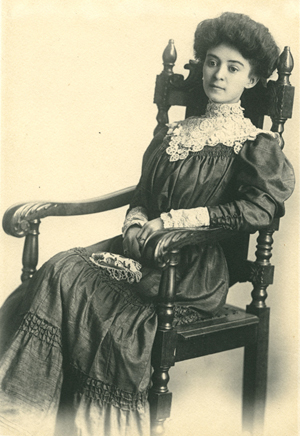 Cleofas Martinez was born on December 6, 1878 to a pioneering family who settled in the village of Arroyo Hondo, north of Taos. She was next to the youngest of seven children, who were raised in a large adobe home that include their own Catholic chapel. She left her home at the age of nine to start her formal education with the Sisters of Loretto in Taos, where she was a boarder. Cleofas continued her studies in Santa Fe at the Loretto Academy. Since the school was quite a distance from Arroyo Hondo, an aunt who lived in Santa Fe would send for her on religious holidays so she could celebrate them with her family. She made sure she completed her studies before considering marriage.
At a relative's wedding in Abiquiu, Cleofas met Venceslao Jaramillo, who lived in El Rito, in Rio Arriba County, New Mexico. Venceslao was a wealthy businessman and landowner whose unusual courtship was regaling her with gifts, which he sent through the post office to her school, and finally even an engagement ring! Although they were married soon after in Taos, the trousseau and wedding feast were ordered in Denver and brought there. The couple started their married life in El Rito, and traveled a great deal, including many business trips to Denver. The family eventually moved to Denver, where they had property and where all three of their children were born. Cleofas lost her first two children, and only her third child, Angelina, survived.
Before their wedding in 1898, Venceslao Jaramillo had served on Governor Miguel Otero's staff (Otero served from 1896-1906 as New Mexico Territory's 16th governor). Later, when Venceslao was elected state senator from Rio Arriba County, he helped draft laws for the brand new state in 1912 as a member of the Constitutional Convention. In 1920, four years after Angelina's birth, Venceslao died. He left his affairs in turmoil and nothing in Cleofas's name. Cleofas was astute enough to salvage some of his estate in Denver and New Mexico, and she relocated to Santa Fe. She had been taking business courses in school which undoubtedly helped her become a shrewd and very competent businesswoman. After the Vencelao's death, the heartbreak did not end for Cleofas. In 1931, when Angelina was 18 years old, she was tragically murdered in their Santa Fe home.
Both Cleofas and her daughter Angelina felt that many traditions were dying out in New Mexico because of the impact of so many people moving to the state from other areas of the country and bringing other ways and customs with them. Cleofas's keen observations of the changes that threatened the continuance of traditional ways she and her family had grown up with led her to organize a group called La Sociedad Folklorica de Santa Fe (Folklore Society of Santa Fe) in 1935 with the mission of preserving the traditional Spanish folklore and customs of New Mexico.
During her lifetime Cleofas enjoyed and attended the fiestas still celebrated in Santa Fe and Taos. Although petite in stature, she was very good at arranging substantial events and managing people. For example, when a large barbecue she had planned in conjunction with Santa Fe's fiestas was no longer possible, she simplified it. The event became a merienda (afternoon tea) at which hot chocolate was served along with bizcochitos (anise sugar cookies typical of northern New Mexico) while people watched a fashion show. For this event, Cleofas asked members of the Sociedad to model hand-sewn dresses made by their grandmothers and mothers.
After reading an article about local foods written by what she considered a newcomer, and not at all accurate, she thought "Why not us?" She subsequently wrote and published two books in order to preserve the centuries-old traditions and customs that were so dear to her heart. These books were The Genuine New Mexico Tasty Recipes/Potajes Sabrosos (1939) and that same year she published a book of stories that her mother had told her, Spanish Fairy Tales/Cuentos De Hogar (1939). With the manuscript she found while going through things after Angelina's death, Cleofas wrote Shadows of the Past/Sombras del Pasado (1941) and later Romance of a Little Village Girl (1955).
These four books greatly contributed to the literature of the Southwest and serve to preserve stories, recipes, and traditional customs. The Sociedad Folklorica that Cleofas founded is still thriving in Santa Fe. Besides publishing books, the organization sponsors yearly traditional events, which always include fashion shows like the one Cleofas introduced in her meriendas. Cleofas was 78 when she died in 1956, after leading a challenging and productive life—and having a major impact on the preservation of northern New Mexico's Spanish culture.
By Cecelia Torres, Cleofas Jaramillo's great-niece
Photo Credit: "Mrs.Venceslao(Cleofas Martinez) Jaramillo, Santa Fe, New Mexico," circa 1989-1900. Courtesy of the Photo Archives, Palace of the Governors, New Mexico Museum of History, neg. no. 009927.