Itineraries & Workshops
In 2012, Taos celebrates the women who have helped make Taos, well, TAOS. A century ago, special places like Taos were sought out by those of adventurous spirit, particularly strong, creative women. Two such iconic women who sought and found freedom in Taos were artists Agnes Martin and Beatrice Mandelman, both born in 1912. To celebrate them and dozens of other remarkable women, both historic and current, the Taos community will host a series of special events in 2012. Find an exhibitions calendar at TAOS.org/rwt_exhibits. And consider the following  itineraries (in PDF form) that will introduce you to places these women called home:

Self-guided Itinerary Suggestions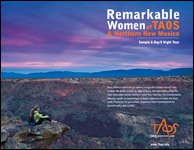 Remarkable Women of Taos, 6-day/5-night Trip (819 KB, 4 pages)
Immerse yourself in the lives, times and places of remarkable Taos women in this customizable guided tour. Agents are listed on the final page of this pdf.

Remarkable Women of Taos, winter self-guided trip (759 KB, 4 pages)
Combine world-class art exhibits with winter sports, great dining and a stay at one of our unique historic lodging options . . .
Remarkable Women of Taos, spring self-guided trip (782 KB, 4 pages)
Lilacs, irises, art exhibits, and whitewater rafting. Taos comes alive in April and shifts its focus from the ski slopes to the roaring Rio Grande . . .
Remarkable Women of Taos, summer self-guided trip (762 KB, 4 pages)
Be inspired by the historic and contemporary women who made Taos home; gallery hopping and jewelry shopping are the perfect accompaniment to a day on the trails . . .
Remarkable Women of Taos, fall self-guided trip (705 KB, 4 pages)
Now Taos wraps herself in a mantle of fall colors, the sharp scent of roasting chiles, fall festivals, Pueblo feast days and special exhibits by her remarkable women . . .