Lucille Magdalene Olson Pond
Lucille Magdalene (Olson) Pond was the ninth and youngest child of Norwegian immigrants Axel and Ragnhild Hoverud Olson. She was born in Starbuck, Minnesota, on the southwest shores of Lake Minnewaska, on May 26, 1912. Her Olson and Hoverud ancestors had come to the United States in 1866 and 1870 from the Valdres Valley in Norway, where Lucille's grandfather, Ole Olson, was a master carpenter who helped build the great cathedral in Trondheim.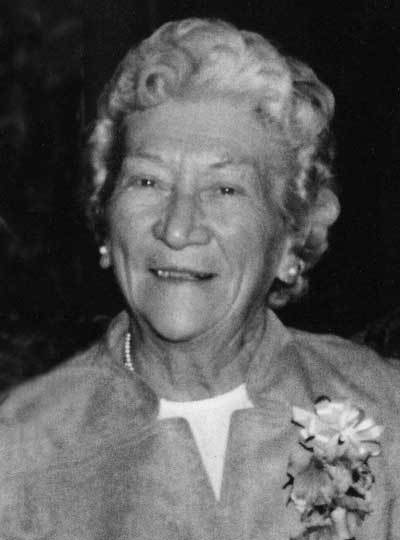 When Lucille was three, her family moved across Lake Minnewaska to the small town of Glenwood, where they lived in a two-story wood house that had no heat in the bedrooms on the second floor! Axel Olson sold farm equipment, and Ragnhild served the community as a midwife. Their older children helped support the large family as well, taking in laundry, ironing, chopping wood, and baking. Money was always in short supply, but Lucille and her siblings remembered that there was always plenty of love. They were a close family that valued self-discipline and service to others, but their hard work and dedication took a toll. By the time Lucille was twelve, she had lost both parents and three sisters, two of them from tuberculosis. One of the sisters had contracted the disease while working as a nurse and another while in training to become one. Lucille's two oldest sisters, Myrtle and Lyla, took over responsibility for the remaining children. Myrtle was already a principal and teacher in the Glenwood schools, and Lyla was the director of nursing at the Kahler Hospital in Rochester, Minnesota. They saw to it that the next two siblings in line got an education, and those two in turn helped the youngest ones through their education. Her five older brothers and sisters were of great importance and inspiration in Lucille's life, and with a midwife and three nurses in the family, it was no wonder that she decided to pursue nursing as her own career.
Lucille graduated from high school at the young age of sixteen, and Lyla insisted that she should have two years of college before trying for acceptance in a school of nursing, which was her goal. For those maturing years, Lucille chose to attend St. Olaf College in Northfield, Minnesota, where she sang with the famous St. Olaf Choir. From there, she moved on to New Haven, Connecticut, and earned her nursing degree at the Yale School of Nursing in 1934, continuing the following year with postgraduate courses in ward administration and teaching. By 1935, Lucille was the head nurse in the New Haven Hospital, and on one morning in surgery she found herself assisting a young Yale doctor named Ashley Pond III. In the course of the surgery, blood dripped onto Pond's white shoes, and Lucille stooped down to wipe it off. The doctor was of the opinion that no Yale nurse he had ever known would have bothered to do that for him. He was impressed, so much so that he began a courtship that continued during his internship at the University of California Hospital in San Francisco. Lucille went with Ashley to the Bay Area and made sure she found a job at the same hospital!
In October 1935, Lucille and Ashley were married in Santa Fe, New Mexico. The Pond family had called Santa Fe home since 1916, and Ashley Pond III had graduated from the Los Alamos Ranch School in 1925, a school that his father had founded eight years earlier. His father had also been chief of the Santa Fe Fire Department before his death in 1933, and in his honor the newlyweds were driven down Palace Avenue and around the plaza on the back of the town's new 1934 American LaFrance fire engine, giving Lucille a grand introduction to the state that would soon become her home.
As Dr. Ashley Pond completed his internship at the University of California Hospital, he and Lucille had to decide where they wanted to practice medicine. As they saw it, there were three choices. They could stay in San Francisco, where they had been offered positions. They could look for a place where they could make the most money. Or they could go where the need for a doctor was greatest. Ashley applied for an opening through the Indian Service, and within weeks he and Lucille were on their way to Taos, New Mexico.
Lou and Ash, as they were soon fondly called, arrived in July of 1936, the year after the death of old Doc Martin who had practiced in Taos for some forty years and was loved by all. Their first office was a hotel room, which they rented from Mrs. Martin, but soon after they moved to a sprawling old adobe house on Bent Street that served as office, hospital, and living quarters for the first year. The house, also owned by Mrs. Martin, had been divided into three small apartments. "We rented out the three rooms," Lou recalled. "One was a waiting room, one was an office, and one we lived in. There was a room off the office where I took care of patients for the first year. I boiled the instruments for the first surgery we did in the house."
Since there was no hospital, Lou found herself caring for patients, setting up for operations in the office, boiling instruments in a copper wash boiler on a kerosene stove, and assisting in the operations. The doctor-and-nurse duo even made their own transfusion apparatus.
Mabel Dodge Luhan was intrigued with this new doctor/nurse combination that had just moved to town. She made a point of getting to know them. One day, after they had become friends and after her son, John Evans, had declined to live in the huge home she had built for him, Mabel asked Lou and Ash to meet her at the house. After giving them the grand tour, Mabel asked, "Do you think this would make a good hospital?" Ash replied, "When you have no hospital, yes, it would make a good one." The community was not financially able to accept the gift, so it was given to the Sisters of Nazareth, a nursing order from Chicago that staffed the new medical facility, which Mabel had paid to remodel.
Harking back to her upbringing in Minnesota, Lou became very active not only in organizations that had to do with medicine but also with children and her community. By 1947, she and Ash had four children, so she joined a steering committee for the formation of a Boys Club, serving as a board member for the club for six years, and she became a den mother for the Boy Scouts. She was also on the steering committee for the Sangre de Cristo Girl Scouts, serving as a troop leader as well as a neighborhood and district chairman. Her son and three daughters all participated in Scouting. She became president of the local PTA and Area Council and was honored with a life membership. She sat on the Taos Recreation Board, the Advisory Committee to the Probation Officer, the State Committee on Children and Youth, and the School Evaluation Committee.
She was active in the Red Cross, March of Dimes, TB Association, Heart Association, State Comprehensive Health Planning Council, and the State Committee on Children and Youth. She was on the board of directors of Holy Cross Hospital as well as being a board member, program chairman, membership chairman, and treasurer for the Holy Cross Hospital Auxiliary.
Through the years Lou was a member and Mayor Pro-Tem of the Taos Town Council, a member of the Women's Division of the Chamber of Commerce, chairman of the Taos County Planning & Zoning Committee, board member of the Municipal League, board member of the North Central New Mexico Economic Development District, and board member of the Harwood Library. In addition, she was active in the Taos County Republican Party, serving as its treasurer, and was a member of the State Central Committee.
Although brought up in the Lutheran Church, she became a member of the First Presbyterian Church when she moved to Taos, since there was no Lutheran Church there at that time. She taught Sunday school for twenty years, was the Sunday school superintendent, held the position of treasurer for the Sunday school and the church, sang in the choir, and became a Trustee and an Ordained Elder.
For her devotion to the good of others, Lou received numerous awards and citations through the years. Among them was the New Mexico Hospital Association's Outstanding Auxilian Award in 1990 in recognition of outstanding contributions to health care and the mission of Holy Cross Hospital. Lou was a charter member for fifty-three years in the Holy Cross Hospital Auxiliary, serving eighteen years as treasurer and three years on the hospital board of directors in addition to working at the hospital as a nurse.
Along the way, Lou was honored as Mrs. PTA and Mrs. GOP. She was Mother of the Year representing the Anglo segment of the Taos tri-culture, an honor bestowed by the Taos County Chamber of Commerce. She was twice named Colonel Aide-de-Camp, appointed by Governors Bruce King and Jerry Apodaca. Friends of Taos Valley recognized her significant contributions toward the preservation of the beauty of Taos Valley, and for her contributions to public education she received honors from New Mexico Highlands University and a Distinguished Service Award from the Taos Municipal Education Association. The list of honors and awards could go on, but perhaps it was all summed up in a single event when Taos Mayor Phil Lovato proclaimed May 13, 1985, as Lou Pond Day.
Amid all of her activities in support of the people of Taos, Lou still found time for her family and much needed recreation. Skiing was a passion for Lou and Ash, and they were instrumental in the development of skiing in northern New Mexico. She proudly held the eighth ski patrol badge issued by the National Ski Patrol. Once a year she and Ash treated themselves to a few days in Sun Valley, Idaho, and each summer she returned with her children to a special cottage on the shores of Lake Minnewaska where she visited her Olson relatives and reminded herself of how it all began.
In 1991 Lou Pond was named a Living Treasure of Taos, New Mexico. She died peacefully in her home in 2000.
Compiled by Lou's daughter Joan Pond