Peggy Pond Church
When I was a child I climbed here
at sunrise, barefooted among the grasses.
I searched for arrowheads among the ruins
and stood wondering on the rims of the broken kivas.
I had no language to say what it was that moved me,
a wisdom of rocks and old trees, of buried rivers,
of the great arcs and tangents of sky and mountain . . .
Peggy Pond Church wrote these words in 1946 in "Morning on Tseregé," a work destined to become her signature poem. They immortalize her sensitivity to the beauty, the spirituality, the mystique that is New Mexico. No poet or author has captured it better in poetry or in prose. In tribute to her ability, Peggy was awarded the Governor's Award for Excellence and Achievement in the Arts in the category of literature in 1984.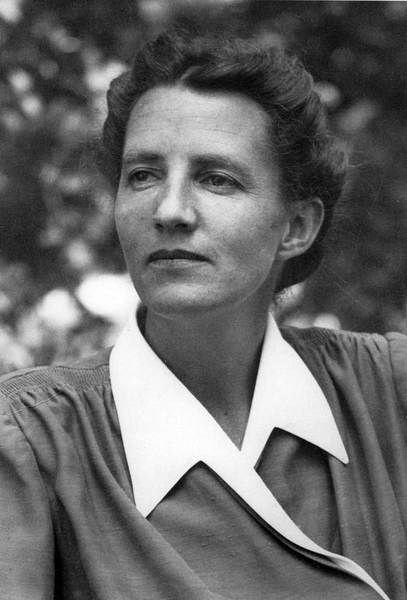 Margaret Hallett Pond, to be called Peggy, was born on an isolated ranch in the Territory of New Mexico in 1903 at a place known as Valmora. She was the daughter of Ashley Pond Jr., son of a wealthy Detroit attorney, and Hazel Hallett Pond, the granddaughter of a former governor of Arkansas who retired from politics to become a rancher in Mora County. Peggy's father had been one of Teddy Roosevelt's Rough Riders before becoming ill with typhoid fever and traveling to New Mexico to recuperate. He, too, owned ranch lands in Mora County where the Great Plains meet the Rocky Mountains, creating some of the state's most beautiful scenery. Peggy was a child of the frontier from the beginning, surviving her premature birth on a cold December day with the help of her father, who wrapped his tiny daughter in cotton batting, tucked her into a basket, and placed her in a closet with an oil heater, the only space where he could keep her warm. Ten months later, she was again wrapped hastily in something to keep her warm, a blanket on that occasion, and scooped up in her mother's arms as the family escaped their home through rushing waters during the night of the Great Flood of 1904. They watched from a barn on higher ground as the Mora River overflowed Ashley Pond's dream of starting a boys' ranch school and washed away the adobe buildings he had just completed. Though their two-story brick home was still standing, the loss was profound, and Pond moved his wife and daughter to his boyhood home in Michigan. Peggy's first encounters with nature were around their house on Three Mile Lake, where she delighted in "spring with its lilacs, summer with its heat, autumn with its odors of dead leaves and nuts, winter with its snow." Within a few years she would return to the West and understand at an early age that she "must wander, questioning, through the wide world." Her life was to be the journey of a poet.
Peggy's roots may have been in northeastern New Mexico, but her destiny awaited on the Pajarito Plateau in the Jemez Mountains. In 1914, her father joined four Detroit partners to create the Pajarito Club, a hunting and fishing resort in Pajarito Canyon. The venture failed after only two years, but Pond remained on the plateau and founded the Los Alamos Ranch School in 1917, the fulfillment of the dream that had been destroyed by the flood.
As a teenager, Peggy was sent to boarding schools in California and Connecticut, all the while angry with her father for designing his school for boys only. During her two years in Pajarito Canyon, she had developed a love of horses and the outdoors and would have gladly traded places with her younger brother who was enrolled in their father's school. Peggy had a younger sister as well, and their summers in the canyon were filled with almost unlimited freedom. They rode their horses, explored Pueblo ruins, collected arrowheads, and roasted apples in the cliff dwellings. The sense of independence coupled with the isolation of the plateau nurtured Peggy's sense of observation. From her early years she felt the need to express her thoughts in poetry, writing her first poem at age thirteen.
"As a girl, her eyes always had a direct, long-range expression," said Mabel Dodge Luhan of the young Peggy Pond, "as in one who gazes from a mountain top across wide valleys to a far-away distance. And always she had time. Out in the world, one has everything else but hardly anyone has time! Time to experience the overlooked, the important natural things that escape us in our hurry." Those elements of time and keen observation combined with Peggy's love of the southwestern landscape to create the sensitive writer and poet she would become.
By the time Peggy entered Smith College, her poetry had achieved recognition and won awards. Although she loved college life, Peggy was homesick for New Mexico, and when the chance came to marry a young master at the Los Alamos Ranch School, she jumped at the opportunity to return to the Pajarito Plateau. Peggy married Fermor Spencer Church in 1924 and moved to the school. She and her husband lived in a rustic log and stone cottage where they raised three sons. During that time Peggy published two volumes of poetry and an award-winning children's book, The Burro of Angelitos. She was looked upon as a respected member of the Santa Fe writers' colony despite living thirty-five miles away. Her first two books, Foretaste (1933) and Familiar Journey (1936), were among the seventeen Santa Fe Writers' Editions, now highly collectible. However, in 1942, her success and happiness on the plateau were abruptly uprooted when the government took over the school for the top secret Manhattan Project. Distraught and bitter, the family took refuge in Taos, and four years later Peggy published Ultimatum for Man (1946), a volume of poems considered by many to be her best and strongest work. The poems arose from the pain of losing her home and from her pacifist beliefs that collided with the development of the atomic bomb.
During their first months in Taos, Peggy and Ferm rented a house on Camino de la Placita, next to her brother, Dr. Ashley Pond III, and his family. Peggy's mother, Hazel Pond, was also nearby. The small mountain town offered emotional support and a surrounding beauty that Peggy and Ferm loved, but before they could truly settle in as Taos residents, Ferm was offered a job at a private school in Carpinteria, California. They were uprooted again. Homesick and missing the organization and ideals of the Los Alamos Ranch School, Peggy and Ferm began to work on a plan to reestablish the school. After a year in California, they returned to New Mexico, rented the Sagebrush Inn as a campus for the Los Alamos School in Taos, and bought an old adobe home in Ranchos de Taos. Peggy loved the house from the beginning and set about restoring it, in particular the dirt floors. She brought in pails of earth, mixed with straw and water to a boggy consistency, to level low places in the old floors, washing them with a piece of sheep's wool and pressing them harder and harder before sealing them with multiple applications of linseed oil and turpentine. In this hard work, Peggy felt a connection to the people who had cared for adobe homes for generations. She took notice of the historic nature of life surrounding her in Taos. In her poem, "Of the Dust of the Ground" (1944), Peggy revealed her love for that history.
Yes, they are made of dirt,
my floors. They say the Lord God
formed man of the same stuff.
I walk upon them
reverently, most often without shoes,
feeling the holy oneness of all living.
Recruiting of students for the new school was difficult during the war years. Thus, the Los Alamos School in Taos was doomed by low enrollment and closed after only one year, but Peggy and Ferm were determined to remain in Taos. They took jobs, sometimes short-term positions, at the Harwood Foundation, the Kit Carson Electric Cooperative, the Taos Bookshop, and the Philmont Scout Ranch. Finally, Ferm secured steady work as a field engineer, and it became certain that they would stay in their home in Ranchos de Taos. Peggy made friends and explored the delights of her surroundings. She went on picnics and attended feast days at the pueblo with Helen Blumenschein and Corina Santistevan. She filled in for the "book ladies," Genevieve Janssen and Claire Morrill, at their bookshop near the plaza so that they could take vacations. She enjoyed conversations with her neighbor, artist Andrew Dasburg, as the two sat under the venerable elm tree in his front yard. And she wrote. The images of Taos entered her poetry. She described the aspens in the high mountains —
facsimiles of sunlight as though the bright sun
were begotten a thousand times in his own image

an evening walk —
along the edge of the loma
at the hour of daylight ebbing, the lamps being lighted,
I came past corrals where the tame beasts had been bedded,
stirring like children not yet asleep

and the people who were her neighbors —
A woman was standing, quiet, by the gate of the sheep pen
blessing with a last look the creatures she had tended,
alone and with peace in her eyes, the long day ended.

Of her writing in Taos she recalled years later that "winter was always my most productive time, perhaps because, in Ranchos de Taos, I was corralled indoors by deep snow and cold." But the winter scenes were the ones she loved the most.
While Peggy treasured her days in Taos and her new friends and their times together, she remained close to her old ones from the Pajarito Plateau days as well, and when her longtime friend Edith Warner died in 1951, Peggy was very much affected by the loss. Edith had lived beside the Rio Grande at the Otowi crossing, watching over the Los Alamos Ranch School freight and operating her small tearoom, for more than two decades. Her death touched many people, so when Edith's sister asked Peggy to write a tribute, a little something for Edith, she knew she must try, even though she considered herself a poet rather than an author of prose. What came from that effort was The House at Otowi Bridge (1960), a dual memoir of Peggy and Edith, who had been the connection between the old world of the Pueblo Indians and the ranch school and the new world of the atomic scientists. The book became a Southwest classic, so filled with the beauty and spirit of Edith Warner as well as a sense of New Mexico that it has never gone out of print. Another work completed during Peggy's years in Taos was The Ripened Fields: Fifteen Sonnets of a Marriage, published in 1954 in Inward Light, a magazine of the Friends Conference on Religion and Psychology. The poems gleaned many complimentary letters of gratitude from couples who gained insight and strength in their own marriages from having read the poems about the course of Peggy's life with Ferm. The poems were released again in book form in 1978.
After more than a decade in Taos, Ferm's work as a field engineer took him to California. The couple moved to a house in the Berkeley Hills overlooking the San Francisco Bay. For five years they enjoyed the advantages of the Bay Area, attending concerts and the theater and traveling up and down the coast, but they were never able to cut their old ties. Of her hillside home Peggy admitted, "It is a beautiful and comfortable house—but my heart is still, somehow, in the one in Ranchos!" During an autumn visit in 1959, she and Ferm realized how much they wanted to return to New Mexico.
Peggy and Ferm lived out their lives in Santa Fe. In a certain irony, their three sons became scientists and engineers and worked at Los Alamos and Sandia laboratories. After retiring, Ferm poured his energies into the Citizens for Clean Air and Water, and Peggy continued to write of the beauty of the land and her sensitive observations of life. She remained vital and active, picnicking and hiking, giving poetry readings and historical lectures, and producing four more volumes of poetry and a biography of Mary Austin in her last years. Eventually, however, her eyesight and hearing began to decline and diminish her quality of life. She died October 23, 1986, a date of her "own choosing." In a letter left for friends and family, Peggy explained her decision.
"It has long been my belief that in old age when the body fails we should be permitted to lay it down at a time of our own choosing and allow the spirit to go free. To a poet, death is another phase of life. In this age of vociferous right-to-lifers, I feel that death has rights too and needs to be made a friend of."
Oh never fear death for me,
for I have looked at the earth and loved it;
I have been part of earth's beauty
beyond the edge of living.

Since Peggy's death, Wind's Trail: The Early Life of Mary Austin (1990) and two more volumes of poetry have been published, This Dancing Ground of Sky (1993) and Accidental Magic (2004). In 2010, a New Mexico Women's Historic Marker bearing Peggy's name was erected on her beloved Pajarito Plateau in Los Alamos, placed next to Ashley Pond, the small body of water named for her father. In 2010, a children's story written by Peggy in the 1930s was published as a bilingual book titled Shoes for the Santo Niño, and in 2011 the story was adapted to become a children's opera, premiered as a New Mexico Centennial event and presented by the Santa Fe Opera and the University of New Mexico.
Peggy Pond Church is a source of pride for her native state and has been justly rewarded for interpreting its beauty and for her contributions to its cultural heritage. Most likely, however, in her unassuming way, Peggy would have simply voiced her basic belief about her writing—"It's the land that wants to be said."
By Sharon Snyder, December 2011
For more in-depth information, see the recently released biography of Peggy Pond Church,
At Home on the Slopes of Mountains (2011) by Sharon Snyder, available at www.losalamoshistory.org
Photo of Peggy Pond Church courtesy of the Los Alamos Historical Museum Archives.