Jesusita Acosta Perrault
It is difficult to condense a life so continuously active and forward-moving as that of Jesusita Acosta Perrault. To do so many of the lesser details must be omitted, but if the major brushstrokes are limned in, the portrait of a woman can remain. – Rebecca James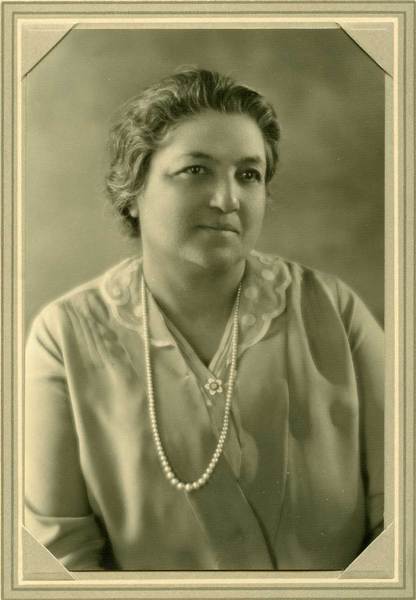 Born on the family villa in Buenaventura, Chihuahua, Mexico in 1880, Jesusita descended from a long line of Spanish Dons ("De Origen Noble" – Spanish title meaning of noble birth). Her father Don J. Nepomuceno Acosta had married Doña Refugito Morales. They lived on an estate reportedly granted to the Morales family by the Spanish sovereign Queen Isabella sometime around 1500. Jesusita spent only 2 years of her childhood at her grandparents' quinta in Buenaventura. She played within the walls of this country house in a garden bursting with the color and fragrance of roses, azaleas, gardenias and magnolias. She listened to the songs and cries of canaries, mockingbirds, peacocks, and small parrots that lived in the estate's palm and fig trees and drank from the courtyard fountain. She visited the barnyard animals: cows and calves, pigs, chickens and turkeys. Jesusita also absorbed the teachings of her grandmother, a beautiful and refined woman. From her grandmother and mother she learned to sew, knit, crochet and embroider as well as make fine lace.
In his early life, her father had engraved designs on the peso for the Mexican government. To expand his horizons, he moved the family to Silver City, New Mexico, where he opened a large blacksmith and machine shop. Jesusita spent her schooldays there. After primary school, she attended the Academy of Our Lady of Lourdes. In addition to academics, she learned to play the piano, organ, violin and guitar. Sometime after her graduation in 1898, she married Charles May who died within a year. Now a widow, Jesusita attended Silver City Normal College for two years, then began her long teaching career. As the first Spanish-speaking teacher in Grant County, she taught at grammar (elementary) schools in San Lorenzo and San Juan. In 1901 she returned to Chihuahua to visit her father's family. Her teaching experience led to employment in three state schools there.
When she returned to New Mexico two years later, Jesusita's career path changed. In her youth she had already developed a belief in good government. She had befriended politicians and acquired knowledge about governmental systems. Jesusita used her education to reach out to rural voters in remote parts of New Mexico. Through her tutelage, they learned to understand ballots and what the candidates stood for. For years Jesusita traveled tirelessly over dangerous, rutted dirt roads to speak at up to 3 different venues of an evening. People gathered to hear her in small meeting halls lit by kerosene lamps. Her educational speeches emphasized good government and the betterment of rural Spanish-speaking communities through education. Word got out and Jesusita soon spoke to packed meetings halls. She championed the Republican party and after rousing speeches often sat down to meals of chicken, chile verde (green chili), lamb, tortillas and fruit prepared by her constituents. Her following grew exponentially. People traveled for miles to hear her "poetic, impassioned, fighting words." Often small groups stopped Jesusita's car along the roadside just to hear her speak.
In 1909 Jesusita married Edward Albert Perrault, a mining engineer who owned large iron and silver mines in the Silver City area. The couple had four daughters. Known for their hospitality, the Perrault's home was a center for lively discussions and gatherings of friends. Before her marriage, Jesusita had started her public service career. Starting in 1915 the Silver City Selective Service employed her as translator and interpreter. From 1921 to 1923 she worked as Grant County's Deputy Assessor. After the death of her husband in 1926, Jesusita became the County's Juvenile Officer. She made her debut on New Mexico's political scene in 1928 when she was elected Secretary of State. When her term ended two years later, Jesusita moved her family to Albuquerque. There she initiated and, until 1933, ran the first U. S. Employment Service in the state. When the service's Executive and State Directors convened in Washington, D.C., she was one of three women out of the 60-person delegation representing New Mexico.
Jesusita used her considerable language skills and education for her next occupations. She began translating New Mexico's famed Spanish Archives in Santa Fe in 1934. She authored two books in the 1930s. The American Book Company published her book on New Mexico geography. The educational publisher Ginn and Co. out of Boston issued The State of New Mexico, part of its series on the nation's states, in 1936. That year Jesusita returned to education. She taught Spanish for 3 years at Brownmoor School near Santa Fe. During this period, Jesusita also pursued her interests in New Mexican folklore. She became an authority on colcha embroidery from the Spanish Colonial period. She gathered authentic motifs, and incorporated the birds, animals and flowers she had loved from childhood into her colchas. Jesusita used the patterns she compiled to teach this art to hundreds of young people and adults.
In 1939 Jesusita moved permanently to Taos. She served both town and county over the next 20 years. The various administrative positions she held included a stint as Deputy Assessor (1944) and editor of the Spanish section of the local newspaper El Taoseño (1944-45), as well as substitute City or County clerk (1946-1953) and a member of the Taos Municipal School Board. In the latter 1950s the State of New Mexico appointed her to the Board of Education and to the Emergency Employment Commission. Throughout this time, Jesusita worked tirelessly on the political scene for New Mexico's Hispanic population. As a member and at one time President of Hispano-Americana, she championed equal opportunity and civil rights. She served as the local group's auditor for 9 years. As a delegate, she spoke at many national conventions, including the largest one in Los Angeles where her audience numbered 3,000 people. As she had done in Grant County, she galvanized voters. In Taos she organized two hundred women and succeeded in getting Republicans in office—a feat at the time.
Church life also played an important role in Jesusita's life. She devoted time to the Altar Society and others within the Catholic church. And throughout her life music, dance and needlework remained important, as did having fun. During fiestas she was known to dance on the platform erected for entertainment in Taos plaza. Before Jesusita died in 1962, Rebecca James characterized her beloved friend as "dignified, superbly polite, scrupulously honest, strong, devout, her fire and faith burning with a bright undying flame." No wonder she earned the love and respect of the Taos community.
Elizabeth Cunningham, December, 2011
Blog host, "Mabel Dodge Luhan and the Remarkable Women of Taos"