Agnes Martin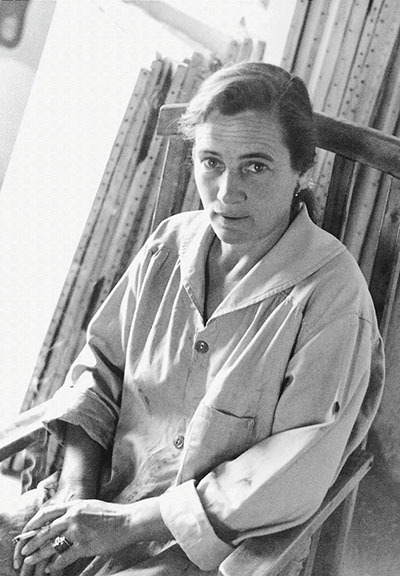 Martin is considered one of the great painters of the Abstract Expressionist period. Her paintings of barely there colors and lines have led some critics to characterize her as a Minimalist, a categorization she rejected.
Agnes Bernice Martin was born March 22, 1912 in Macklin, Saskatchewan, Canada and died of complications from pneumonia on December 16, 2004 in Taos, NM. Martin was born to Scottish Presbyterian pioneers in Canada. Her father died when she was two, and her mother raised her family by purchasing old properties, renovating them, and then selling them. The family moved to Vancouver, and her maternal grandfather helped in rearing her and her brother, using the Bible and John Bunyan's Pilgim's Progress to mold them. Though Martin began drawing at an early age, she decided upon a teaching career. She moved to the United States to attend Western Washington College of Education in Bellingham, Washington from 1935 to 1938. She began teaching in high schools in various states, including Washington, Delaware and New Mexico. Martin then enrolled in the Teachers College at Columbia University in New York, earning both bachelors and masters degrees there . During this time, Martin attended seminars taught by Krishnamurti and Zen scholar D. T. Suzuki. These teachings would profoundly affect her, both personally and professionally.

Though Martin worked as a teacher, painting was never far from her heart. She continued honing her craft, and participated in the University of New Mexico Field School of Art at the Harwood Museum of Art in Taos, New Mexico. She fell in love with the area, and soon settled there. She held her first art exhibiton in Taos. Her time in Taos, famous for the abundance of artists who were drawn there via word-of-mouth or its natural setting in the mountains, was not full of pleasantries. She endured hardship after hardship, as her paintings sold for very little and not as often as she would hope. Her studio also doubled as her home for a time. Also during this time, she became a United States citizen.

Martin's art came to the attention of Betty Parsons of the legendary Betty Parsons Gallery. Parsons helped the talented artist sell a few of her paintings, and offered her a solo exhibition as long as Martin would agree to move back to New York. Martin agreed and, with the help of renowned artist Ellsworth Kelly, found a loft on Coenties Slip to live in. Coenties Slip was home to a number of struggling artists—such as Robert Rauschenberg, Jasper Johns, and James Rosenquist—whose art would become commercial successes in later years. Martin's loft was in dire need of repairs and renovations; she installed her own plumbing, and also located a studio in which to paint.

In 1958 Martin held a solo exhibition at the Parsons Gallery. Influenced by Abstract Expressionist artists such as Ad Reinhardt and Mark Rothko, she began creating abstract paintings in place of the landscapes and portraits that she had previously done. Her style mimicked her contemporaries, but soon she came into her own style. According to London Times, Martin stated that she came into her artistic maturity around 1960. Her method, according to the Times, included: "a square format; canvas primed with two layers of gesso; hand-drawn pencil lines; thin layers of paint, first in oils, then in acrylic which she preferred because it was much quicker to dry."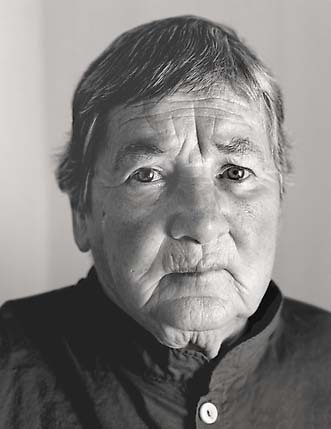 With this method Martin's art became both lucrative and critically acclaimed. She usually kept to herself,and found the pressures of the New York art world overbearing. With Coenties Slip scheduled for demolition in 1967, Martin decided to leave the art world. She gave away most of her possessions, including her painting supplies, and soon embarked upon a journey across the United States and Canada. She would not paint for seven years. She settled in New Mexico, built an adobe house by herself, and focused on writing instead.

However, Martin's work was not soon forgotten. She held several solo exhibitions during her self-imposed exile, including a major retrospective of her work at the University of Pennsylvania's Institute of Contemporary Art in 1973. And though she felt her work was more in line with the Abstract Expressionist period, many Minimalist period artists were heavily influenced by her art and sought her out. During her "exile" she built three more buildings on her land and kept mainly to herself, living a very simple and quiet life.

In 1974 she began painting again. She kept her home base in New Mexico, though she moved from one town to another. She chose to create smaller paintings rather than hire an assistant to help her move her paintings. In 1992, she moved into a retirement residence in Taos. She continued painting, but spent most of her days with friends or in quiet solitude. She had no radio or television, and she had not read a newspaper in five decades.

Martin's art reflected her quiet and simple life. According to the Chicago Tribune, she said, "I often paint tranquility. If you stop thinking and rest, then a little happiness comes into your mind. At perfect rest you are comfortable." According to Christopher Knight in the Los Angeles Times, "An acute attention to life's quiet rhythms characterized her work."

Martin held solo exhibitions in many countries, including England, France, and Japan. She also participated in a variety of group exhibitions. Her paintings are a part of collections in a variety of museums, including the Whitney Museum in New York, the Hirshhorn Museum in Washington, D.C., the Art Gallery of Ontario, and the Stedelijk Museum in Amsterdam.


Agnes Lapse from Ollie Bell on Vimeo.
The Harwood Museum of Art's Agnes Martin Gallery features seven paintings by the internationally acclaimed artist. These works were created in 1993 when Martin returned to Taos. This gallery was built specifically for these paintings. Martin, who never conceived of her work as a series, or being exhibited in this fashion, was thrilled by the display, even going so far as to suggest the four yellow Donald Judd benches which are arranged under the Gallery's oculus. During her life Martin visited this gallery frequently, and would sit quietly on the benches experiencing its unique setting.

In addition to her paintings, Martin also wrote several articles and books, some non-art-related. They include 1971's On A Clear Day, 1992's Writings/ Schriften, and La Perfection inherente a la vie, published in 1993. Martin received numerous awards and honors for her contributions to art. She was named one of "100 Women of Achievement" in 1967 by Harper's Bazaar and was inducted into the American Academy of Arts and Letters. She was awarded a National Medal of Arts from the National Endowment for the Arts as well as the Golden Lion at the 1997 Venice Biennale.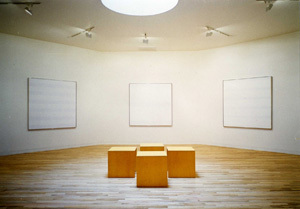 Top, Agnes Martin in 1950,.
Above right photo of Agnes by Paul O'Connor (poster available in the museum store)
Below, the Agnes Martin Gallery in the Harwood Museum of Art by Rick Romancito.