Bea Mandelman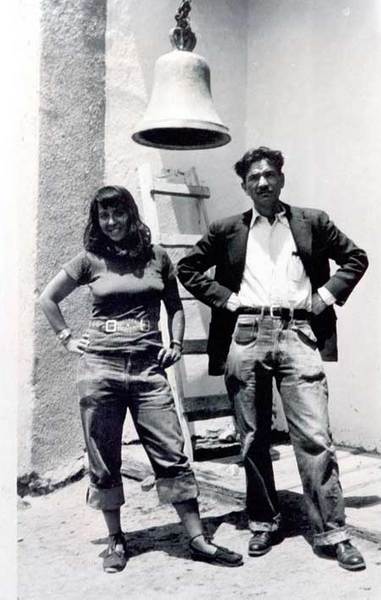 Born December 31, 1912 in Newark, New Jersey, from an early age Bea was determined to be an artist. At age 12, she began taking classes at the Newark School of Fine and Industrial Art. In the 1930s, she attended Rutgers University, the Newark School of Fine and Industrial Art and the Art Students League in New York City.
In 1935, Mandelman was employed by the Works Progress Administration (WPA), first as a muralist and then as a printmaker with the Graphic Division of the New York Project. One of the original members of the Silk Screen Unit under Anthony Velonis, Mandelman worked in the WPA until 1942, when it was disbanded.
During this period she was associated with numerous New York School artists including Louis Lozowick, Willem de Kooning, Arshile Gorky, Jackson Pollock, and Stuart Davis. By 1941, Mandelman's works were included in important exhibitions at the Art Institute of Chicago, the Museum of Modern Art and the National Gallery of Art in Washington, DC.
In 1942, Mandelman married Louis Ribak and in 1944, they traveled to Santa Fe to visit Ribak's teacher and mentor, the artist John Sloan, who had recommended the climate and atmosphere. Finding Santa Fe congested, they took the train along the Rio Grande and a stagecoach up to Taos and decided to settle there. An impulsive and inspired move, it was a decision that would effectively remove them from the art world's mainstream. In 1944 Taos was a well-known art community, but there were no galleries exhibiting modern art. A new influx of artists from New York and California during the late 40s and 50s would change this. A group of these artists, including Mandelman and Ribak, Ed Corbett, Agnes Martin, Oli Sihvonen, and Clay Spohn, would become known as the "Taos Moderns".
Mandelman was an intensely dedicated painter. In the relative isolation of Northern New Mexico she found the freedom to develop a style that was distinctly her own. Inspired by the light, the local color, the landscape and the confluence of diverse cultures in Taos, her work flourished.
Throughout her lifetime, together with Ribak and after his death in 1979, Mandelman was adventurous and profoundly curious about art and life and culture. She loved to travel and drew inspiration from it. Over the years she lived for extended periods in Mexico and traveled extensively in South America, Europe, Asia and Africa.
Beatrice Mandelman died June 25, 1998 in her home in Taos. In the last months of her life, she produced the 31 works in the Winter series. Over the span of seven decades, Beatrice Mandelman produced a body of work consisting of hundreds of paintings, prints, collages, and works on paper.
Bea and Louis' legacy lives on in the permanent collectionat the Harwood Museum of Art, which in 2010 received 133 works gifted from the Mandelman-Ribak Foundation. The work spans five decades and demonstrates the inter-relatedness of Bea Mandelman and Louis Ribak's aesthetics. That same year the Harwood debuted the Mandelman-Ribak Gallery, a 1,100 square foot gallery presenting temporary exhibitions of modern and contemporary art.
Above: Bea Mandelman and Louie Ribak in 1945.