Lucy Harwood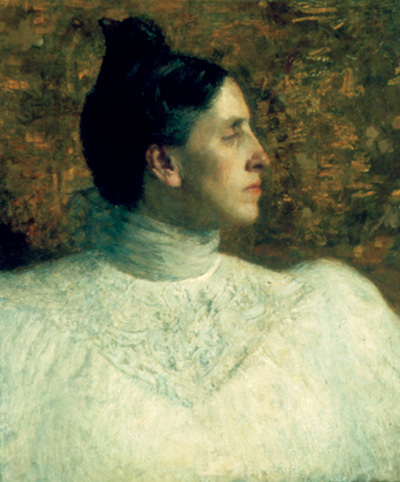 The embracing spirit of the Harwood Museum of Art was established by artist Elizabeth (Lucy) Harwood and her husband. In 1916, they left their residence in France to move to Taos. They purchased the Ledoux Street property which today is the Harwood Museum of Art. From the beginning, her home was the town's only library and she shared her extensive private collection with the public. By 1926, the Harwood Library was established and the community generously supported the growth of its collections. Mabel Dodge Luhan donated books from her private collection, contributed funds, and inspired other major support. They opened their home to other artists for informal cultural events and created a small gallery for exhibits. Lucy Harwood became Taos' powerhouse of art and literature, and lively conversation.
In 1923, after the death of her husband, Elizabeth Harwood – in partnership with Taos Society Artists Victor Higgins and Bert Phillips - formally established the Harwood Foundation, which hosted lectures, plays, and musical events. Artists rented studios and apartments in the Harwood Museum of Art building. From 1924 on, much of the space at the Harwood was given over to exhibitions. The collection included clay pots, Native American artifacts, Hispanic textiles, Patrociño Barela's wood sculptures, 19th Century retablos, and a cannonball said to have come from the 1847 bombardment of Taos Pueblo.
In 1935, Lucy Harwood realized that the foundation would not be ableto survive for very long on its existing funding and bequeathed it to the University of New Mexico, with the understanding that the community would continue to receive the same services. Taos was a tiny and isolated community, and Harwood meant to ensure that the area would continue to benefit from the cultural and educational programs she had initiated. Her pioneering, generous spirit continues today as The Harwood Museum of Art brings Taos arts to the world and world arts to Taos. The Harwood Museum of Art is the place to experience Taos with works from the 18th century to the present reflecting the multicultural heritages and influences of the Taos artistic community. Permanent exhibitions include Hispanic, Taos Society of Artists, Taos Moderns and Contemporary. Rotating exhibitions are captivating with cutting-edge scholarship and work. The museum offers weekly screenings of films in the new state-of-the-art 130 seat Arthur Bell Auditorium, equipped with a surround sound audio system and high-definition video projection.