Rowena Matteson Meyers Martinez
Rowena Matteson Meyers Martinez (1909-2000)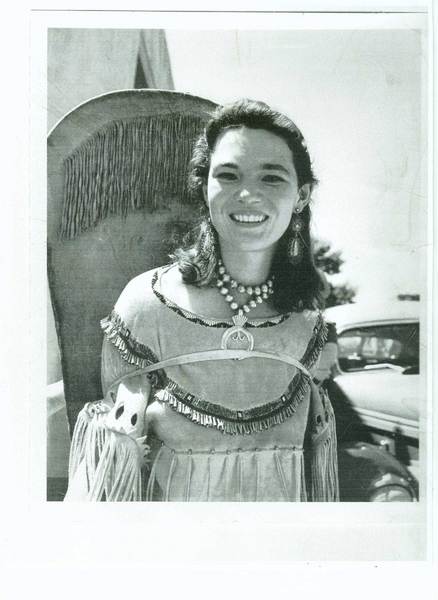 Rowena Matteson Meyers Martinez's life epitomizes the grit, tenacity and hard work it takes to live in Taos. Her parents' divorce precipitated her move from Erie, Pennsylvania to northern New Mexico in 1923. Her mother's nuclear family homesteaded for a time in Sunshine Valley (30 miles north of Taos). When their attempts at farming failed, Rowena's mother and maternal grandfather moved to Albuquerque where prospects were better, and sent the two Matteson sisters back to Pennsylvania to finish high school. When her mother sent her an ad from the Albuquerque Journal for secretarial position in Taos, Rowena returned and was hired to work for a small Christmas card company. Besides the monthly salary of $100, the job came with a small house and a horse to transport her to and from work. This employment situation allows Rowena to purchase a teal-blue Model A with a rumble seat, becoming the first woman in Taos to own a car. Her adventurous spirit led to a daring cross-country drive with her sister to San Francisco to attend Mills College. During that time artist Ralph Meyers, owner of Taos' first trading post specializing in Native American art and artifacts, courted Rowena by mail. Their marriage was nearly thwarted, however, by another suitor. Meyers' business partner Lowell Cheetham tried to elope to Santa Fe, but his car acted up just outside Taos. The vehicle would only operate in reverse, so he spent two hours backing up to return to town.

After this incident, Cheetham never again mentioned marriage to Rowena. She and Meyers, 26 years her senior, wed in 1932. He mentored her and as his partner learned furniture making and helped him run Mission Shop. The talented Rowena also took up jewelry making and rug weaving. She would later inspire and teach numerous young silversmiths.
As a painter, Ralph had friendships with early Taos artists like Bert Phillips, Herbert "Buck" Dunton and E. Irving Couse. After his marriage to Rowena, their friendship circle expanded to include Mabel Dodge Luhan and her husband Tony, D. H. and Frieda Lawrence, Dorothy Brett and Rowena's best friend, artist Gisella Loeffler. Rowena's beauty drew artists like Nicolai Fechin, Ward Lockwood and others to portray her. Her charm, wit and intelligence also captivated writer Frank Waters who based his character "Angelina" in his novel The Man Who Killed the Deer on Rowena. Just before the U.S. entered World War II, the Meyers started another enterprise: La Doña Luz restaurant. The couple shared the cooking. Ralph made main dishes like a sort of venison stew made hunters' style while Rowena served up sumptuous desserts. Due to war rationing, the restaurant closed within a year. In summer 1948 Ralph died, leaving his widow in charge of their young son Ouray and daughter Nina.
As a single parent she struggled to balance family life with running the shop and her clerical work at the U.S. Forest Service. Family life changed with Rowena's marriage in 1949 to forest ranger Paul Martinez whose job dictated moves to Santa Fe and El Rito. Her interest in history resulted in a study of northern New Mexico's Spanish land grants, including the only known one conferred to a woman, Francisca Quijosa, in 1715. Her research was published in 1968 as Land Grants in Taos Valley. Referred to as a "walking encyclopedia of Taos history," Rowena assembled files that included events referring to Taos' artists, writers, politicians, and other notables. Her other writing included a history of the Presbyterian Church in Taos as part of it 100th anniversary celebration.
Rowena retired from the Forest Service in 1970 and reopened the shop she and Ralph had owned, renaming it El Rincon. She set up a small museum there as a way to share her passion for the history and people of Taos with others. Various groups requested Rowena to speak about local history and lore, and she charmed her audiences with her warmth and wit as she told anecdotes of early Taos history. She was also known for staging historic fashion shows in Taos and Santa Fe, outfitting contemporary men, women and children in the 19th and early 20th centuries clothing worn by their ancestors. In 1978, the year her second husband died, the Taos County Historical Society recognized Rowena's long-time dedication to preserving history.
Other honors included the "First Lady of the West" award in 1987 and recognition as a "Living Treasure" by the Town of Taos. After her death in 2000, her son Ouray preserved parts of her museum collection by moving objects to his gallery where they are on display today.
To view Rowena's museum collection, visit Ouray's Gallery, 303 Paseo Del Pueblo Norte. Taos, NM
By Elizabeth Cunningham, 2011
Blog host, "Mabel Dodge Luhan and the Remarkable Women of Taos"