Millicent Rogers
Millicent Rogers, Philanthropist and Socialite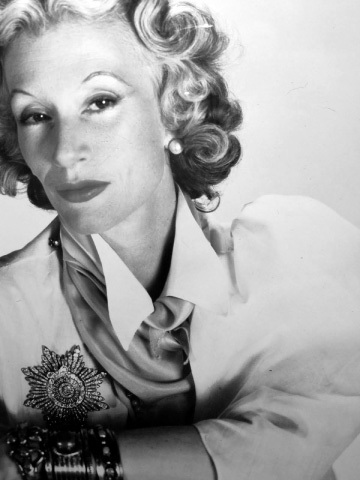 Millicent Rogers (1902-1953) grew up in New York within privilege and wealth and she was often referred to in the press as the "Standard Oil Heiress," since it was her grandfather, H.H. Rogers who was the co-founder with John D. Rockefeller of the Standard Oil Trust. Millicent's life, before Taos, includes the things one would expect, such as travel, homes, marriages and children. But she was also distinctive for her looks and her fashionable style, which resulted in popularity with photographers, clothing designers and fashion magazines. Apart from photographing well and having a figure for couture design, Millicent had a way of combining fashion elements with a unique, engaging flair, which in turn caught the eye and attention of fashion devotees. So how does this answer why Millicent collected art of the Southwest? That Millicent approached fashion creatively is the key.

Her correspondence with fashion designers like Charles James reveals aspects of her creative style. Drawing designs for bold, modern and sometimes abstract jewelry pieces that she eventually had made (or made herself at her own bench) also display her own artistic ability. No doubt responding to beautifully designed, well-constructed, and artful pieces, Millicent Rogers, surely in part, collected jewelry, textiles and baskets because as an artist herself she responded to and appreciated beauty that can be found in the objects of devotion, utility and adornment that are unique to the Southwest.

After what would prove to be the last great love affair of her life, Rogers came to Taos in 1947 with a heart broken by Clark Gable, and physically weakened by rheumatic fever as a child. But settling in Taos did not mean she would simply slow down.

Taos with its scenic beauty, tranquility and Native American culture fueled her creativity. She believed that Southwestern Indian culture was a precious part of America's heritage that had to be recognized and preserved. Now more than 60 years later it is easy to recognize how instrumental she was in popularizing this rich culture not only through her jewelry creations but through her collections of indigenous art.

An oft-repeated story captures the essence of her fascination with the culture of her adopted home: Gallup, New Mexico on a warm desert evening in 1947 at the Intertribal Ceremonial, a gathering of Indian artists, dancers, drummers and singers. In the crowd is a woman – striking, well-tailored and blonde – and she strolls among sale displays including silver and turquoise jewelry, textiles and drums. She stops to visit with one Native vendor, then another, all the time eyeing art forms that are completely new to her. She randomly picks up bracelets, earrings, and belts and closely examines details of stamped patterns, the inlays of coral, mother of pearl, and onyx, and the interesting shapes of dragonflies, crosses, and snakes that have been formed from silver. And then she sees a necklace of beautiful turquoise that makes her take a quick breath; 294 irregularly shaped tabs of blue and green turquoise are strung with a large pendant of the same stone. The necklace is heavy in her hands, perhaps nearly four pounds. On that summer evening so long ago, Millicent Rogers had no idea that her purchase of the necklace created by Leekya Deyuse would be the beginning of a museum named in her honor.

"What began as Millicent's personal quest for quality is today a proud legacy of art, design, and craftsmanship that captures the spirit of creativity of northern New Mexico," David McFadden, former Millicent Rogers Museum Director.

For more information on the life of Millicent Rogers, a newly released biography from Cherie Burns Millicent Rogers: Searching for Beauty chronicles her life including her Taos years. Log on to http://cherieburns.com/ for blog posts and retailers selling this book.
Source: Millicent Rogers Museum former Director Dr. Jill Hoffman