Josephine M. Córdova, Educator and Author
1907-1998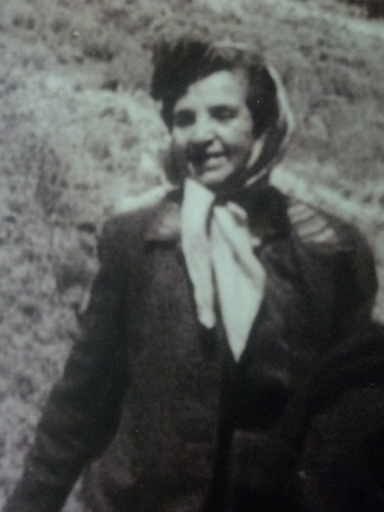 Josephine Martinez was born to parents Francisco and Maria de las Nieves Martinez near Questa, New Mexico on May 1, 1907. Her life included poignant events that shaped her into a strong, determined individual.
Following Francisco's death in 1914, the family moved to Tres Piedras to participate in the Homestead Act. Little Josephine immersed herself in schooling and appreciated the joy of reading, including The Arabian Nights, King Arthur and the Knights of the Round Table and other books.
After Maria de las Nieves proved up the land in Tres Piedras, she exchanged plots and moved to Arroyo Seco. The mother realized Josephine's potential and allowed her to live in Taos with Esquipula Martinez, Josephine's half brother and a local attorney. The older brother made certain his sister, the daughter of a former Superintendent of Schools, progressed in school work. At the time, few women pursued a high school education, and during her senior year, Josephine contracted scarlet fever. After missing several months of school, she recuperated, completed all her school work and graduated with her class—with honors.
Those possessing a high school education received the opportunity to teach. Josephine began her teaching career in Cerro. There, her duties included warming the one-room school house via a wood stove and janitorial services. Her work later took her to elementary classrooms in Arroyo Seco, El Prado and Taos. She survived the Great Depression during her teaching years.
While teaching, Josephine continued working on a college degree. An important experience included teaching at the San Jose School in Albuquerque as a bilingual teacher in a pioneer program at that experimental school. Dr. Lloyd Tireman of the University of New Mexico headed the program. Josephine earned her B.A. degree in Elementary Education from New Mexico Highlands University in Las Vegas.
Josephine married Willie Córdova in 1939 and became a stepmother to his four children: Cora (Eugene) Sanchez; Dan (Olivia) Córdova; Ruben (Lillian) Córdova; and Fabiola (the late Ben) Garcia. The couple parented their four children: Maria Elena (Randy) Mirabal; Arsenio (Kathy) Córdova; Fernando (Bernice) Córdova; and Francis (Ernestine) Córdova. They also raised a nephew, Valentin Martinez and the late Father Michael O'Brien. "Josephine's mother lived with the family following Willie and Josephine's marriage.
Josephine's 39-year teaching career included 15 years as a combined teaching principal, coaching the El Prado Gophers basketball and softball teams and serving as the lunchroom supervisor at the El Prado Elementary School."At that time, she served as the first and only female administrator of the Taos Municipal Schools. Following retirement, Josephine wrote her memoirs of local culture and traditions in No Lloro Pero Me Acuerdo. She enjoyed travel to Wisconsin, Wyoming, California and Colorado. In Taos, she enjoyed outings at the Sagebrush Inn and the Kachina Lodge.
As part of Josephine's outreach into the community, she taught Religion at the El Prado Chapel and met in local venues at meetings of the Taos County Republican Party, the Community Action Program and the Taos County Historical Society. The latter selected her as its Honoree of the Year; she served with her long-time friend Helen G. Blumenschein as an officer of that organization.
Josephine Córdova passed away February 11, 1998 at age 91.
By Kathryn Córdova