Rachel Brown, Weaver
Rachel Brown (1926-2012)
Remembering Rachel by Andrea Heckman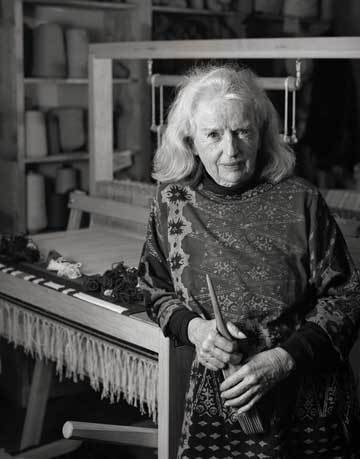 In 1975, I packed up my Volvo with my black lab Amos, a carload of yarn, spindles, and my 60-inch Swedish Glimakra loom and moved to Taos from California. Rachel Brown, Kristina Wilson, and Joan Loveless were already looming as legends in this place. As a young fiber artist, I couldn't wait to meet them.
One day, while rafting down the Rio Grande, screaming through the Taos Box in the back of Cisco Guevara's boat with two other women, I realized that I had just met Rachel Brown. It was the way things happened in Taos. Kristina ran a tapestry school at her old adobe. She and Rachel opened the Craft House in Arroyo Seco.
At Abe's Cantina, in Arroyo Seco, the bartender, Lucio, recalled the women at the Craft House, telling Teresa Loveless, Rachel's granddaughter, "Your grandma dyed yarn at the Craft House across from Abe's Bar back when we were the only two places there. Those ladies were always pulling colorful yarn out of hot pots."
Flash forward to January 2011. Kristina Wilson sat in her adobe living room, surrounded by books and weavings, laughing and telling stories about her sister-in-law, Rachel. Kristina recalled the early days when Rachel had just arrived in Taos. "Rachel would pick clumps of sheep wool off the barbed wire fences so we'd have materials to weave. It was in the 1950s and we didn't have money for yarn."
Rachel married Malcolm Brown, Kristina's brother, and they moved to Taos where he had grown up and where his mother and sister lived. Rachel had studied color and design with Annie Albers at Black Mountain College and she had a MFA. Trained in painting and drawing, she was inspired by Kristina and her Hispanic neighbors to weave, spin, and dye her own yarn. Her background in color quickly became an asset to the art she created, but in new forms and materials of weaving. She combined different colored yarn, making tapestries that were clearly art.
In addition to her own nationally recognized art, she has inspired generations of weavers in northern New Mexico and promoted weaving as an art form.
Rachel's sister-in-law, Joan, was inspired to write about the relationships of these three remarkable women in her book, Three Weavers. The Craft House closed and Rachel opened a specialized gallery for fine weaving called Weaving Southwest, combining it with Rio Grande Weaver's Supply so weavers would have provisions, as well as making it a place dedicated to exhibiting fine textiles. Rachel recognized that tapestry weaving was underappreciated as art. She wanted collectors to understand the complexities of weavings. She eventually represented only contemporary weavers living in New Mexico.
Rachel wrote The Weaving, Spinning and Dyeing Book so weavers would have a complete how-to book. Now in its 14th edition, there was nothing like it in the fiber world before its publication. It became an international classic. Granddaughter Teresa learned to weave from Grandma and says, "I thought that's what all grandmas did, teach their granddaughters to weave. I had no idea who my grandma was." Teresa still cherishes the photos of herself asleep in yarn baskets next to Rachel's loom. When Teresa began learning natural dye technique from Rachel, her grandma would often tell her, "Look it up in the book. I put everything into that book."
Rachel once said, "I've tried to encourage weavers to let the weaving and the medium itself dictate form. Many weavers, including myself, start out with the warp and nothing but the colors chosen, and just weave free form like an artist goes about creating an oil painting, but weaving is more difficult because you can't go back and change anything. It's building with threads."
In the 1980s the local sheep growers and weavers of Tierra Amarilla started a cooperative to attract buyers. At their recent Harvest Festival, many told stories about how Rachel would drive over the Chama pass despite the blowing snow. They, the workers at the Mora spinning mill, along with weavers in Chimayo and Ramah, and teachers and students at Northern New Mexico Community College, all remember her impassioned efforts to ignite their passion in fiber and weaving.
Rachel wanted to show others the joys of weaving and how you could make a living at it. "What I love most about this work is empowering people and the friendships it brings," she said. "I get passionate about teaching somebody how they can do something that will be so rewarding to them."
— Andrea Heckman, from Taos Portraits: Photos by Paul O'Connor
©2012edited by Bill Whaley.
Photo and essay courtesy of Paul O'Connor, ©2012
Some of Rachel Brown's favorite Taos sites and sites during her lifetime: Lamberts restaurant, cross country skiing in the Arroyo Seco area (where she got her inspiration for her yarn colors and her tapestries), Wool Festival and the Taos Fall Arts Festival.