Ann St. John Hawley, Artist
(1919-2011)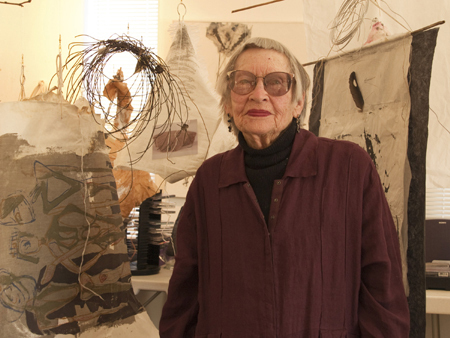 In a community known for its many artists, from modern abstractionists to stunning landscape painters, the work of Ann St. Hawley takes its place as one of the most important contributions to Taos art of the last hundred years. A community treasure, her art has reached many others throughout the world who have recognized and collected her paintings and drawings. Her work represents the freedom of spirit that marked her as an artist, always seeking new and different forms of expression that mirrored her search for new ideas and philosophies. With a keen and active mind and delightful sense of humor, she remained an active artist until her recent death in 2011.
Born in the Panama Canal Zone in 1919 where her father, a surgeon in the Army, was stationed, she later moved to the Philippines where she was home schooled. Her mother, who always encouraged her creativity, exposed her to poetry and art. She began taking dance lessons when she was five years old, continuing through her mid-eighties. Finding "spirit in dance" rather than just form, she also found the same "spirit in art" as well as in her daily life. Until her death, a photograph of Eleanor King, a modern dancer who lived in New Mexico for many years, had a prominent place on the mantle of her adobe fireplace.
Graduating from Northwestern University with a degree in theater, she married while her husband was still in medical school. When she was a young woman raising her six children, Ann took classes in singing, clay, silkscreen and other art forms. She always pursued dancing, taking lessons for many years before becoming a full time painter. Her paintings became a canvas for dance. Butoh, a form of Japanese dance, has played a major role in her work. It provided the feeling of freedom that she found so stimulating, expressing that feeling through her work on canvas. In a quote from Fifty and Beyond; New Beginnings in Health and Well Being, she says "Everybody speaks with poetry. The whole thing is that you have to find the way to do it. What I want to do is let go, not remain in a stationary position. This represents my sense of freedom."
Although her family always came first, Ann actively fed her soul, always making the time for her art. Recently her daughter Michelle said of her, "At almost ninety years of age she is youthful in a way that some people never are, with a curiosity and enthusiasm for life that is contagious and inspiring." Another daughter, Tina, said it this way, "She has an intuitive and inherent appreciation for the beauty found in the art that is unconstrained by self-conscious adherence to society's rules for conformity to conventional beauty." And her son, Rob, acknowledges "the gift of a sense of holiness, holiness of life and all that is sacred" that he received from his mother. In a quote from Fifty and Beyond, Ann said, "You have to have your own world…….the most important thing is your children – I had my dedication to my family and this secret place that was always roaming free."
As an artist, Ann St. John Hawley produced a prodigious number of pieces of art ranging from oil and acrylic portraits, landscapes, water colors, pen and ink figures, block and mono prints, Sumi drawings, Butoh drawings to ceramic pots and wood sculptures. Her goal was to communicate through her artistic medium the divine dance of nature, color and form. Added to this were her recent sculptures in the form of mobiles made from old silk parachutes. Among Ann's more recent exhibitions before her death in 2011 were solo shows at New Directions Gallery (2004) and at the Harwood Museum of Art (2006) and Fenix Gallery (2006) in Taos.
For Ann, everything she saw around her inspired her to reach for new and different forms of artistic and spiritual expression. That included new ideas, new thoughts and philosophies. She never grew old in spirit, constantly involved in taking classes, whether in drumming or in the study of world religions at the University of New Mexico, often attending lectures, relishing the mysticism in religions. All of this provided more inspiration for her painting.
Ann is not only remarkable because she was a working artist until she was past ninety, nor only for the amazing collection of work she produced, but for her spirit which permeated all she did. Her work encompassed a wide variety of expression, constantly evolving as she was. Although never proclaiming herself as a philosopher, she was one. Here's what she said about creating anew, "I also like chaos. You have to have some chaos in order to find a new way. Although it's painful and you feel lost, out of chaos comes some kind of direction or insights – something new emerges." She never stopped searching for that something new.
Friendship with Ann has touched all who have ever received the warmth of her smile or seen the twinkle in her eye, never to be forgotten. She was loved and cherished by both her family and her friends. Ann's extensive body of work is her legacy. It represents, more than anything else, the freedom of spirit that was the driving force behind her every artistic expression.
By Susanna Starr
Starr Interiors
Ann's daughter, Tina Hahn, recalled some of Ann's favorite places and activities in Taos: the Rio Grande Gorge, the Ranchos Plaza Grill, walking her property in the foothills, gazing out at Taos Mountain, listening to music of all genres while hosting figure drawing evenings in her studio.
Photo © Robbie Steinbach, 2008
The photo of Ann St. John Hawley is from Robbie Steinbach and Lyn Bleiler's new book, A Precarious Balance: Creative Women in Taos.