Martha Reed, Fashion Designer
Written by Oklahoma State University Professor Emeritus of English E. P. Walkiewicz from information contained in Martha Reed's unpublished narrative resume and in her interview with Tanya Finchum, and from facts collected during a visit with Martha at her Talpa home in June 2010.*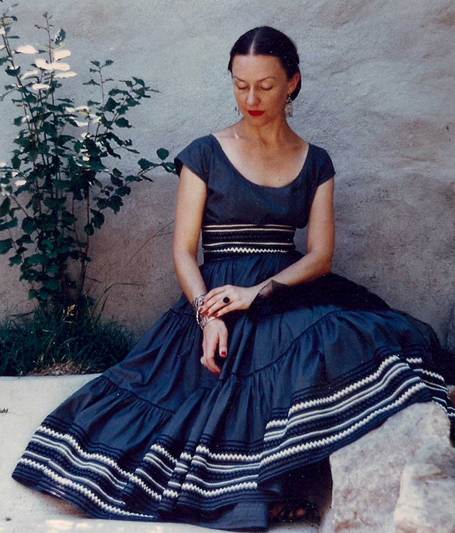 Martha Jane Reed was born in Bethesda Hospital in Cincinnati, Ohio on April 23, 1922. Her parents, Doel and Jane (née Elizabeth Jane Sparks), had met at the Art Academy of Cincinnati, to which Doel had returned in 1919 after serving with the 47th Infantry in France, and where both Doel and Jane had studied with Frank Duveneck, among others. Because Doel suffered from respiratory problems as a result of having been gassed in the war, the Reeds decided to move to a drier part of the country, settling in 1924 in Stillwater, Oklahoma, where Doel had been offered a position at Oklahoma A & M (later Oklahoma State University). Reed served as head of that institution's art department until he retired in 1959, earning respect as a mentor and an international reputation as an artist. Influenced early on by the work of Goya, he became known as "the undisputed master of the aquatint" and was elected to the National Academy of Design. His prints and paintings may be found in the collections of the Carnegie Institute, the Library of Congress, the Metropolitan Museum of Art, the New York Public Library, the Pennsylvania Academy of Fine Art, the Philadelphia Museum of Art, the Seattle Art Museum, La Biblioteque Nationale, and the Victoria and Albert Museum.
While her father was fostering the development of an art department and perfecting his craft, Martha was growing up in Stillwater, a small, university town west of Tulsa and north of Oklahoma City. The Reeds lived on "Faculty Row" and, as Martha informed oral historian, Tanya Finchum, when it was time for her to attend grade school, she "went to Eugene Field School … named for the poet from Chicago that wrote children's poetry." As a child she "loved Stillwater, she told Finchum, " loved the fact that everybody knew everybody, and if you were a kid growing up there they'd call you by name, you know." After graduating from Stillwater High School, Martha enrolled at Oklahoma A & M, where she worked in the library and became a member of the Chi Omega sorority. Although she started out majoring in English, she switched in her second year to art, a decision she later came to view as inevitable given the examples of her parents and her own innate desire to create beautiful things.
Having received her Bachelor of Arts degree in the summer of 1944, Martha took a position at the Philbrook Art Center (now the Philbrook Museum of Art) in Tulsa, working for its director, the sculptor Bernard Frazier. According to her unpublished narrative resume, while she was employed at the Philbrook, she "gave tours to visitors and Tulsa school children, supervised the hanging of exhibitions, designed and wrote" the copy for catalogues, oversaw the museum's educational programs, and "catalogued the Field Indian Collection." Lured by the prospect of working at a larger institution, Martha next moved to Dallas, where for one year she performed similar tasks for Jerry Bywaters, Director of the Dallas Museum of Fine Arts (now the Dallas Museum of Art). When the house in which she was renting a room went up in flames, she returned home to Stillwater and completed two years of graduate study in art at her alma mater.
In 1953 Martha Reed made the fateful move to Taos, having previously spent parts of six summers there with her parents. Almost immediately, she secured a position at Al Thorwaldsen's Pink Horse shop on the Plaza. In her interview with Finchum, Martha indicates that when she arrived for her first day of work, Thorwaldsen, who admired the clothes she was wearing, asked where she had obtained them. As Martha recalled it, the following exchange then took place: "And I said, 'Well, I design them or my mother designs them, and she makes them.' And he said, 'Would you make some for me, for the shop if I get a couple of seamstresses to make them here?' So that's how I got into the dress business, and I had a broomstick skirt already because my father had come out." After a period of time spent designing broomstick skirts, blouses, and Navajo shirts for Thorwaldsen, Martha went to work for the Gay 90's shop in the Kit Carson Museum building, then, together with John McCarthy opened a Southwestern dress shop on McCarthy Plaza.
Finally, in 1955, Martha rented the office space previously occupied by Dr. Onstein, purchased and painted some second-hand furniture, bought some fabric from the Penney's across the street and opened the shop that would become known internationally as "Martha of Taos." Soon she was ordering bolts of calico prints from Memphis to make her signature broomstick skirts. A bit later, she and her seamstresses started making the pleated skirts out of chiffon velvet and producing velvet "Navajo tops" and dresses, some of which ended up being worn at White House state dinners. During the 38 years she operated the shop next to the Taos Inn, her clients included many from the ranks of the rich and famous, including the Wurlitzer Family, Mabel Dodge Luhan, Dorothy Brett, Lord and Lady Escher, Greer Garson, the Duke and Duchess of Albuquerque, Ann Miller, Clu Gulager, Jeanne Kennedy Smith, and President and Mrs. Jimmy Carter. She and her staff designed and constructed the garments worn by Dennis Hopper and Daria Halprin at their 1972 wedding, something Time Magazine saw fit to report. In the 1970s, docents at Taos's Millicent Rogers Museum were routinely clad in velvet outfits from "Martha of Taos," some of which will be on display this spring and summer as part of the museum's "Millicent Rogers & Her Circle" exhibit.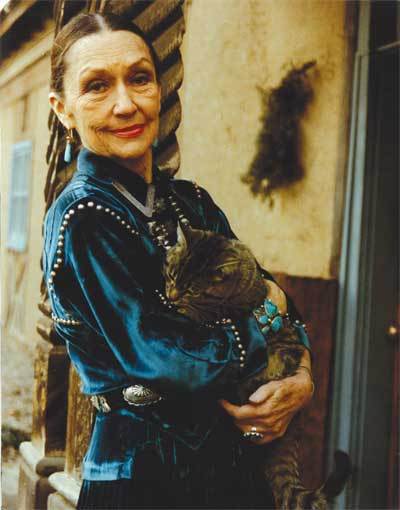 According to Rogers' biographer, Cherie Burns, Millicent adored Martha's skirts, incorporating them into her own signature look and commissioning Charles James and Elsa Schaiparelli to produce couturier versions of Martha's creations. In a piece in Southwest Flair, Zandi Richardson, who has acknowledged Martha's influence on her own designs, identifies Martha as one of the "luminaries" of Taos society, "one of Taos's leading fashionistas." She describes Martha's garments as "inspired by an ingrained appreciation for the valuable legacy of ancient styles" and as exhibiting "flare and daring color sense." For Richardson, Martha's creations are examples of "True Taos Style," which "has nothing to do with fads, what's in or isn't. It has to do with timeless elegance, grace and the beauty of an independent Spirit." Taking in the displays in the windows of some of the more stylish shops in northern New Mexico, one still can discover today numerous examples of apparel that attest to the lasting impact of Martha's aesthetic on the evolution of Southwest style.
Undeniably an "independent spirit," Martha loved to socialize and enjoyed especially interacting with young people. She was frequently invited to Taos gatherings and often commented on how much she relished hosting her own "soirees with hooch." Toward the end of her life, she demonstrated the extent of her spiritual and material generosity by donating the Reed property in Talpa to Oklahoma State University, thereby making possible the Doel Reed Center for the Arts. Martha Reed died in the home she cherished on December 28, 2010, having used up every iota of the unusually large portion of élan vital with which she had been blessed.
E. P. Walkiewicz, Spring 2012
Professor Emeritus of English
Director, Doel Reed Center for the Arts

* In June 2010, my wife, Sally, and I were fortunate enough to be granted the opportunity to spend a couple of hours or so conversing with Martha Reed. Even back then, we already knew a fair amount about her father, Doel Reed, and his considerable contributions to American art. In fact, when I had served as Head of the Department of English at Oklahoma State, I had borrowed from the art gallery one of Doel Reed's Goyaesque prints to hang in my office. Both of us were familiar, too, with the "Martha of Taos" line of apparel since my mother-in-law had passed down to our daughters two of the fiesta outfits she had purchased at Martha's second shop on Canyon Road. Before we met Martha Reed, however, we were not aware of just how remarkable a person she was or of the extent of her own creativity and her influence on the evolution of American fashion.

On that rather summery Taos afternoon in 2010, Sally and I were asked to wait under the portal of Martha's Talpa home while she made herself "presentable." After approximately half an hour, a period of time that was, I have since been told, atypically short, we were ushered through the entrance area into Martha's sitting room, our eyes struggling to adjust to the much dimmer confines of a traditional adobe home. By that point in her life, the woman who loved to travel was restricted to a wheelchair, a measure made necessary, she later informed us, by a tumor of the inner ear that affected her sense of balance. ("I'm not allowed to drive anymore," she added.) As we were escorted into her presence and introduced, she apologized for "looking such a mess today," a comment that, of course, merely drew attention to her very striking appearance. With her hair pulled back, as she characteristically wore it, and clad in a white blouse with gold embroidery, Martha Reed at 88 was still stunningly beautiful. Moreover, there was an almost palpable aura about her—one felt immediately that one had been admitted to the presence of a grande dame holding court in her cluttered, dimly lit, yet somehow energized salon.

Reacting to some almost perfunctory prodding on our part, Martha began to share the narratives of her life and career, anecdotes featuring her parents and house guests, her opinions about living in Taos, and the details of her various excursions abroad. After a time, we were joined by Lucy Archuleta, Martha's friend, former head seamstress, and, finally also, caregiver and companion. Soon the conversation drifted towards fashion and the evolution of the distinctive "look" she, Lucy, and others had popularized. Almost before Sally and I knew it, Lucy began retrieving garments from closets and chests, laying them out dramatically before us. Whether or not the association was appropriate, Sally and I both were reminded of the scene in Fitzgerald's The Great Gatsby in which, to impress Daisy Buchanan, Gatsby displays for her approval a large number of "beautiful shirts."

On that June afternoon earlier in 2010, however, Martha, acting and appearing still very much alive despite her many maladies, herself informed Sally and me of her fondness for entertaining and related some of the details of a few of her more memorable parties. As the time of our leave-taking drew near, her face was still radiant with the glow of recollection. When we rose to depart and Martha urged us to return soon, I found myself thinking of the famous Taos hostesses who had preceded her—of Mabel and Millicent. And as we exited the small adobe house and were nearly blinded by the bright New Mexico sunlight, I was compelled to blurt out to Sally, "That woman defines the word diva." It is a term I subsequently have heard used to describe Martha by a number of people who knew her a great deal better than I did.
E. P. Walkiewicz