Duane Van Vechten, Patroness & Painter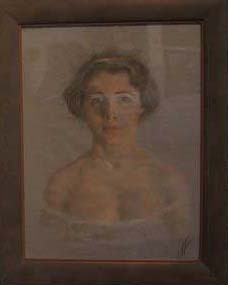 Duane Van Vechten was born in Chicago in 1899 and was the foster daughter of the prominent banker Ralph Van Vechten, and niece to Carl Van Vechten, a writer, artist and noted music and drama critic for the New York Times. Duane studied at the Art Institute of Chicago, the Art Students League in New York City, and under Emil Bisttram while in Taos. Duane would travel to Taos for the summers during the mid 1920's with her mother, in which time the two of them would work building a studio. After three years of labor they completed the project in 1929.
In 1935 she met Edwin C. Lineberry and soon the two were married. They lived in the studio until the main house was built in 1938. Together they built and operated the first grocery store in Taos and also the Kachina Lodge which bordered their estate. Duane created unique Southwestern designs for the lodge as well as the wooden totem pole in the center of the circular Kiva Coffee shop, which is meant to represent "Bird, Beast, Man and Infinity."
While residing in Taos she would paint still lifes, landscapes, portraits, and her favorite subject butterflies. This would lead to naming their estate El Rancho de la Mariposa (Butterfly Ranch). Duane was a versatile artisan working in a variety of media, from oil and watercolor paintings to pastel and carbon pencil drawings. She rarely exhibited her paintings and never intended to sell them. In fact she would label the back of her canvases "Not for Sale." She painted for the pure joy of painting, not for fame or money.
Perhaps the only one to be sold, titled China Cat, was exhibited and won honors at the Chicago Art Institute in 1929. It was purchased by Frederick Upham, chairman of the National Democratic Party, with the understanding that if ever re-sold her husband Ed would be the first to buy it back, which he did.
After Duane's death in 1977, Ed found himself with all her paintings as well as many others they had acquired over the years. These paintings were given or purchased from friends, many who were some of the first artists in Taos, now known as the Taos Society of Artists. Ed wished that others could appreciate the collection, and upon remarrying, he and his second wife Novella would establish a museum in memory his first wife, Duane, and the Taos Founders, so they could "receive the tribute the deserve." In 1994 the Van Vechten-Lineberry Taos Art Museum was created to promote and honor Taos' finest artists.
Sources used: Southwest Art Magazine- October 1995
Taos – landmarks and legends, Bill Hemp 1996
Image is a self portrait by Duane Van Vachten, from the Taos Art Museum collection