Dorothy Berninghaus Brandenburg
Philanthropist, Business, Education and Arts Patron (1902-2005)
Dorothy Berninghaus Brandenburg was born in St. Louis, MO on July 8, 1902. Her parents, Oscar and Emelia Berninghaus were so delighted they decided to celebrate by spending the entire summer at home in St. Louis. (During the past five summers, Oscar had kissed his wife good-bye and headed to Taos to paint Pueblo Indians, their ponies, and their way of life.)
By 1908, Taos was fast becoming an art center and the Berninghaus family, which now included infant son, Charles, traveled from St. Louis for the first time by rail, then via the Chile Line to Servilleta and finally by open buggy, driven by John Dunn, to spend the first of many summers here. Dorothy remembered that trip and recalled in an interview (at age 82) that they were pummeled with hail as they traversed the Rio Grande Gorge!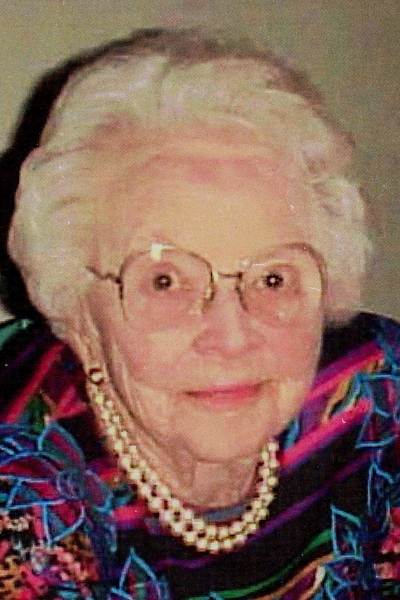 Tragically, Emelia died in 1913 when Dorothy was only eleven and her brother was eight. Oscar remained a widower for 20 years, living in St. Louis most of the year and packing up his children every summer to spend time in Taos. During those early years, Berninghaus rented a small house for his family (for about fifty dollars/year) and paid a monthly charge (seven dollars) for all their meals at the Columbian Hotel (now the La Fonda). Finally in 1919, he purchased a home in Taos, but his children continued their education in St. Louis.
Dorothy attended Washington University in St. Louis, graduating with a Bachelors degree in Education. In the summer of 1925 while visiting in Taos, she met John Peter Brandenburg, a young Oklahoma businessman whose family also vacationed here. Dorothy and Jack were married in 1927 in Santa Fe; two years later they became the proud parents of a daughter, Barbara. The Brandenburg family spent winters in Shawnee, Oklahoma and summers in Taos, moving here permanently in 1931.
Never too busy to help with a community cause, Dorothy was always involved in the civic affairs of Taos. In 1936, she and Bertha Ilfeld started the first school hot lunch program when they realized that many children came to school for the day with just a tortilla stuck in their pocket.
Given her abiding interest in education, Dorothy served as the State President of the PTA in 1948-50 and as a member of the Board of Managers of the National Congress of Parents and Teachers. She was also a member of the Board of Regents of the University of New Mexico.
Jack and Dorothy Brandenburg were quite a dynamic team! They built the new Movie Theater building (on the southwest corner of the plaza) in 1937, and Jack and his partner, Floyd Beutler, continued operating the theater until the late 1960's when it was sold. Every Christmas the Lion's Club sponsored a movie for the school children….and gifts of fruit and candy were given out by "Santa Claus". There were several showings so that all children could be accommodated, and of course, it was all donated by Dorothy, Jack and Floyd.
As good friends of the Harwoods, Dorothy and Jack supported the Harwood Foundation in every possible way. In 1997, they donated the funds to create the Brandenburg Gallery during the repair, restoration and improvement of the Harwood Museum. Dorothy had also donated a Berninghaus painting at an earlier date.
Fortunately for Taos, the Brandenburgs were probably members of every local civic organization, giving generously of their time and resources. Together they helped build the First Presbyterian Church in the early 1950's. Through their friendship with architect John Gaw Meem, architectural services were donated to the church.
As a charter member of the Taos Art Association, Dorothy volunteered to chair the building committee for the Taos Art Association's new auditorium. Working together with other civic-minded Taosenos, the committee's capital campaign raised enough to build the TCA in 1971. Dorothy continued to serve the community as a board member of First State Bank, a member of First Presbyterian Church, and was active with the Harwood Foundation and the Red Cross. She was formally recognized as a Taos Living Treasure in 2002.
Dorothy and Jack celebrated 73 years of marriage in August, 2000; Jack died later that same year.
Among her avocations were fly fishing, horseback riding, hunting, camping, golf and international travel. Her daughter, Barbara Brenner, recalls that she could have been a good painter if she'd worked at it, but she preferred being an excellent bridge player, photographer, and hostess instead. Later in life bridge became her passion; she played three times a week until shortly before her death in 2005 at the age of 103.
Dorothy Berninghaus Brandenburg's story embodies love, dedication, hard work, and generosity. She was a leader, a visionary, an activist and a philanthropist, launching and improving many of the amenities that make Taos so special today.

By Carole Gregory