Barbara Latham
New Mexico has been part of my life for more than sixty years. I've been very happy here. I miss the wild Taos of the twenties and thirties, which is what I fell in love with, and where I fell in love. Although everything has changed … New Mexico is still a vital and happy place for me, and I'm still having fun with my art.
-- Barbara Latham, ca. 1987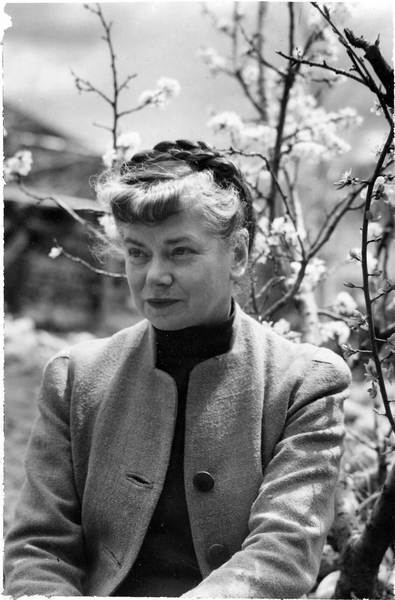 After spending the summer of 1925 vacationing near Pueblo, Colorado, thirty year old printmaker Barbara Latham arrived at Taos Junction via the narrow gauge railroad on September 30, just in time for the San Geronimo Feast Day at Taos Pueblo. Latham later recalled her first impressions of Taos: "I had lived under the brilliant western sky all summer, but I had never experienced such brilliance, contrasted with such fragrant desert. … I loved Taos from the moment I stepped off the train." Latham borrowed an enormous white gelding and rode out to the Pueblo in her English riding habit. Already feeling conspicuous, she took a photograph only to have her camera confiscated by a Pueblo member. Barbara Latham's first visit to Taos lasted just three days, but the following summer she returned and took a job at the Vancil Foster Ranch designing greeting cards, and soon met her future husband Howard Cook.
Barbara Latham was born in Walpole, MA on June 6, 1896, the second child of Allen and Caroline Walker Latham. When Barbara was six her family moved to Norwich, CT, where her father taught science at the Norwich Free Academy, a co-educational liberal arts preparatory school founded in 1856. Latham described herself as a tomboy, and recalled her youth as a happy time filled with ice skating, sailing, and other outdoor activities, punctuated with quiet periods spent reading and drawing. When Latham was eight she won a scholarship to a Saturday drawing class that encouraged her innate love of art. After high school she continued her studies at the Norwich Academy and the Pratt Institute in New York City. Barbara Latham graduated from Pratt in 1919 and spent several summers studying with modernist painter Andrew Dasburg at the Art Students League Summer School in Woodstock, New York. After a brief stint as athletic director for a girl's school in South Carolina, Latham settled in New York where she worked on Madison Avenue designing Christmas cards for Norcross Publishing Company.
Taos artist Victor Higgins introduced Barbara Latham and printmaker Howard Cook, who had arrived in Taos in December 1926. The couple married in May 1927 and after a trip to the Grand Canyon they settled in Taos for several months before returning to the East in March 1928. Their wedding began a partnership that nurtured both artists for more than fifty years. During the first decade of their life together the couple traveled widely in Europe, Mexico and the American South. Barbara Latham's career was profoundly affected by two fellowships that Howard Cook won from the John Simon Guggenheim Memorial Foundation in 1932 and 1934. The grants enabled her not only to explore new subject matter and techniques, but also to gather imagery that she later incorporated into color lithographic illustrations for more than seventeen children's books. In addition to book illustrations, Barbara Latham generated a singular oeuvre of etchings, wood engravings, lithographs and linoleum cuts, as well as paintings in egg tempera, watercolor and oil. In 1934 Latham's work was exhibited in a one person show at the Weyhe Gallery in New York City, then the premier venue for printmakers in the United States.
Latham and Cook traveled to Mexico in 1932-33 on his first Guggenheim fellowship. They lived in the small silver mining town of Taxco, in a house rented from Mabel Dodge Luhan's son John Evans. They shared models and both artists soon adopted the dry brush watercolor technique used by Mexican muralist Diego Rivera. While Howard Cook mastered Rivera's fresco technique that he later utilized in Depression-era federal mural projects in the U.S., Barbara Latham produced drawings, watercolors and wood engravings, and collected material that she later combined with imagery from Taos for her first children's book, Pedro, Nina and Perrito (Harper and Brothers, 1939).
In 1934 Cook won a second Guggenheim grant, enabling him and Latham to travel throughout the American South and Texas where they explored regionalist subject matter made popular by artists including Thomas Hart Benton, Grant Wood and John Stuart Curry. Latham made drawings and watercolors and kept a written journal documenting the people and places they saw, as she had done in Mexico. She later developed her drawings of the southern Texas ranch country into a series of six-color lithographic illustrations published in The Silver Dollar (Harper and Brothers, 1940).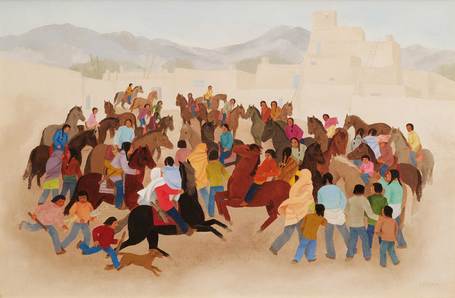 Getting Ready for the Rabbit Hunt
In 1938 Latham and Cook purchased a home on the Talpa ridge which would remain their base for the next thirty-five years. There Latham returned to the subject matter that first captivated her in 1925, creating poetic paintings in oil and egg tempera of the Taos Pueblo rabbit hunt, landscape and genre scenes unique to the Taos milieu such as Decoration Day (Harwood Museum), Tourist Town Taos (Roswell Museum and Art Center), View From Our House in Talpa (Denver Art Museum) and others. Latham created a series of semi-abstract egg tempera, oil and watercolor paintings of milkweed flowers, lichens and driftwood. In the 1950s and 1960s she illustrated a series of children's natural history books for Holiday House, collecting living specimens for her studies of honeybees, tree frogs, caterpillars, butterflies and other wildlife. Barbara Latham also ventured into textile and clothing design in the 1950s, and her tie-dye skirts were featured in McCall's Magazine.
In the fall of 1967 Howard Cook accepted an invitation to become the first participant in the Roswell Museum's newly formed Artist-in-Residence program, conceived by Roswell businessman, artist and patron Donald B. Anderson. Latham and Cook spent the next several winters in Roswell and in 1973 they sold their Taos home and moved to Roswell full time. By 1976 Howard Cook's health had declined severely from multiple sclerosis and the couple made their final move to El Castillo retirement home in Santa Fe. After Howard Cook's death in 1980, Barbara Latham continued her active life of work and travel for another nine years until her own death on May 28, 1989, just a few days before her 93rd birthday.
Barbara Latham's artwork has been collected and exhibited by The Whitney Museum of American Art, National Academy of Design, The Metropolitan Museum of Art, Philadelphia Museum of Art, Library of Congress, Museum of New Mexico, Roswell Museum and Art Center, The Harwood Museum of Art and many others.
Much remains to be learned about the art and life of Barbara Latham, which like that of so many women of her time has long been eclipsed by that of her more famous husband. Barbara Latham's legacy as a remarkable woman continues through her artwork that expresses her intrepid spirit and the dynamic time in which she lived.
By Teresa H. Ebie
Barbara Latham's favorite activities: An outdoor person, Barbara Latham loved horseback riding all over the Taos area. When she and Howard first married she rode horseback each day from their home in the Harwood studios (now part of the Harwood Museum of Art) to work at the Vancil Foster ranch in Ranchos de Taos. Later, after they bought their home in Talpa in 1938, she continued to ride and go for long walks in the countryside. Barbara also spent time painting outdoors, gardening and raising small animals. She made a point of attending events at Taos Pueblo, and like many Taos artists of her time, she was a regular at Mabel's parties.
Photos:
Barbara Latham, 1950s, photograph by Mildred Tolbert. Courtesy Latham Family Educational Trust.
Barbara Latham painting, Getting Ready for the Rabbit Hunt, ca.1955, oil on canvas, 20 x 30" Private Collection. Photo courtesy David Cook Fine Art, Denver.