Lorrie Bortner, Meditation Teacher and Artist
Lorrie feels it is important to contribute to enriching the community. She does this through teaching the Transcendental Meditation Program (TM), creating murals with youth, painting and continuing the local tradition of colcha embroidery. Lorrie has been teaching the TM technique for 38 years and painting for 40 years.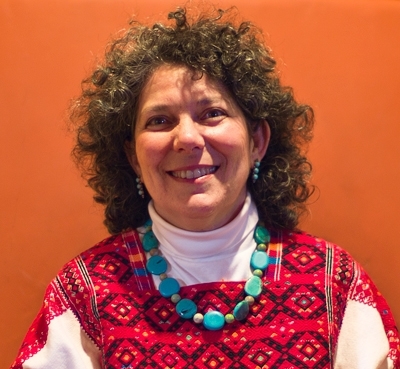 Lorrie moved here with her husband Thomas J Johnson 17 years ago after spending their honeymoon in Taos. Lorrie had recently received a MFA in painting. She also holds an MA in education and MSCI in interdisciplinary studies. "We made our home here because of the feeling of community. It is not the fast pace of the East Coast but an easy pace inspired by the natural scenery and ancient traditions."
Lorrie was born in Philadelphia and lived her early years in Philadelphia, Chicago, New York and New Jersey. She remembers going to the great museums as a child and being enthralled by the paintings. Lorrie began seriously painting in the 5th grade and attended a local art league and the Philadelphia College of Art Saturday classes for lessons.
In 1971, while a junior in high school Lorrie learned the Transcendental Meditation (TM) technique. Two years later she spent nine months on a TM Teacher Training Course in Switzerland with the founder, Maharishi Mahesh Yogi. She is a certified teacher of the TM technique. Lorrie spent many subsequent years attending advanced training courses with Maharishi. She finds that the TM technique enhances her creative experience and expression as an artist. Over 500 peer reviewed research studies show the benefits of the TM technique to ones health, life and the world. Many Taoseños both young and old have learned the TM technique from Lorrie. She also leads TM Residence Courses (retreats) in the Taos Ski Valley.

Lorrie has created murals with youth around town; they are located at the Taos Economic Development Center (exterior wall), Taos Youth and Family Center (exterior wall and interior murals leading to the pool area), DreamTree Project (exterior wall), Enos Garcia Elementary School (two interior locations), Taos Junior High School (office), Taos Charter School (interior location) and more. She has also taught the endangered art form of colcha embroidery to elementary age students in the Taos schools. She is also a substitute teacher in the schools.
Lorrie has found Taos welcoming. Women can be who they want to be. This applies to the past, present and future women of Taos. Perhaps the 'air" fosters creativity, independence and caring.
"My favorite place is Taos Pueblo. I enjoy attending the traditional dances. The atmosphere is very special."

Websites of interest: lorriebortner.com, TM.org/taos