Tomacita Martinez Tedesco, Occupational Therapist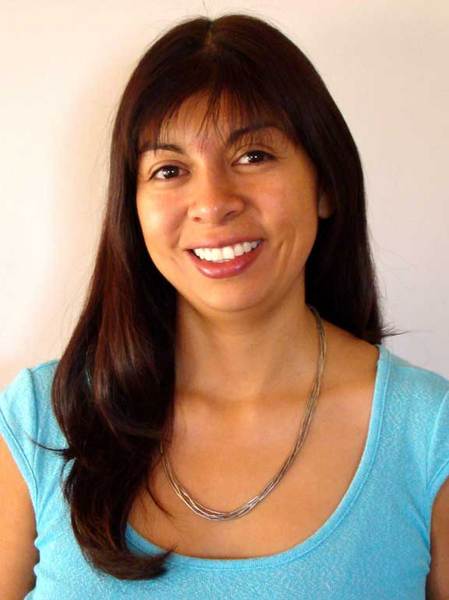 Tomacita Martinez Tedesco grew up in Taos, the product of two cultures and a family that set no limits on what she could achieve through her own personal vision, curiosity, love of adventure and education. From a very young age, her father's Taos Pueblo heritage and her mother's proud Hispanic traditions shaped the thinking and subsequent trajectory of this young woman's life. And as in most Taos families, the matriarchal line played an important role:
"My mother is Hispanic and my father is from Taos Pueblo. The Pueblo culture has many traditions that are taught from mother to daughter and I was only able to receive those experiences later from my paternal grandmother, Clara Martinez. She was born in 1912, the year that New Mexico became a state, worked a job and managed a household. My mother really taught me to love learning and encouraged me to become involved in new experiences. I am not what most would consider a traditional woman from Taos Pueblo. I spent a lot of time trying to figure out who I was and where I fit in. I came to realize that there are many others before me that have had the same experience of having to choose between living in a traditional culture and the modern world. I have combined the two cultures to the best of my abilities but unfortunately I cannot say that it is equal. I really admire and respect my cousins and friends that maintain their traditional lifestyle. However, I had to be me and pursue my dreams. I have had many different experiences and accomplishments for an ordinary girl from Taos."
From a very young age, Tomacita was absorbing the influences of the world around her. "I am a product of Taos, meaning that my accomplishments and experiences are a result of taking advantage of the opportunities that I was able to find here and through the people who helped me and showed interest in me to invest their time and effort."
And some of those were seminal. For example, as Tomacita recalls it: "My father restored the Nicolai Fechin House in the early eighties. I remember meeting Eya Fechin (his daughter) and spending some time there but I was very small. When I was about three, there was a grand opening reception for the museum. There were news cameras and a lot of people. I remember playing by the pond (now filled in) looking down at the fish and I fell in. Eya said at that point she believed I was baptized in Russian. I could not think of a better explanation. I have memories going back to when I was seven where I have been fascinated with Russian language and culture. At age fourteen Eya started to encourage me to take lessons and I continued to study Russian until I was able to travel there for the first time in 1998 and again in 2000. I traveled to Kazan and was able to see Fechin's grave, the art academy where he taught , and the art museum."
Tomacita loved the outdoors and cultivated her athletic abilities, trying many sports throughout her teen years. "I became part of the local Explorer post through the Boy Scouts of America with Bill and Lorrie Waugh who have donated a lot of time to work with young people. This included week-long backpacking treks at Philmont Scout Ranch. In 1997 I went on a 21-day backpacking trek called Rayado. I was also very active in tennis. From the town's summer tennis camp I met Kurt Edelbrock who became my coach as I joined the high school tennis team. I was able to increase my skills enough to play college tennis at Vanguard University in Costa Mesa, CA." It was on the courts that she was to meet her fiancé, Jamie Tedesco.
Graduating from college in 2002 with her bachelor's degree in cultural anthropology, she knew she wanted to return to Taos. It was home and she really felt the pull of family. She convinced Jamie to return to Taos with her that May. They were married in September of 2002.
"I began working as an educational advisor for the Eight Northern Indian Pueblos Council's educational talent search program. I worked in various schools throughout northern New Mexico promoting higher education. I was able to interact with over a hundred students aged 12-18 in Taos, Espanola and a couple of the Pueblos."
Around that time, her father was diagnosed with a brain tumor, and then suffered a post-operative stroke. During his rehabilitation she recalls, "When I met the occupational therapist in my dad's hospital room I remember thinking right away, 'this is what I want to do'." She enrolled at UNM-Taos in 2005 for her prerequisites, receiving her master's degree in occupational therapy from UNM in 2007.
"When I tell people I am an occupational therapist they often think I counsel people regarding their work situations. Occupational therapy is such a broad field. We work with people on rehabilitating or facilitating their everyday occupations. For a small child that can be helping them learn to play; for an older person it may be helping them to stay independent. Currently I work at the Taos Day School, Mesa Vista Consolidated Schools in Ojo Caliente and at the Taos Living Center. In the schools I can give a child one-to-one attention. We work on skills such as handwriting, but we also work on broader tasks such as visual perception and sensory integration. At The Living Center I am able to help someone recover from an illness or injury and return safely home to their previous activities."
Work is only one part of her life, as she describes it. "I am a wife, a mother and I am active in my church. I also continue to take care of my father along with my sisters. At one point after my daughter Tabitha was born I sat back and thought, 'I have accomplished every goal I have set for myself'. On one hand I feel very accomplished and fortunate to be able to say that at such a young age. On the other hand I find myself asking, what's next? Right now I really want to focus on being a mother. I would love to travel more and continue to work in my community. I don't think that I will ever stop learning."
Her advice to those seeking to find themselves: "If you work hard you can accomplish anything."
What is it about Taos that sustains creative women? "Taos is very different from the rest of the country; and you either love it or not. I think the opportunity and the history really are an encouragement and an example for women to accomplish great things here."
And what places inspire her most? "There's nothing like being at home looking at Taos Mountain as the sun comes up. Of course, whenever friends come to visit me in Taos I prefer to take them to the Pueblo, the Fechin house and the Martinez Hacienda. I also like to take people out on the Enchanted Circle drive. Driving through Eagle Nest reminds me of Philmont and hiking Mt. Baldy. And I think I have one of the most beautiful commutes from Taos to Ojo Caliente. I drive across the gorge and can see for miles with absolutely no traffic. It makes me feel sorry for my friends in California who sit on the freeway every day."