Katlin Okamoto, Youth Coach
Since going to college and spending time in other places I've realized that a lot of who I am has to do with being raised in this community that is vibrant, multicultural, interesting, beautiful, and accessible. Creative people need to exist in their own personal worlds at times to work their craft but also need to connect to other great minds when they come up for air. Taos has a lot of people doing this in one place and living here also allows you to get out into the mountains to clear your mind!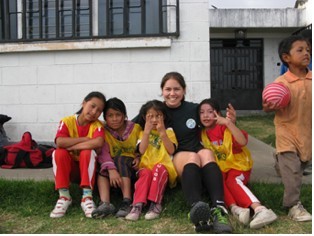 For as long as she can remember, soccer has been Katlin Okamoto's passion. For her the game is alternatively a driving force, a getaway, a way to meet others, and more recently an avenue to share her experiences with youth. Whether kicking a ball through the grass or juggling it in the air, soccer grounds Katlin. She views the sport as international, as a second language—that connects her with people from different cultures.

For the solid grounding that continues to sustain her, Katlin salutes her close-knit family—including her parents who instilled in her a work ethic as well as acceptance and understanding of diverse cultures, and her Bachan (grandmother) whose strength and ability unified the Okamoto family. The Taos community also helped raise Katlin. She credits Michael Hensley, her coach of 18 years, with her success as an athlete. As the town's youth soccer coach his guidance and support has touched generations of Taos soccer players. One of Katlin's earliest mentors was her first grade teacher Eleanor Romero, who imparted an eagerness to learn and a lasting desire for further education.

Recently the Taos Sports Alliance nominated Katlin Okamoto as a remarkable Taos woman both for her accomplishments as a soccer player and for her work with youth. A recent graduate of Colorado College in Colorado Springs, as co-captain of the women's soccer team Katlin helped guide them to the NCAA tournament in 2006. She later joined the Soccer Without Borders team as the Director of Girls Programs and designed a program to promote girls' involvement in soccer while encouraging self-esteem, leadership and healthy choices amongst the participants. Katlin stated her goal with this endeavor: "I am looking forward to promoting girls involvement in sports in a way that respects cultural practices and is sustainable for the future."

Katlin Okamoto's favorite sites and sights: Christmas Eve at Taos Pueblo, hiking the trails around Taos Ski Valley or up the canyon to Angel Fire. For a local food fix: Mante's, Mary Janes, or the Guadalajara Grill.

For visitors to Taos Katlin has the following advice: You have to strike up a conversation with the locals and see what they are doing. Ask them for the skinny on the best hikes for the season, find out where they go for lunch every day and what they order, and look for the events where you see more people from the community than from afar. Try to get in on a conversation about the local politics or news to understand what really is meaningful to people here. It's important to soak in the heritage of Taos but after you do that, cruise the back roads and look for the things that are not in the guidebook.
By Elizabeth Cunningham, 2011
Blog host, "Mabel Dodge Luhan and the Remarkable Women of Taos"
Photo: Soccer Without Borders camp, Solola, Guatemala