Loretta Ortiz y Pino, MD
Chief Medical Officer, Holy Cross Hospital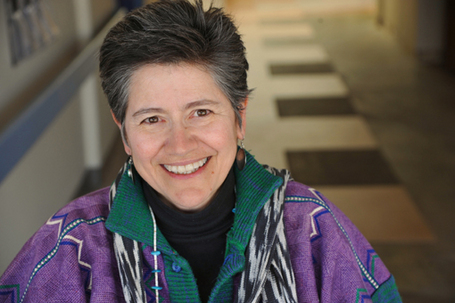 About ten years ago, a bright-eyed elementary school student asked Loretta a question that changed her life: "Why did you become a doctor?" "This question changed my path," she admits, "I began to think about the real reasons I am a doctor, the healing and integrative parts of health that I didn't really learn in medical school." Loretta has a strong belief in healing, through medicine as well as through traditional and spiritual means. Loretta is the first physician in her family, her family has a tradition of curanderas and the integration of medicine and healing traditions is important to keep alive. She says "when people can share their stories with a doctor, their opportunities for healing increase exponentially. Stories are really powerful tools for healing."
Loretta grew up in Santa Fe. Her classical guitar teacher was her inspiration. Her teacher played seventeen instruments and had traveled the world. "It got me to thinking outside the box," she says. She opened Loretta's eyes to big big world beyond and encouraged her to seek connections with other people. She has never forgotten this learning. As a medical student she sought to do a residency in Taos, and spoke with Charlie Anderson on the phone. He encouraged her to come to Taos. When she arrived, he was out of town. She completed her residency and never met Charlie. For the next seven years she and Charlie had a by-phone relationship and she never met him in person. She practiced in Shiprock, traveled out of the country, but always stayed in touch with him. Eventually he got her to Taos. Together they worked side-by-side in Taos Clinic for Children and Youth. Loretta credits Charlie for teaching her about the practice of pediatrics, and really, for finally getting her to Taos.
When speaking about the path to becoming a physician, Loretta says "to young medical students, I would say, remember why you chose the profession. The study is rigorous and it has lost its focus on patients nowadays." She says that young physicians has to really fight to get back to the heart of it, and search in themselves to remember that being a physician is about helping people change their lives.
Her most rewarding part of being a pediatrician is the privilege of work with mothers and families in Taos. She experiences how much hardship exists in this community, and she also sees the incredible resilience and love, the dedication to family and connection to community families demonstrate. It reminds her how wonderful her role is. The system of health care is not always conducive to getting care and Loretta's current role is to change that system so that families can have care available to them. It is a wonderful and challenging role, and a place where Loretta feels like she can make a difference in Taos.
During her off hours, Loretta loves to enjoy her own backyard, and especially take time out at US Hill, Amole Canyon and travel to Los Brazos near Chama.
by Rita O'Connell