Kat Duff, Neurofeedback Therapist, Author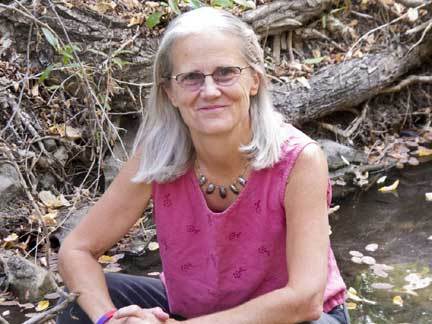 Kat Duff can barely remember a time when she wasn't interested in helping people. Her first experience was comforting a childhood friend who was often abused at home. Clients and friends in Taos probably know her best from her years of working with the Battered Women's Project, the Children's Saferoom, (a program of CAV), the Court Appointed Special Advocate (CASA) Program and in her private counseling and neurofeedback practice.

The Battered Women's Project was a grass roots effort to provide services to victims of domestic violence not available in the community at the time, the early 1980s. After a year in which five people died from domestic violence, a group of concerned citizens established a hot line of volunteers to assist victims and offer shelter, often in their homes. Kat was the first employee, hired to coordinate volunteers, develop prevention programs and find funding.
A few years later, Kat developed Chronic Fatigue Syndrome, a debilitating illness that rendered her mostly bedridden for four years. Frustrated by the lack of information and helpful guidance for living with illness, she began writing to describe her experience for friends. That essay eventually developed into a book, The Alchemy of Illness published in 1993.
Kat, who has also had breast cancer, points out that Chronic Fatigue Syndrome was for her the harder experience because medical science has no marker or treatment for it. As a result, people often don't take it seriously. Breast cancer, on the other hand, is a condition the medical community is prepared to treat and for which the community offers a great deal of support.
Returning to work full time, Kat ran the Taos Children's Saferoom, program of CAV that works with law enforcement and social services to facilitate investigations of suspected child abuse in the five northeastern counties of New Mexico. As a child forensic interviewer, Kat helps children tell what they know in a safe environment while investigators watch from the adjoining room.
Kat says that working in the program is rewarding because more often than not children are protected when abuse is disclosed, and they are usually able to stay with someone they know and trust. An advocate with the Saferoom offers continued support to the family, and arranges counseling for the child.
Today Kat works one day a week providing interviews for the Saferoom while she pursues her private practice of counseling and neurofeedback full-time. Her keen interest in neurofeedback came as result of her work as a Court Appointed Special Advocate for children in state custody for several years. By chance she worked with a young child who had been in and out of psychiatric and residential treatment programs since he was three years of age and had such severe behavior problems that he was at risk of being institutionalized as an adult. During the course of her work with him, he described to her the only time in his life when he had ever felt in control of his behavior. It was during a course of neurofeedback treatment. Neurofeedback enabled him to change his brainwave patterns and thus change his behavior.
Kat is currently writing a book on sleep with the working title, The Secret Life of Sleep. She says most people take sleep for granted yet our sleep patterns today, which have changed dramatically since the industrial revolution, may cause serious problems for people. Her book takes multi-disciplinary approach to sleep, drawing on contemporary neuroscience, ancient Eastern philosophy, historical and cross-cultural practices and indigenous perspectives.
Kat has lived in Taos for over twenty years. She came drawn by a friend, but she soon valued the rich cultural diversity of the community and its rural life too much to leave. For her, Taos has much more to offer than the mono-culture of the middle-class community in which she was raised and her life is enriched by on-going relationships with the many clients and friends she has worked with over her years here.
By Carol Farmer
Photo ©Kathleen Brennan, 2012