Cynthia O'Shea Burt, Co-Director Skating Club of Taos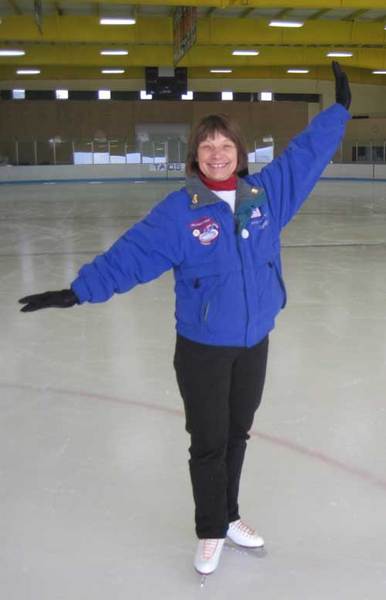 Cynthia O'Shea arrived in Taos by Greyhound Bus in the quiet fall of 1966 after her first year of college at Michigan State. She immediately loved the people in Taos, and she is still struck by their basic humanitarianism, and the remarkable inventiveness and creativity of the people of the area. Cynthia met Taos native Gordon Burt on her second day in Taos, beginning a partnership of 43 years. She admires how Gordon always strove for perfection. After Gordon retired from serving the community as Fire Chief at Taos Volunteer Fire Department and Fire Rescue, the couple began a bodywork business together called C&G Massage, where Cynthia practiced reflexology. Cynthia and Gordon raised a family at their Salazar Road home, where Cynthia enjoys gardening and watching birds in her back yard with her dog Schatzi.
Desire to keep her own young children occupied and help other young children in Taos led Cynthia to found the local Girl Scouts Chapter in 1979. She served as leader for five years, and Day Camp Director for a year. She still feels that being involved with youth is a top priority and has been a dedicated ice skating coach since 1994.
Cynthia learned long ago that if you want something to get done, or you want to preserve and nurture something you cherish in your life or the community, you have to volunteer to do the work yourself.
One of her great loves of Taos has always been the artistic community. Cynthia spent ten years as a sales representative for the Taos Fall Arts Festival in the Taos Open from 1991-2001, and spent four years in sales for the Spring Arts Festival in the early 1990s. She also served as President of the Women's Division of Taos Chamber of Commerce, and served on the Board. She was the coordinator and chairperson of Taos Clean & Beautiful campaign, and served on the Parks and Recreation Advisory Board.
Today she donates time to Town of Taos Events, and teaching ice skating classes at the Taos ice rink. From the days of the outdoor rink at Kit Carson Park, Cynthia has been a strong advocate for the ice skating program sponsored by Skating Club of Taos which is now hosted at the beautiful ice rink at Taos Youth & Family Center. A student and coach of the US Figure Skating Association, a USA Hockey-affiliated program since 1994, Cynthia took over as skating club director in 2006-2007. She thanks co-director Peter Heveron and other coaches for their help, and credits remarkable founder and coach Paula Edwards with giving her the determination to keep learning and practicing new skating skills.
Cynthia's ongoing passion for ice skating contributes to her proudest accomplishments. "The fitness, focus, and skill advancement that ice skating provides is a personal accomplishment; and as a coach you feel amazed when you see the sense of accomplishment on a student's face, no matter what age they are. It is priceless." Cynthia also says that "skating reminds us that no matter how good you are at something, the unexpected can happen, so be aware that you could fall. Then you have to get back up again and keep going."
Cynthia is very proud of her former skating students who have also donated time as skating coaches in Taos, and are remarkable young women to watch: Xahra Gilbert, Hannah Cornelius, and Alicia Robinson-Welch.
Cynthia's favorite place in Taos to exercise, meditate, focus, and replenish is at the ice rink at Taos Youth & Family Center, open annually from November to mid-March.
By Carrie Leven
Learn more about Taos Youth & Family Center ice rink