Elisabeth and Patricia Martin, Sisters and Fitness Instructors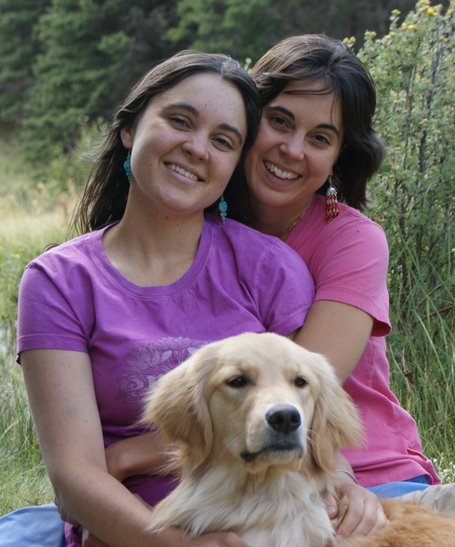 Sisters Elisabeth and Patricia Martin led Zumba® classes six days a week at Questa Fitness and Health Center throughout 2011. Zumba® is dance-based, joy-inspiring, high-energy fitness program set to Latin and international music. So it's perfect that the sisters have a background in fitness and studied dance for years. They love dancing and make a great teaching team.
Elisabeth and Patricia were born in Massachusetts and then moved west with their family to South Dakota and then Wyoming. They both studied Aikido from a young age. Elisabeth began teaching Aikido at 16 years old and is now a second-degree black belt. Both young women finished high school early and started college at age sixteen at Casper College, majoring in music and studying voice and piano.
Eight years ago Elisabeth and Patricia moved with their parents, Daniel and Ruth, to El Rito, north of Questa. When asked about who inspires them, both answered: "Our mother has been a big inspiration for us throughout our lives. Her strength, beauty, and guidance have been very influential in our growth as children and now as young women. Despite chronic back and hip pain throughout her life, she has maintained a vibrant state of being and a love for life. She has found a renewed sense of joy in movement through Zumba®, something that she would not have dreamed she could do earlier in her life." Ruth believes in sound as a powerful tool in healing and uses her voice, crystal bowls, and harps to facilitate wellness in body, mind, and spirit for herself and her clients.
The sisters both have a passion for animals and for fiber arts, and the family kept a small herd of rescue alpacas on their farm until last year. "We raised the alpacas - hand shearing, carding, and spinning the wool to use in crochet shawls, hats, and mittens," Patricia says. She is known for her beautiful shawls and has received awards at the Taos Wool Festival garment competition for her work including, Grand Champion 2006, Reserve Champion 2011, and the Lorraine Moony award 2010 and 2011.
Before it shut down in December 2011, Elisabeth had worked at Questa Fitness since 2008, as an ACSM certified personal trainer. Both she and Patricia love cooking, creating their own recipes and inventing healthy and delicious variations of traditional recipes. Cultivating their love for dance through their teenage years, they were excited to become Zumba® instructors so they could share their passion for movement and dance through Zumba® Fitness.
When the gym closed suddenly last December, the sisters scrambled to find a new home for Zumba®, and for the popular community yoga classes. It was difficult to find an available venue in Questa, but they persisted and even got business licenses. "We now offer classes at Questa Youth and Family Center three times a week, where I also teach a Friday morning yoga class," Elisabeth says.
Elisabeth has studied Svastha Yoga with Monique Parker through the UNM-Taos yoga teacher training program. "I'm excited to be continuing my yoga studies at the 500-hour level through Svastha Yoga and Ayurveda with Dr. Ganesh Mohan."
Patricia teaches evening Zumba® classes at Taos Youth Ballet and Aura Fitness. "I recently became licensed to teach Zumbatomic® and want to start classes for kids."
They both find inspiration and peace in the mountains of Northern New Mexico. "We love hiking with our dogs and the Columbine Trail is a favorite fast get-away. In Taos, Wabi Sabi and Mud N Flood are our favorite shops."
By Carrie Leven April 2012
For the Cinco de Mayo Zumba® Fitness Fiesta