Kirstie Bender Segarra, Massage Therapist and Yoga Instructor
Yoga and Medical Massage Teacher, Massage Therapist and Yoga Instructor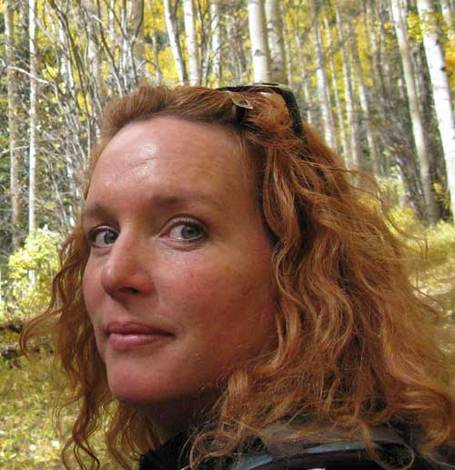 Moving to Taos on a whim in 1998 turned out to be a boon for both Kirstie Segarra and northern New Mexico. Originally from Seattle, Kirstie changed career directions from Environmental and Economic Consulting to Holistic Health and Healing Arts. She earned a Masters degree in Whole Systems Design from Antioch University, Seattle, followed by certifications for yoga teacher and massage therapy, and other extensive training.
Kirstie's new focus was the genesis of two professional accomplishments that greatly benefit the community. She designed and implemented the Integrative Massage Therapy Program for the University of New Mexico-Taos, where she also co-designed the Yoga Teacher Training Program. Another goal still under development is a future program in direct entry midwifery as a Associates of Science Degree at UNM-Taos.
Along with the popular university programs, Kirstie has been nurturing Santosha Yoga as an enriching environment for yoga through workshops and regular sliding-scale community classes. She continues her advanced training in myofascial massage and education towards a doctorate degree in midwifery. She also serves as Chair of the New Mexico Massage Therapy Board representing Northern New Mexico. Kirstie finds time to travel to Bali where she volunteers assisting women. "One day I'd like to see a healing arts center in Ubud, Bali that has a sister relationship to Taos."
She calls her grandmother, Tutu (Hawaiian), her greatest role model for women. "My grandmother taught me that a woman can be independent, graceful and wise. She was an amazing teacher and artist. My favorite memory of her is the twinkle of joy she had emanating from her eyes."
A single mother, Kirstie calls her 12-year-old daughter her greatest personal accomplishment. "My hope is to raise an intelligent, strong and creative woman who can contribute her personal talents to the world."
Kirstie names some of the young women she meets through teaching as remarkable women to watch. Her advice for others is, "Do not be afraid to follow your heart, passion and intuition. Be patient and honor the small accomplishments you make everyday. In the end, they all add up to something bigger and more wonderful than you can imagine."
It took inspiration, determination, and strength for Kirstie to build an alternative home out of recycled materials. "Taos is not an easy place to live. It challenged me to spend a lot more time alone and get to know myself in new ways. It taught me to trust myself and that I was a very strong woman."
"Taos is the wild wild west. There is a freedom here to develop and pursue one's dreams—if you have the patience. You cannot force Taos to change and you can become part of Taos if you choose."
Kirstie loves hiking near her Taos area home. "I live next to the Rio Pueblo, where there are amazing secret hiking trails down to the river. The wildlife is incredible, from bald eagles, herons, to dragonflies."
By Carrie Leven, March 2012
Photo by Ross Jenkins
Useful links:
Orilla Verde Recreation Area and Taos Valley Overlook Trails
Santosha Yoga
UNM-Taos Integrative Massage Therapy Program
Balinese Traditional Massage