Sisters: Josephine Brown, RN and Jessica Alcon-Romero, RN
Josephine Brown RN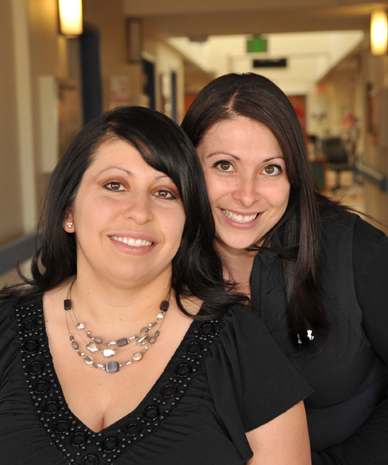 Initially, Josephine Brown thought she wanted to be a teacher. She's glad she went into nursing, though. "It allows a lot of flexibility, a lot of diverse fields," she says. "I feel like I have options for change, if I'm ever interested in something else, like education or home health."
She's always worked – she had her first daughter right out of high school and wanted to be available to her. So she got a job working the front desk at the Taos Inn, even though she knew college was in her plans for the future. After about five years she started her prerequisites at the University of New Mexico-Taos, "And once I started, I didn't want to stop. I got married in 1999, and I've been married since. My husband's family is from here, and my mom and my sisters, so that's sort of how I figured out what I could do to stay here."
She was inspired to pursue nursing because she knew she could complete a degree program here in Taos – she knew she didn't want to move to go to school. Unfortunately, the program lost its funding at the time she enrolled, so she ended up having to travel to Highlands to complete her degree. But she stuck it out and completed her BA, and she's glad she did. "People always say, 'I'm not too smart' or, 'I can't do it' – but everybody can do it, as long as you're willing to put in the effort. You just have to be dedicated and you can get through it," Josephine says.
Looking back, she has an entirely separate reason to be glad she went into nursing. Her second daughter is disabled. She has a rare genetic disorder called Rett Syndrome, which is on the autism spectrum. She's pretty high-functioning on that spectrum – she can't talk, but she can walk and do a little for herself. Josephine says that because she's a nurse, "I feel like I understand, and I know what needs to be done. I'm glad I'm in this field – if something arises, I know how to look for the information to help. Not that I knew back then, but looking back it's a good thing I became a nurse, for that reason."
She's happy to be in Taos with her family. "I like the quiet, small-town feeling of Taos. I want to raise my kids in a small town. There are great people around me, and great food. I like being outside when it's warm — and I haven't skied in a few years, but I do love that. And I enjoy being supportive to my kids and my husband," she says.
Josephine is also very appreciative of her coworkers at Holy Cross Hospital. "All my coworkers are family oriented. We get together, have lunch, have conversations outside of work, share meals at work. I feel like we're very close, tight-knit family coworker environment. Everybody supports and encourages each other."
Jessica Alcon-Romero RN
Jessica Alcon-Romero has worked at Holy Cross for nine years. She started as a unit secretary, but knew from the start that she wanted to be a nurse. Her mother was a nurse for thirty years, and always encouraged Jessica and her sister in the same direction – telling them that there were so many opportunities and avenues, and reminding them how satisfied she had been in her own career choice.
It wasn't just their mother encouraging them, either. "My paternal grandfather is a big believer in education," says Jessica. "I remember growing up he'd always talk to us about the value of a good-quality education. For a man of his generation he was a forward-thinking person, who knew that a woman's place was no longer dictated by a man, that we had our own choices to make in life." Other members of her family have inspired her, as well – cousins in pharmacy, aunts in speech pathology, an uncle who's a physician. "They're all inspirations, because they're successful ambitious and driven people," she says.
So Jessica (a native New Mexican, who lived in Mora and Las Vegas before her family settled in Taos when she was eleven) worked her way up. From secretary, to nurse's aid, to cardiac monitoring for ICU and PCU. She's now been nursing for five years. Jessica got her associate's degree and went straight on for her bachelor's. Now an RN, she's currently in graduate school full-time, hoping to become a family nurse practitioner (FNP).
"FNPs can see anyone from a neonatal to a geriatric. I briefly contemplated doing acute care because I do want to work in the emergency setting, but I think FNP will give me a broader overview." She has two more years to go in her degree, and a busy schedule to keep up with as she works and studies. Jessica laughs, "I think I'd taken for granted the extra freedom I had, when I had days off."
It's clear that she considers the sacrifice of free time to be more than worth it. "It is probably one of the harder jobs that I've ever encountered, but it's also one of the most rewarding. Especially if you like working with people," she says. "What I really like is, since Taos is so small, it warms my heart when I run into people who say, 'Oh, you took care of my mom!' That's what I like most."
Family matters most of all to Jessica. "My husband laughs because we're a very close knit group, my family and I. My sister just recently had her fourth child! I love being able to help my family out – I babysit him while she's working. It's just ten minutes down the road to visit my siblings. I like being close to my family."
And, for Jessica, a very close second to family is Taos' natural beauty. "We are surrounded by nature's beauty. I constantly tell my husband, 'Let's go for a hike up the canyon; let's do the Enchanted Circle. I don't take for granted the fact that we have clean air, that I can walk out and see the stars at night. I've been to the city, where I walk out and there's not a single star to be seen – that doesn't hold any appeal." Taos, she says, has a lot to offer.
Written by Rita O'Connell for Holy Cross Hospital
Learn about more remarkable women from Holy Cross Hospital
Photo, left to right: Josephine Brown, Jessica Alcon-Romero, by Lenny Foster, Living Light Galley