Monique Parker, Yoga Educator, English Instructor, Writer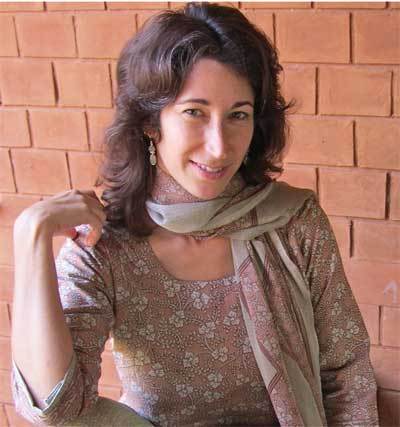 Ten years ago Monique went from high tech to high touch when she left a lucrative career in Silicon Valley and relocated to Taos. Wanting to serve others and lead a more authentic life, she went back to school for more education. "Moving to Taos enabled me to reboot, get in tune with my innate talents, and establish community—all of which has helped me to tap into the creative of spirit of this place."
Monique found a way to turn her two great avocations—writing and yoga—into vocations. First she earned an MFA in Creative Writing and then underwent extensive yoga training in the both the US and India with A.G. and Indra Mohan, personal students of the legendary Sri T. Krishnamacharya, the father of modern yoga.
Three years ago Monique developed curriculum for and co-founded a 200-hour Yoga Teacher Training program at the University of New Mexico-Taos, where she also teaches English Composition and Creative Writing. A yoga practitioner for the past seventeen years, she originally started taking classes to help relieve symptoms of stress, including chronic back pain. Now her goal of "helping others embrace life's challenges through the wisdom of yoga" is being accomplished daily in Taos and communities throughout New Mexico.
"I am proud that UNM-Taos offers one of the least expensive yoga programs in the US, making yoga accessible to everyone," she says. Many of her students never intend to teach, but have heard about yoga's benefits, or have taken yoga classes and want to understand the methodologies behind the practice. "We now have certified instructors who are teaching in Angel Fire, Cimarron, Ojo Caliente, Chimayo, Cerro, and Questa."
Monique encourages potential yoga teachers to think outside the box on how to combine yoga with their strengths. "All of us have innate talents, interests, and work experience that yoga compliments. Yoga is malleable. My job is to inspire others how to fit yoga into their work and lifestyles."
Her goal is to make Taos a yoga destination—"where people from all over the US come to study yoga, train to become yoga teachers, and enjoy all that Taos has to offer."
Along that path, this year Monique will be launching the first US-based Svastha Yoga affiliate school. Monique credits her continuing study with the Mohan family for inspiring and deepening her own practice and teaching. She says, "What makes the Mohans remarkable is their steadfast commitment to the path and unparalleled knowledge. They clarify confusions that abound in the yoga world so that the fundamental teachings won't be lost."
For Monique Taos is home. "Taos is a place where I feel most comfortable living in my own skin. There's not a day that goes by that I don't feel immense gratitude for being called here. Where I was once concerned with how much money I made, I now look for ways I can give back."
When asked what about Taos cultivates remarkable women, Monique replies, "Everyone who lives here knows that it doesn't matter in which direction you look—the beauty draws you closer to your creative instincts. And the continuous native presence is the spiritual heartbeat of our community, reminding us to not only stay connected to the earth—and to each other—but also to nurture creative and spiritual endeavors that transcend the angst of everyday life."
Monique's favorite Taos hiking spots: "Almost every day I hike in the Latir Peak Wilderness above my home. Another favorite place to be in nature is at the Latir Lakes in the Rio Costilla Park in Amalia."
By Carrie Leven
Photo by Martha Flanders
For further information on Monique Parker, visit website.