Kathy Namba, Community Outreach Manager, Holy Cross Hospital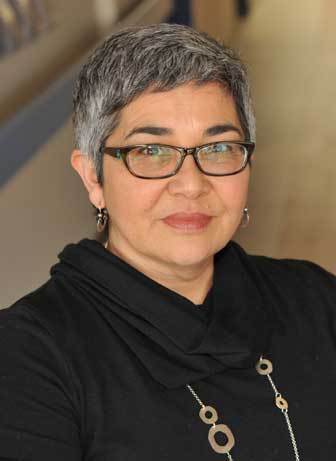 Kathy Namba was born and raised in San Francisco in a Mexican-American family, the middle child of three daughters with a blue-collar dad. After attending San Francisco State University, Kathy moved to Japan to teach English as a second language. For ten years Kathy lived and worked in Japan, and had three sons while teaching and running her own ESL business.
In 1989, she returned to San Francisco as a single mom. Her boys were two, four, and six. Just one year later, she met the love of her life: Summer Wood, who was living in Questa at the time. Kathy, Summer, and the kids soon moved out to the Amalia/Costilla area, and have been here ever since.
Kathy has worn a number of hats in her time in northern New Mexico – mother, teacher, service provider, flamenco dancer – but these days, you can find her running the Taos First Steps program. Taos First Steps offers free home visiting services to first-time families, from the prenatal period until the child is three years old. "I think I have created a dynamic, effective team and program that is responsive and flexible to our clients' needs," says Kathy. "What is important to me personally is to be present and responsive to my staff and the clients, so that we can continue to grow and to be our best."
As a nationally award-winning program that serves more than 130 families in the region, it's safe to say that First Steps is hitting the mark. Kathy's recommendations for achieving similar success? "Slow down. Be intentional in your work (and your play). Remember that you're not the only one with a good idea. And don't hide under a rock, but don't throw it at anyone, either," she laughs.
When asked what it is about Taos that draws people here, Kathy replies, "I'm here because of the people. I love traditions, culture, the lilt of language. I love the stories of people here. Stories of generations of family, stories of how people landed here," she says. "There are wide open spaces to go for quiet and reflection, but within minutes you can be surrounded by folks who inspire you, change your perspective, prod you along."
We asked who, in particular, has inspired Kathy. "My grandmother. She loved unconditionally and she listened well. Mostly, I remember her at the kitchen table – she drank pots of coffee every day. There were so many life incidences that could have damaged her spirit, but she lived her simple life with gusto and humor. She lived to be 95 and the last time I saw her, days before she died, she made me laugh." That same humor and gusto have certainly informed Kathy's work and life, and she has passed those traits along to her three sons.
Now, with one of those sons living in New York and one in Los Angeles, Kathy has travelled back and forth across America several times in recent years. Still, she says, "The Rio Costilla Park and Valle Vidal are probably the most beautiful areas in the country. You feel like you're on top of the world."
Written by Rita O'Connell for Holy Cross Hospital
See www.RitaOConnell.com
Photo by Lenny Foster www.lennyfoster.com
For information on Rio Costilla Park, visit www.riocostillapark.com/ A topographical map of the Valle Vidal is available from the Carson National Forest, www.fs.fed.us/r3/carson/maps/index.shtml