Linda Carradine Lynch, MD, Doctor of Emergency Medicine
Linda Lynch, MD always had a desire to work with people, and a fascination with science. Naturally, she chose a career in medicine. For seven years she was on the faculty at UNM, teaching and working in emergency medicine in the urban Albuquerque community; when she moved to Taos in 2000, she found that rural emergency medicine was where she much preferred to be. "It's more hands-on, very bread-and-butter emergency medicine – you're really acting where the need is," she says. "I love this community."
Now a staple of the medical community in Taos, Dr. Lynch is recognized by friends and colleagues as remarkable for things that seem to come easily to her. While recognizing her chosen career path as both a major commitment and a way of life, Dr. Lynch has made room for other things she loves – including raising children and pursuing hobbies of mountaineering, rock climbing, and (her greatest love) skiing.
Early experience working on ski patrols informed her dedication to emergency medicine; while in residency at UNM, she skied Taos and fell in love with the mountain and the town below. "The rural nature of the mountain town and the diversity of this community are just fascinating, and completely unique," says Dr. Lynch. "The mountains have a spiritual dimension, there's a natural beauty, the weather is interesting – it has all the elements."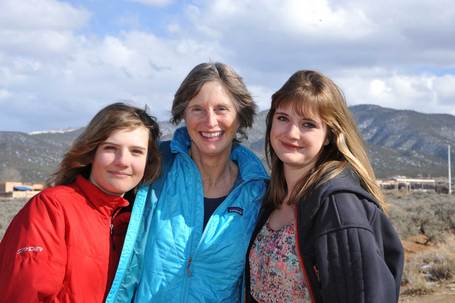 Among her greatest accomplishments include her daughter Tierra, whom Dr. Lynch names as an up-and-coming Remarkable Woman – "Would that be presumptuous?" she asks, laughing. "She's almost 18, she's applying to college, and she has this great balance in her life of academics, sports, and the outdoors... She has ambition, she loves the culture here, she has real roots. She's my choice for a woman to watch!"
When asked her favorite place to go in Taos, Dr. Lynch doesn't hesitate for even a second before declaring, "The top of Kachina Peak." However, in her spare time you can also find her climbing in Tres Piedras, or at Tamales Canyon in El Rito – just a couple of her favorite local cracks to explore.
Written by Rita O'Connell for Holy Cross Hospital
Photo by Lenny Foster, Living Light Gallery