Joleen Montoya Dye, Non-Profit Entrepreneur and Educator
Joleen Montoya Dye first envisioned creating a youth art space in her hometown while attending Pitzer College, located in Claremont, California. Born and raised in Taos, she is a 1995 graduate of Taos High School. Returning to Taos in 1999 armed with a Bachelor of Arts degree in art and sociology, she was interested in using art as a tool to work with teenagers. She began working with Rocky Mountain Youth Corps to pursue her dream, and so Evolving Creative Opportunities (ECO), an innovative arts organization for youth between the ages of 12 through 25 was born. She was 22 when she created ECO. With her experience working with the Getty Research Institute, Free Arts for Abused Children, Early Academic Outreach, and the United Farm Workers Organization in California, she was quickly able to pull together the contacts and resources to make ECO work from the outset.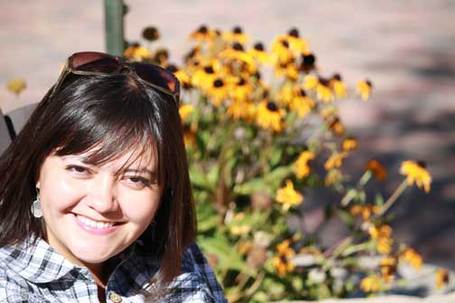 As Joleen recalls, "I felt that other communities were really using art as a tool for reclaiming neighborhoods, talking about social issues and expressing cultural pride. I think this is really important, especially given all the transitions that we're going through here in Taos. I think of how displaced a lot of people were feeling." With this in mind, one of her primary goals was "using art as a tool for cultural recovery as well as a way to explore identity – whether that's cultural identity, sexual identity, or to help young people feel heard."
One program aimed toward the realization of cultural identity was the "Landmark Project," a collaborative effort of ECO and the Rocky Mountain Youth Corps (RMYC). Modeled on the concept initiated by the Getty Institute, the program encouraged youth to connect to the idea of place. Participants interviewed family and community members about their personal landmarks, presenting a photo essay which symbolized their experiences. Another such program, "Savage Intelligence," was produced in collaboration with Indigital Creations at Taos Pueblo. In an effort to preserve and reflect upon their cultural identity through technology, Native youth created "digital stories".
Joleen has volunteered within the community, including coordinating and teaching for the Taos Women's Self-Defense Program, mentoring through the Taos Teen Council and serving on the boards of the Dream Tree Project, Taos County Economic Development Corporation, Taos Center for the Arts and Taos Youth Collaborative. Joleen also enhanced her background in youth development and provided additional financial underwriting to ECO by working or volunteering with such organizations as Girl Time, Taos Community Foundation, Rocky Mountain Youth Corps, and the Taos Film Commission. Since 2007 she has worked at the Bridges Project where she now serves as College Counselor and Co-Director. This non-profit counseling service was formed in 1997 to provide more opportunities for students to attend college or vocational schools. Bridges is the only organization in Taos County whose primary purpose is to provide comprehensive college counseling. Bridges has worked individually with over 2,000 students and their families helping them research colleges, write application essays, register for college entrance exams and locate financial aid and scholarships. They also host a local College Fair annually to educate students about university choices and options across the nation. As her career has progressed, she often finds herself encountering young women she met from her early days with ECO. "It's interesting because I've worked with some of them in different capacities, through ECO, and then Girl Time, and now with Bridges. It's a sort of graduated mentoring that tends to happen in this community that is really special, because a person might go through one organization and then several years later you meet up with them in a completely different way, and I think there is a real value in that."
Family is an important source of inspiration to Joleen; it was one of the underlying reasons she returned to Taos where her roots go back generations; many members of her extended family reside here. Married now and a new mother, she is especially mindful of the significance of roots and a sense of community for her own daughter. "Throughout my pregnancy there were so many women who really held the space for me and a lot of women whom I had never encountered before were there to provide a support system. And they all came from such different walks of life and different sectors."
What is it about Taos that seems so appealing to independent women? "I think people here are very creative about the way they build their lives, and are conscientious, thoughtful people. Just being around that mindset is inspirational and has a ripple effect."
And what advice would she give to those seeking to create their lives anew in Taos or elsewhere? "If you can't find something you love to do here, create it. Living in Taos requires creativity and resourcefulness."
Some of Joleen's favorite places in Taos include: the Gorge Bridge at sunset, visiting with friends at World Cup Coffee or at Lambert's Bar.