Christa Castro, Physician's Assistant
Christa Castro used to work as an infectious disease researcher in Seattle. As exciting as that undoubtedly was, she chose to change career tracks and go into the ever-stimulating field of Emergency Medicine. She has now been practicing Emergency Medicine at Holy Cross Hospital for eleven years, and she couldn't be happier with her decision. "Before, I'd go to work and do something that might, some place down the road, advance science – but now, every day there is a patient that touches me deeply," she says. "I grew up here, I care about this community deeply, and I absolutely love what I do."
Her goal, simply stated: "To continue providing excellent care to all members of this community, regardless of race, socioeconomic status, or any other barriers." She strives to offer a familiar face in a stressful setting, and to put patients at ease with confidence, compassion, and medical expertise; after all, no one comes to the Emergency Room for fun. Using the word "soul-feeding" more than once to describe her job, Christa says, "I feel privileged that I even get paid to do this." Her passion for her work is impossible to ignore; she clearly sees that less as remarkable, and more as a no-brainer. "You have a very finite time on this earth, and you should do what you love," she shrugs, smiling.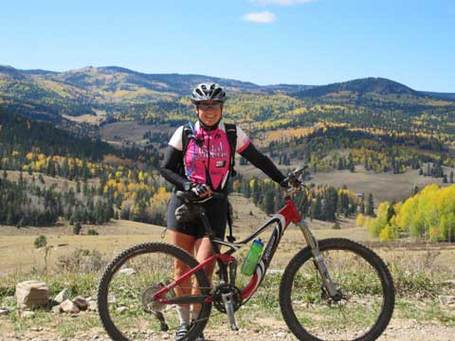 Not only a passionate and accomplished Physician's Assistant, Christa applies a similar vigor for life and adventure as a serious cyclist. This year alone she has ridden in five centuries and two doubles; she's already gearing up for a seven-day, 700-mile bike ride from San Francisco to Los Angeles next June, in the AIDS/LifeCycle ride which raises money for AIDS research. "Actually, I'd like to see myself try to do something like that here, so I want to see how they organize it," says Christa, whose dedication to the Taos community is both infectious and inspiring.
So what is it about Taos that keeps her here, and keeps her engaged? "It's a cup that's always full, is the best way I can explain it. There's always another adventure that develops here. There's always something exciting going on, so that you're never bored. Seriously, in this community, whether it be arts, the outdoors, the businesses – it's about how creative we all have to be, to sustain ourselves here."
Her favorite place to go in Taos is the South Boundary Trail, one of New Mexico's premiere single-track cross-country bike trails. "That's a world-class mountain biking trail that we're lucky to have in our backyard," says Christa, "Anyone fortunate enough to ride or even walk on that trail gets to experience what Taos is really about."
Of course, we think it's fair to say that anyone fortunate enough to have a conversation with Christa Castro really gets to experience what Taos is all about.
By Rita O'Connell for Holy Cross Hospital, www.TaosHospital.org
Photo by Lenny Foster www.lennyfoster.com