Esther Garcia, Mayor of Questa
Mayor Esther García loves to sit and gaze at the mountains outside her Village of Questa home, captivated by their tranquil beauty.
"There is something different to see every day. My grandfather used to say, 'There is something bewitching in the mountains that won't let you go.' The peacefulness and beauty draws people in, and they stay because the people here are friendly and generous."
Esther's life and work have been shaped by the landscape around Questa, New Mexico, and her grandfather J. P. Rael's words of wisdom about the land and the water that flows through it: "Without land you have nothing, without water there is no life."
J.P. Rael and his brothers formed Rael Brothers in 1930, a cattle business and a general store that supplied the Village of Questa for decades. Today the Rael and Ortega families still run cattle in the old way. Esther remembers those days: "When I grew up there was no running water, so we pulled water from the acequia. We walked to the store, grew our own food, and put up hay for our cattle. We survived because of the land and water, and we need to pass on that connection to each generation."
Putting her beliefs into action, Esther spent years serving with the acequía associations. Her efforts were instrumental in getting $5.5 million awarded for rebuilding Cabresto Dam at the mountain lake which has supplied Questa's northern acequías since the 1800s. Mayor García advocates for restoration of San Antonio Del Rio Colorado Land Grant, so that heirs can freely practice cultural traditions on common lands like wood-cutting, fishing, herb and piñon gathering, hunting and horseback riding, and she supports wilderness designations to preserve the land and water for future generations.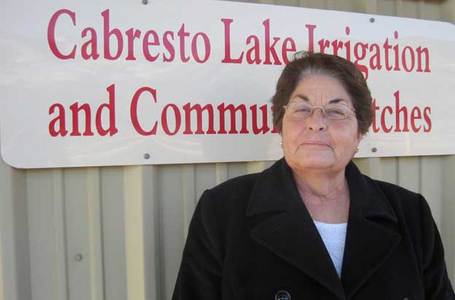 Esther García grew up watching her parents serve the community, her father as mayor and councilman, and her mother as a school teacher and Foster Grandmother. Being the first woman mayor of Questa is just the latest role in decades of service and leadership. "I never really had a job before, but volunteered in many organizations and served on many boards."
She founded the Questa Achievers 4-H club in 1980 and served as leader for 23 years. She is a founding member of the Questa Quilt Guild, which meets at the Youth Center. She appreciates the efforts and giving nature of those who have helped over the years in Questa, and is especially proud of their successful endeavor to open the library.
"Looking back, I would like to have gone to college, but there was no money or scholarships at the time. My grandfather went to law school at night, and I would have liked being a lawyer." Her advice is, "Life is a learning experience, so explore, read, and learn, because they can't take knowledge away from you."
Her mother, Tessie Rael y Ortega, co-authored an invaluable volume on Questa history with Judith Cuddihy. Now Esther, herself a treasure of local history and knowledge, is writing a historical account to include water rights, land grant issues, and the fight to restore historic San Antonio (St. Anthony's) Church. "I'm optimistic that we will restore the church, it is such an important part of Questa's history and cultural heritage."
Mayor García is thrilled with the new trails that connect Questa with Wild and Scenic Rivers Recreation Area. Her favorite hiking place is the Columbine trail, east of Questa on NM 38. "My friend Charlotte and I used to love to hike the Columbine trail. We'd walk as far as we wanted, take a picnic lunch, put our feet in the river, and just enjoy the beauty."
By Carrie Leven, January 2012
For information on hiking trails near Questa, visit the Wild and Scenic Rivers Recreation Area page on this website, and for information on the San Antonio and other historic churches in the Taos vicinity, go to "Historic Churches of Taos." A hard copy version is available at the Taos Visitors Center for $1.95.