Rebeca Romero-Rainey, CEO of Centinel Bank of Taos
The beauty of Taos is that you can be yourself—people appreciate and look for that more than any place I have ever been. In order to succeed and prosper in Taos' rural and unusual economy you have to be creative and adventurous.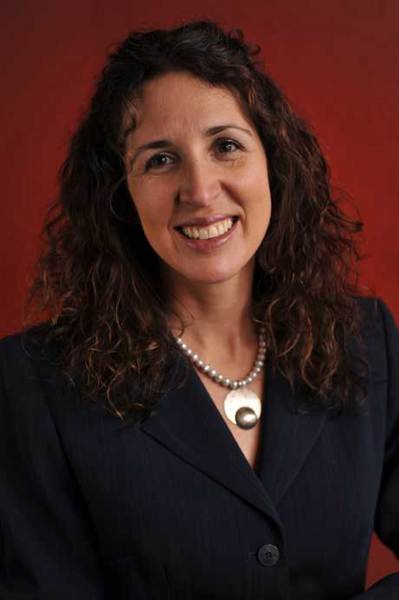 Rebeca Romero Rainey is the Board Chair and CEO of Centinel Bank of Taos in Taos, New Mexico. Rebeca is graduate of Taos High School, Wellesley College, and the Pacific Coast School of Banking. Upon graduating from Wellesley Rebeca returned to Taos with the dream of continuing her family business of running the town's only local community bank. She considers herself fortunate for the many people in Taos who helped her and who inspired her throughout her life. Her family, including her parents and grandparents, have provided unending support. Asked if she could single out one person, Rebeca named her grandmother, Pat Height:
Pat is remarkable because she is an amazing businesswoman who got a college degree while her children were in college and high school. She went on to become a CPA and, among many other things, ran a successful private practice as well as becoming the bank's CFO. Throughout her career here at the bank, Pat did many things that led to great success for our organization. Pat has taught me so much about banking, being a strong woman and helping those around you.
Under the mentorship of people like her grandmother, Rebeca showed her own business acumen. In 1999 she was promoted to President and CEO of Centinel Bank. At age 22 she became the youngest bank president in the country. Rebeca's leadership has continued the organization's success. Centinel Bank has $175,000,000 in assets and maintains the market share of deposits in the community.
Over the years Rebeca has been involved in the Taos community. She currently serves as president on two boards: the Bridges Project for Education and the Northern New Mexico Midwifery Center. In addition Rebeca is a past President of the New Mexico Independent Bankers association and serves on the Executive Committee and Board of the Independent Community Bankers Association.
In 2009 Rebeca was named the Taos County Citizen of the Year and has received the Governor's award for outstanding New Mexico women. She is a past president of the New Mexico Independent Bankers Association and serves on the Executive Committee and Board of the Independent Community Bankers Association. Rebeca is a member of the FDIC Advisory Committee on Community Banking, and in December of 2008 was one of 12 community bankers to meet with President Obama to discuss community banking. Rebeca is married, she and her husband John have two daughters and she enjoys participating in triathlons, and recently ran her first half marathon.
Asked about her favorite things to do in Taos, Rebeca replied that she likes "to be outside enjoying the beautiful view. I am a runner so any chance I get to go out for a run is a good day, I live in town so that run may be through town and around Kit Carson Park or on any of Taos' back roads. I have found that even though we don't have many running paths for the most part drivers are very courteous and give you plenty of room. And a chance for a bite to eat at Lamberts, Orlando's or the Taos Inn is always a great way to end a day!"

For more information, visit www.centinelbank.com