Judy Anderson, Taos School of Music Founder/Treasurer
Founded in 1963 by current Director Emeritus Chilton Anderson and several like-minded musicians, and the subject of many feature stories including those on NBC's "Today Show" and National Public Radio's "Morning Edition," the prestigious Taos School of Music is one of the oldest and most respected summer chamber music programs in the country. Accepting just 19 students from around the world annually with a faculty ratio of less than 4 to 1 this approach allows for close personal attention rarely found among music schools. In 2012, Taos School of Music celebrates its 50th Anniversary with Opus 50, including a special season of concerts with faculty, young artists and former students.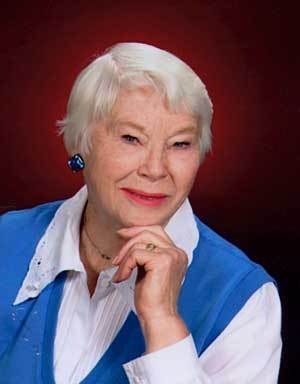 Currently serving as Treasurer of the Taos School of Music, Judith Anderson came to Taos via Galveston, TX where she had grown up, gone to college, worked as a cartographer and then for the registrar at the University of Texas Medical Branch teaching hospital. An impromptu ski week choice first brought her and a friend to Taos in 1958 with the promise of uncrowded downhill runs and candlelight dinners, which they both felt were 'very romantic'. As she recounts it now, "It wasn't until after I moved here that I realized the reason they had candlelight dinners was because the generator was always going out." Apparently it was love at first sight, at least with Taos: "After a couple of days here I thought 'ooh, I like this place,' and I'm not going to spend the rest of my life in Galveston. So, I quit my job, came back and ski bummed for the rest of that winter. I've been here ever since."
Shortly thereafter, Judy met her husband-to-be, Chilton Anderson, a ski instructor at Taos Ski Valley, a full-time rancher and a part-time cellist or as she terms it "a renaissance man". Married in 1958, they quickly put down roots at the ranch, and began raising a family of three – two boys and daughter Kathleen Anderson Knox, TSM's current Director. "Even though I am Treasurer, our daughter is the bookkeeper and does the heavy work." It was during this period that Chilton and a group of musical friends would get together to make music, augmented by the occasional high profile visiting musician. One frequent visitor was Kenneth Schanewerk, professor of violin and chairman of the string department at Texas Christian University in Fort Worth. A summer resident of Taos, Schanewerk talked about how great it would be if he could just spend the year in Taos teaching violin at a chamber music school. That bit of whimsy began to take a path toward doing a seasonal music program, and during the summer of 1962 the whimsy became a serious discussion and planning for a summer chamber music program began. From that point on, Judith was deeply immersed in the workings of the Taos School of Music, which was formalized that very summer and permanently located at the Hotel Saint Bernard at the Taos Ski Valley. Her role has always been ticket taker, entertainer, errand girl and all the behind the scenes necessary jobs.
But Judith also continued to be deeply immersed in her life as a mom; a volunteer first in little theatre and then in her kids' programs at 4H and Cub Scouts, junior bowling and Band Boosters. She was still a 'ranch hand' as she terms it, although by then she did know 'the front end of a cow from the back' and was taking an active role in the daily operations of the ranch, particularly as the school was launched and underway. She also oversaw operations in winter when Chilton was doing ski instruction on the mountain. It was during these early years that Judith became deeply familiar with both the legendary icons of the community and the then-current counter culture invasion:
"Millicent Rogers, Mabel Dodge Luhan, and Dorothy Brett were wonderful people. I never met Millicent, because she died before I came, but I did know Brett and I had met Mabel Luhan, and I've met a lot of the early artists, men as well as women. As a matter of fact, we were married in Taos, so a lot of the art that we have were wedding presents."
"They were all such characters; I mean Brett was loveable. Mabel Luhan was very eccentric. As a matter of fact my husband (at that time my fiancé) took me to meet her. He said, 'Mabel wants to meet you,' and I said, 'who is she?' It was his mother who wanted her to look me over, to see if I would qualify. When we arrived, she was ensconced in bed in her bed jacket, and her husband Tony Luhan was sitting in the corner, and I don't know that I said much of anything, but I did meet her. Eve Young Hunter used to throw dinner parties every once in a while, and she a had a very eclectic group of people who came, Andrew Dasburg and Spud Johnson, Auto Picher, Leon Gaspard, Robert Ray; so I did meet a lot of people whom we now recognize as legends at her dinner parties."
During the 60's the counterculture found its way to Taos. "At one time we had 31 communes here, each with their own idea of how life was to be lived, and it was interesting because they wanted to live off the land. Well, these people, mostly from California, had not an idea on how to do that. So it was all experimentation from the very beginning. They soon found they had a lot of free loaders that would come in and take advantage of them. So it was decided that they had to have some rules. Everybody who came to eat had to put in a certain amount of time… a certain amount of sweat equity. A lot of them wanted to be vegetarians, and they had the local doctors come and teach them how to be a vegetarian, and what they had to combine with what so that they had a balanced diet. They were testing them all, and I remember a doctor telling me once that they tested this one group of people, and all but two tested deficient in protein. At that point they realized that the two that tested okay probably snuck off to get hamburgers. As it turned out, they developed into very structured societies – the very structure that they had originally opted out of."
What makes Taos an exceptional place for strong women? Judith believes that its physical beauty and its diversity – as well as its acceptance of the individual, no matter who they are, are what make it work. "I think it's because we are willing to accept anyone who is genuine. You don't have to conform here. You don't have to go to this club or that club, or be in the junior league. You can be what and who you want to be. This isn't a pseudo-sophisticated place, there's not a lot of pretension here, people are what they are, and they don't pretend to be what they are not. But it's not for the faint of heart; you often have to scramble, not only for recognition but for financial success."
As to what she likes most about Taos? "I love the people. I enjoy the three cultures. For example I went to San Geronimo Feast Day (at Taos Pueblo) recently, and that's a wonderful aspect of being able to go out to the pueblo, to the dances. Although we like to think everybody is rather homogenized in this melting pot, we aren't. There are still three distinct cultures that intersect around the edges. I like that aspect."
Some of Judith's favorite Taos experiences include: Taos Pueblo, especially some of the feast days; any performance by the Taos School of Music Musicians as well as the Taos Chamber Music Group, Music from Angel Fire performances in Angel Fire and Taos, and of course Taos Ski Valley. The skiing at Taos Ski Valley is spectacular and she has been skiing there for over 50 years. "The weather here is really superb, with the exception of a short time in the spring which gets a lot of wind. The sunsets, too, are usually spectacular."