Rena Rosequist, Art Gallery Owner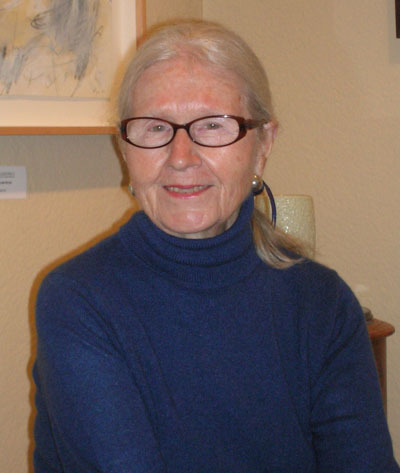 An astute and articulate contributor to Taos and its art community for more than a half-century, Rena Rosequist continues to promote and support both young and well-established artists. Like many, Rena declares that during her life she was always heading for Taos but never quite knew it.
Rena feels that she was always led to become a gallery owner. Born and raised in Hickory, North Carolina art was always a part of her life. Her mother, one of six children, several of whom were involved in artistic endeavors encouraged Rena in her exploration of the arts.
This early interest led her to study art history at the Woman's College of University of North Carolina. There she met a forward-thinking art professor who presented a show, which included a newly recognized artist by the name of Jackson Pollock. The show caused quite a stir among the faculty and Rena experienced personally a pivotal moment in the Modern Art movement. Upon graduation, armed with dual degrees in Political Science and English, Rena struck off for the unique and progressive (some would say radical) Black Mountain College in North Carolina. At Black Mountain College she explored abstract art, literature, architecture and dance. Interestingly Rena met a young man at Black Mountain College who kept insisting she visit Taos, New Mexico. She promptly dismissed the suggestion… and the young man as well. Years later while at a dinner party in Taos she discovered the insistent young man was the brother of Taos artist, Cliff Harmon. At Black Mountain College she met and married Joel Oppenheimer. Later Rena and Joel moved to New York City. Because Rena possessed not only a driver's license but a car as well, she was often called upon to drive her artist friends and their portfolios to galleries. Rena witnessed firsthand her friends grueling and frustrating attempts to have galleries accept their work. To this day she remembers these experiences as young artists bring their work to the Mission Gallery.
Following the end of her first marriage, in 1960 Rena moved to New Mexico and within four months she found a home in Taos. At the time she was drawn to Taos she had no idea that she would make it her home for the next fifty-two years. Rena has had several jobs since she has been in Taos, but has been at the Mission Gallery for fifty years – the first 23 years working with her second husband Ivan –a former New Yorker whom she wed in 1962 – until he passed away in 1985. Her first day on the job was the day the gallery officially opened. The gallery is located in the old Joseph Sharp home on Kit Carson Road. Her husband, Ivan Rosequist, loved to renovate and completed over 15 projects with the assistance of Louis Reyes Sr.
For more than a half century Rena witnessed the tribulations, intrigues, hilarity, and tragedy affecting Taos notables and not so notables. She has witnessed periods of extreme prosperity such as when "dot com" millionaires came and bought art indiscriminately and economic downturns, which severely stressed the art community. Rena regularly displayed and sold (and still does) works by Taos Modernists such as Emil Bisttram, Andrew Dasburg, and Earl Stroh. She enjoys presenting all mediums and strives to have fresh representations in each.
While many would regard local politics as a "combat sport" Rena is fully engaged in the political process and revels in the public discourse. Rena can give you the "back story" on about every significant event that has occurred during her life here in Taos and is often called upon to do so. She still believes that Taos is an exciting and stimulating place to call home. Rena has two sons, one who lives in Taos and two grandsons. She enjoys morning walks in Kit Carson Park, visiting with other Taos gallery owners and dinners at Lamberts.
Rena's many contributions to her community have helped retain the "Taos mystique" for those who are still being drawn to Taos -- but don't quite yet know it.
By Pat Wright