Dori Vinella, Entrepreneur, Executive Director of SOMOS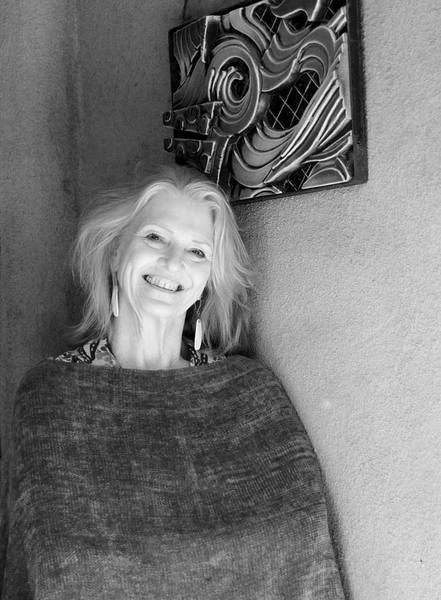 Dori Vinella was born in Hollywood. In 1969, she moved with then husband artist Ray Vinella to Taos to raise their three sons. For a time, the family rented the historic Martinez Hacienda for two years during which time she and her boys tended nine goats (Fanny, Esperonza, et. al), 200+ chickens, geese, and a turkey named Bernice. Dori also ran Las Comidas de Natural (a health food store behind the current Peoples Bank north) and sold yogurt, eggs, sprouts, seasonings and bread, all of which she produced. And if that wasn't enough, for a summer she and Ray ran an art gallery in the Hacienda.
In January 1973, Dori opened the now legendary Dori's Bakery next to the main Post Office in what is now known as the Dragonfly. Dori's was the first bakery in Taos, if not the entire state of New Mexico, to serve lox and bagels, and espresso. Dori recalled that early on, "We started serving breakfast and one of my son Chris' friends made this breakfast dish on the grill one day that we named Hash Brown Heaven." This became one of their signature dishes. Eventually Dori's expanded to include lunch service, "Dori's after Dark, and "Dori's to Your Door."
Over the years, Dori's Bakery became a haven for creative folks such as Taos writers, painters and musicians. Writer John Nichols had his very own spot, which he frequented almost daily. Dori remembers that people would come up to the counter and ask, "Does John Nichols still come here?" to which she'd say, "Oh yes he does," and they'd say, "Really? When?" "Oh you never know," Dori would reply with a poker face. And there John would be in his alcove, writing. According to Dori, he would sit for hours listening to customer's conversations and jotting down notes on napkins or envelopes. Dori became known as a muse to John and several other writers, and has been mentioned in numerous books and other publications.
There was an upright piano in the café that Dori bought from the Hondo Lodge in Taos Ski Valley for $400. When the mood struck him, John Nichols would saunter over to the piano and play boogie woogie tunes, and English singer/songwriter Michael D'Abo, a member of the popular Manfred Mann band, played the piano for Sunday brunch.
"One gorgeous Sunday afternoon, we pushed the piano outside on the porch and Michael was playing whatever he was playing, and all of a sudden I hear the theme from the Godfather! And who comes strolling up the front walk but Robert Duvall, who was in New Mexico to film Lonesome Dove." Dori continues with a smile, "I'm the waitress for Sunday brunch and Duvall and his friends sit at the table by the fireplace. Pretty soon he asks Michael to play a tango, and before you know it, there's Robert tangoing in this teeny tiny space of Dori's." In spite of going to high school with Robert Redford and Natalie Wood in Van Nuys, Dori admits that while she had never asked for an autograph before, that day she asked Duvall for his.
At one point several of Dori's long-time loyal customers organized a retrospective to honor her. Dori remembers with tears in her eyes, "One night there were probably 20 artists of different genres who read work dedicated to me." After 24 years in business, Dori's Bakery closed in January 1997. John Nichols was her last customer.
To young entrepreneurs, Dori would say, "Do your homework. Have a plan and specific goals, and be realistic about the time and money that you'll need to invest in a business. Most of all, I would say, do what you love and have fun with it." In retrospect, Dori knows that opening the bakery was the right path for her. "I was honest and worked with integrity, and always (well, almost always) maintained a sense of humor."
Meanwhile, another of her entrepreneurial ventures - started in California in 1962, and officially launched in Taos as Seasons of Taos in the late 80's - is still going strong. Dori's unique seasoning blends are sold in several venues around town, and have been featured in New Mexico Magazine. She receives mail orders from all of the country.
As Executive Director, Dori has headed SOMOS, the Society of the Muse of the Southwest, for the past 14 years. During this time, and thanks to Dori's commitment, she has watched the organization grow and survive while so many other non-profits have been struggling. "SOMOS has given me the chance to serve my community in new and different ways by supporting the literary community. I'm so grateful to have had this opportunity."
Dori believes in the notion of "right livelihood", an important part of her Zen Buddhist training. "Integrity must be present in all the endeavors that I pursue in my volunteer work, and my employment life." In addition to her numerous careers, she has volunteered at the old Harwood Library, Taos Community Auditorium, Taos Talking Pictures, the Harwood Museum of Art, and currently volunteers at Holy Cross Hospital. Dori is the proud mother of four sons (one of whom, Pedro from Brazil, has been an honorary member of the family since living with the Vinellas as an exchange student decades ago), a beloved daughter-in-law and eight cherished grandchildren.
When asked what initially drew her to Taos, Dori responded, "We were living in Southern California and I wanted to raise the boys in a cleaner, calmer environment. I thought Taos was perfect. Exposure to three cultures here was very appealing to me, and even now, over 40 years later, I still look in awe at the landscape, the architecture, and the people. The beauty of this place is overwhelming sometimes. When a visitor comes to Taos, I see our beautiful place with new eyes...what joy! I have travelled in Mexico, Brazil, Southeast Asia and throughout the U.S. I still think Taos is the best!"
By Lyn Bleiler
Photo by Robbie Steinbach
Dori Vinella's favorite Taos activities include sitting by Hondo Creek in Twining (near the Taos Ski Valley), spending Sunday mornings hiking along the west side of the Rio Grande Gorge bridge, swimming at the Taos Youth and Family Center pool when it's snowing outside (the light is incredible on the water), and Christmas Eve at Taos Pueblo.
Learn more about Dori's work with the non-profit SOMOS (Society of the Muse of the Southwest, a non-profit organization that supports and nurtures the literary arts in Taos).