Agapita "Pita" Martinez Santistevan, Businesswoman
Pita was born Agapita Martinez in the placita (small plaza) of Ranchos de Taos where Martina Gebhart's renovated building now stands. Her parents, Leocadio and Onofre V. Martinez owned The Popular Store, a mercantile establishment where the community went for everything from gas and kerosene, to groceries and horseshoe nails. When Pita was 18 her father passed away. She and her mother worked to keep the family business open. Still Pita managed to graduate from Loretto Academy in 1947. Two years later she married Antonio Santistevan. The couple moved to Colorado where Tony found work. They moved back to Ranchos de Taos in 1957 where they would establish the Santistevan legacy.
In 1957 Pita took over the family business and it became Ranchos Ice Cream Parlor. Pita's keen business sense developed the mercantile into a place where the community gathered to socialize. They sold candy, pop and cigarettes, but the biggest draw was the juke box. The bus stop was just across the road, so passengers would visit the store and find out the latest news. Ranchos natives have fond memories of Pita's store, their favorite candy purchases and her hot cocoa.
It was rare for Pita to have only one job at a time. In addition to the family store, she sold cosmetics as a side career. Beyond her duties as mother and business woman, she reached out to her community by acting as a taxi driver to elders and as translator of official documents between Spanish and English. Pita began working with the United States Postal Service in 1972, while still managing the business. In 1977, they closed the family mercantile business and for a time, she worked at the post office and at JC Penney as a bookkeeper. Despite the time and energy of raising her family, she also found time to cook and bake for her family and friends. She retired from the USPS in 1989 and is an active member of the National Active and Retired Federal Employees Association (NARFE). She continues to care for her community by cooking for families who are suffering because of illness or tragedy.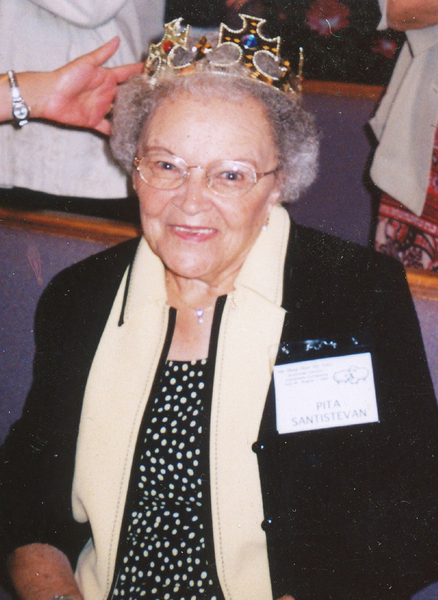 As part of their parish duties, Pita and Tony served as mayordomos (church stewards) three times; once for the San Isidro Capilla (chapel) and twice for the San Francisco de Asis church. They were Extraordinary Ministers of Holy Communion, and Pita also served as a Lector of the Spanish mass. She has been a member of the Catholic Daughters of the Americas and of the Sacred Heart League, having served as president twice. She and Tony have been very involved in the upkeep of the Capilla of San Isidro in Los Cordovas near Taos, and for many years donated a steer for the Fiesta at the San Francisco de Asis church. They have hosted the novena to San Isidro (Saint Isidor, patron saint of farmers) every year since being mayordomos. The couple was also instrumental in building the Senior Citizen Program at their parish. Every June, Pita cooks for the annual enjarre (remudding of the San Francisco de Asis adobe church), and every October for the parish bazaar, people fight over Pita's pies and sopaipillas.
Pita raised six children; Sylvia Orlando, Agnes, Felipe, Christine and Diego. She and her husband have 9 grandchildren, and 11 great grandchildren. Throughout her life as a mother and grandmother, she has opened her home and heart to many who consider her a mother and a matriarch. Her faith, life of prayer, and willingness to give has been an example to her family and the entire community.
When asked what is important to her, she expresses, "God, Church and Family". Her inspiration has been her mother, "she inspired me a lot, she was a strong Catholic." Her favorite places to visit are the San Francisco de Asis Church, the Capilla of San Isidro, and the Ranchos Plaza Grill. She especially enjoys visiting the homes of family and dear friends.
By Carmela Quinto and Felipe Santistevan