Polly Raye, Entrepreneur
Spiritual energy fills the air in Taos and wide-open skies are reflected in open hearts and minds. The Pueblo is the anchor, Catholicism is strong, and our little town has communities of Hindus, Protestants, Muslims, Jews, Buddhists, and more. Prayers and ceremonies fill the calendar.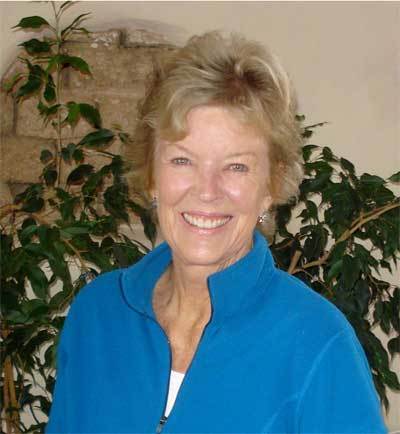 A quest for a holistic spiritual life brought Polly Raye to Taos in 1976. With an open mind and a desire to contribute in a meaningful way, she describes herself as an entrepreneur and has formed a variety of businesses to serve the community. She identifies with J.K. Glassman, who said, "Entrepreneurship is the last refuge of the troublemaker."
Polly grew up in Boston hearing her Minnesota-raised mother say, "It's what's inside that counts". Her father and grandfather hailed from Maine and their practical advice about business was, "If it isn't good for everybody, it isn't good for anybody".
Polly graduated Smith College with a major in religion and a year spent in the theological school at the University of Geneva. High school and college summers she worked on a ranch in Colorado and fell in love with the West. After graduation Polly moved to New York planning on a career in finance. There she found her male peers welcomed into management training programs while she was told to learn to type. It was 1961. She took night courses in accounting and finance at Columbia and NYU while working in a brokerage firm for the six months required to qualify as a stock broker. When she passed the exams, the firm's partners were horrified: "She can't be a broker. She's a woman." Her manager broke the rules, but after two years Polly decided she disliked selling.
When her husband was transferred to Hartford, Connecticut, Polly was one of three security analysts hired to create the first common stock department at Travelers Insurance. In the New York Society of Financial Analysts she was one of only three women among hundreds of men, and she smiles when she tells of traveling to New York for an important meeting only to find it was held in a men-only club. She felt like a pioneer.
The family was transferred to Dayton, Ohio, where two sons were born, then Philadelphia where Polly studied for an MBA at Wharton before the birth of her daughter and an unexpected divorce. The end of her marriage was the catalyst for Polly's rethinking her life. She was active in her Presbyterian Church, had to support her family, and wanted to spend time with her children. She thought of returning to the work she loved as a security analyst, but that would require long hours away from her children and she couldn't see how it made the world a better place.
Polly decided to take "a year off" to think about what was most important to her and how to structure her life to both spend time with her children and have a meaningful career. Such a quest was not surprising for a woman who had written her college thesis on "The Meaning of Life". Polly bought a used Chevy van, outfitted it as a camper, and in 1975, with John (9), Will (8), Hannah (5), a friend, and $5,000 in savings, she headed south. She had the idea of living in a spiritual commune, and with Communes USA as a guidebook they visited several communities in the eastern U.S. before crossing the border to travel down the sparsely-populated east coast of Mexico.
One memorable evening as the family followed a dirt road they thought would lead to the sea, the van got stuck in the mud. They hadn't seen anyone for miles but almost immediately were surrounded by the smiling faces of twenty or thirty curious women and children. Off they ran to alert the village. In no time teenage boys had waded into the river with fishing rods, a strong man had cut wood from a fallen tree, and the women returned with tall bunches of bananas. A fire was built, and the villagers offered them a feast of fresh fish and bananas.
"We stayed in that village for about a week. The women and children took us to visit their homes, one-room palapas with mud floors and thatched roofs, chickens in the rafters, a fire in the corner with a flat rock for cooking, and one bed for the whole family. This was a workers' village for a banana plantation. The women taught me how to use rocks to wash clothes properly in the river. One morning they lifted my 5-year old daughter onto a donkey and led her across the river to visit the neighboring village. When they returned she had new ribbons in her hair and, in her hand, a small brown bag with three precious tomatoes."
This heart-opening experience of generosity and simple living created a paradigm shift for Polly. She remembered a teacher saying, "There are two ways to be rich. One is to have a lot, and the other is to not want much."
The family continued down Mexico's east coast, swerving on pot-holed dirt roads to avoid chickens and pigs and crossing small rivers on one-car ferries. They passed tiny villages with barefoot children staring from the doorways of small adobe homes. They usually camped on a beach, and Polly tutored the children every day. They all kept journals and read lots of books. In Guatemala Polly admired the beauty of colorful weavings unique to each village and carefully terraced hillsides, and the community-centered lives of hard-working people.
One morning Polly woke on the shore of Lake Atitlan and had a strong intuition that she was to leave Guatemala that day. She hurriedly packed, drove all day through "high mountain villages, many crowned with beautiful old stone cathedrals," and arrived at the border into Mexico in the dark after the gate on the high bridge had been closed. Because he loved children, the kind guard re-opened the border and let them cross. Not many kilometers further, exhausted, Polly turned into a graveyard for a quiet night's sleep. At about 3 a.m. the van shook violently. It wasn't until a week later, when she arrived in Oaxaca and saw bold newspaper headlines, that Polly learned a huge earthquake had devastated Guatemala the night they left. It had destroyed the cathedrals and small mountain-top villages they'd passed, as well as the high bridge at the Mexican border.
Traveling up the west coast of Mexico the family found laundromats, grocery stores, and other accoutrements of modern life. After months of washing their clothes in streams and buying food from blankets spread on the ground, this seemed luxurious but not necessarily better. Traveling north through California they visited relatives and communes, but nowhere they could imagine living. In Colorado a rancher friend from Polly's teenage years told her their mutual friend, Lisa Wardlaw, had moved to Taos and loved it. There Polly found the Lama Foundation, her family's home for the next three years. She wrote about that time:
I loved the Lama Foundation. It is a beautiful place with a clear mission, strong culture, and good people. Asha Durkee [one of the founders] was bright and welcoming, decisions were by consensus, and there were families, including fourteen children who traveled daily to school in Taos. It's an eclectic community with people of every spiritual tradition. "Lama Beans" believe there are many paths to truth, and it doesn't matter which one you follow as long as you have a spiritual practice.
At Lama, all the residents helped organize and support, and enjoyed, the summer-long calendar of retreats led by world-renowned spiritual teachers. Polly's other "jobs" were helping develop the silk-screen business, managing the kitchen, and construction.
After their experience on their travels, the family didn't mind that Lama lacked electricity, running water, and telephones. A tiny A-frame home held the family close, and the children learned to build wood fires and houses, to entertain themselves, and to be self-reliant. But Lama wasn't always easy for them. They remember deep snow, challenging school transportation, curious vegetarian menus, and ice-coated winter outhouses. After almost three years, Polly felt her children were getting too old to be so isolated from friends and school activities and she looked for a house in town. Rena Rosequist helped her find a converted church. Polly lives there still, with her husband, Bill Christmas (her "junior high crush" who found her ten years ago via Google).
When Polly first moved to town, in late 1978, jobs were scarce and paid poorly. A meditation group met in her home and all ten of its members were unemployed. They spoke of wanting to explore the Buddhist practice of Right Livelihood, and opening a restaurant seemed like a good idea because it would employ a lot of people, involved serving others, and would provide fresh organic food, which at that time couldn't be found in Taos. Polly rented a space on Bent Street, and because the center of town was the Plaza, everyone told her she was crazy: "No one will go all the way over to Bent Street." Unable to think up a name at the beginning of the alphabet that suggested simplicity and freshness, she dreamed the name 'Apple Tree'. The restaurant was born.
We planned the menu as a group and made decisions by consensus. Everyone earned the same wage and the whole staff shared the tips. We started every morning and closed every evening holding hands in a circle. Everything was freshly made with the most organic food available. We baked all our bread and desserts with whole grains and honey. We recycled everything; chickens ate our compost. Everyone did more than one job and helped with the dishes because we thought that would help develop compassion and avoid ego trips.
For years, the few who had restaurant experience would say, 'If this were a real restaurant, we would . . .' Fortunately customers liked the space, the fresh, reasonably priced food, and the classical music or local guitar talent. The main appeal, however, was the staff's care that nurtured on many levels. The staff felt that "Work is the way we put our love into the world." The Apple Tree was also good for Polly's family, providing a gathering place and later, jobs for the children. When her youngest left home, Polly sold the restaurant to Ginny Greeno, another Buddhist practitioner.
About that time Polly was at a party with friends when someone mentioned that her father had recently won the lottery. The group talked about what they would do with a large sum of money, and Judge Joe Caldwell said, "What Taos needs most is a Group Home for teenage girls". Polly was intrigued with the idea and decided to take it on. She visited group homes all over the state to research programs, brought together a group of interested people to form a board, raised money from the Taos community, and worked with an architect to design the home and with local builders and suppliers who donated some of their time and materials. A friend donated five acres of land. The project really took shape when Sara Morgan discovered a treatment model called Positive Peer Culture which uses the energy of the peer group to help teens see themselves clearly and transform internally. ("It's what's inside that counts") In 1989, Casa de Corazon opened with eight girls in a safe and nurturing home funded by the Taos community. Over the years the home grew and Casa de Corazon expanded to include a school and therapeutic outreach program. Today Polly has the satisfaction of watching Casa graduates "leading happy, productive lives and raising terrific children."
About that time friends called seeking help to save a meadow in El Prado from development, leading Polly to join with other environmentalists to create The Taos Land Trust. It was too late to save the meadow (which is in the news again this year) but in the more than 20 years since its founding, the Land Trust has preserved thousands of acres for agriculture and open land.
While she was busy with Casa de Corazon, Fred Winter had repeatedly sought Polly's help to form a Community Foundation. A client had left his substantial estate to an out-of-town university because there was no organization in Taos that could receive it. After eight years, Polly left Casa de Corazon in the capable hands of a new director and joined Fred and a group of friends to create the Taos Community Foundation. Today the foundation serves as a strong bridge between the interests of donors and the needs of the Taos community. Polly says, "generosity makes people happy, and I enjoy helping them give in ways that make a difference."
In 1982 Harvey Mudd asked Polly to purchase the old John Dunn House, on the pathway between the Apple Tree and Taos Plaza. He had renovated it to house seven retail shops for his friends from New Buffalo commune, and he knew of Polly's Lama experience and their shared philosophy. She felt supportive of the merchants as fellow-small-business-owners, and she wanted to landscape the property so people would feel more comfortable walking to the Apple Tree from the Plaza. Over the years she has added more shops and a few offices and apartments. The young trees she planted nearly 30 years ago now shade the walkway, and Polly continues to manage the shops with two motivations: "They're a beautiful oasis in the center of town, and a welcoming gathering place for locals and visitors. I'm still motivated by beauty and community."
For many years, at Lama and afterward, Polly practiced Vipassana meditation. As they walked out of a retreat together in 1990, Natalie Goldberg told Polly about her new teacher, the Vietnamese monk Thich Nhat Hanh. In 1993, following his teachings, Polly and some friends formed the Open Heart Sangha. It still meets weekly and welcomes everyone in Taos.
Favorite Places: Taos Pueblo, Lama Mountain, Wild Rivers, Taos Historic District
By Elizabeth Cunningham, 2012
Blog host, "Mabel Dodge Luhan and the Remarkable Women of Taos"