Krysia Boinis, Entrepreneur and Health Advocate
Krysia Boinis grew up in Washington DC. "School field trips included the National Gallery, White House and Smithsonian," remembers Krysia. Her neighborhood was full of kids from all over the world.
"Halloween was my special holiday; quintessentially American, social, kid focused and totally creative. Since so many of my childhood friends were transplants, I loved giving them an over-the-top Halloween experience," she says. Krysia became known for creating kid's costumes with elaborate makeup. The most rewarding aspect for Krysia was crafting monster makeup out of gelatin, oatmeal and other ingredients from the kitchen. "If it was edible I would not get in too much trouble for putting it on someone's face," recalls Krysia.
After being named 'most creative' in high school and graduating with honors from Carnegie Mellon University, Krysia embarked on a cross country trip to Los Angeles and her new job designing sets for Disney films. "It was pure luck that we drove through Taos and ended up at the Taos Pueblo Pow Wow. It was my birthday and the magnificent Taos Sky was my gift that day. I felt I was home at last and knew I must return to Taos."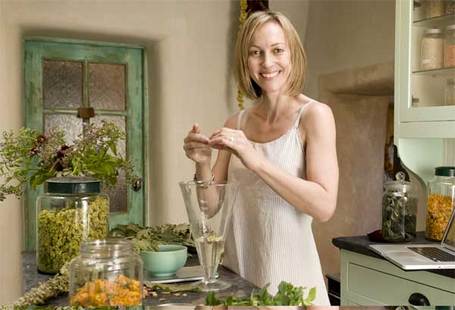 A few years later Krysia returned to Taos and started her first company making soap and candles. "I needed to be somewhere that was culturally rich, expansive and off the beaten path and that place was Taos."
Her business evolved into a private label skin care company where they design and manufactured products for other skin care brands. Krysia had been living and working in Taos for ten years when in 2005 she was diagnosed with breast cancer for the first time. "My response to the cancer was first shock; then action. The only thing that made sense to me was to be proactive." She recalls, "I researched and sought out information from all sources. I was on a mission to educate and heal myself. I was compelled to follow my intuition to pick and choose from my diverse research and find the best path for my personal healing. "
"For me it was not a 'war on cancer', the cancer was part of me. I needed to understand it and balance the imbalance that caused it. I wanted to learn what cancer had to teach me," said Krysia.
Krysia began to think of food and personal care as more than simply nourishment and hygiene. "Everything I ingested, slathered on my skin or came in contact with became 'medicine'." Krysia explains, "I sought out treatments, activities, foods, herbs, and ideas to heal, detoxify and balance my body, mind, emotions and spirit. I faced my own mortality and my connection to the whole. Somehow I was graced with realism, positivity and humor in the most hideous circumstances. I surrounded myself with close friends, a great healing team and the steadfast support of my mom and my husband, Greg Martin."
Flash forward to 2008. "Greg and I were having a blissful moment in our lives, he had just won Producer of the Year at the New Mexico Music Awards, we were ripping out our fifty year old kitchen for renovation and years of work were about to culminate in the launch of Vapour Organic Beauty," exclaims Krysia. "I was getting a routine checkup and the tech wanted to take another look at something. The diagnostic process went on for five grueling hours wrought with equipment malfunctions and delays. By the end of the never-ending appointment I knew the cancer was back and I was going to have to deal with it all over again.
Spurred on by the belief that the everyday exposure to toxins in our environment, especially those we ingest or apply to our bodies may overwhelm the body and create imbalances which invite malignancies, in 2009 Boinis and fellow Co-Founder Kristine Keheley launched their high performance, non-toxic, all-natural cosmetic and skin care line: Vapour Organic Beauty. Since then, Vapour has won 13 (and counting) national awards, including an Allure Best of Beauty Award in its first year. Vapour has been featured in many publications including: In Style, Lucky, People, Real Simple, Whole Living, Health, Shape, Essence, Bazaar, Prevention, Red Book, Nylon, Marie Claire, Good Housekeeping, More, New York Times, LA Times, Huffington Post, etc.
"Vapour has equal or better performance than chemically based, often toxic, conventional counterparts," states Krysia. "Women deserve a healthy option when it comes to cosmetics. Vapour provides that." Believing that women should be empowered with healthy choices she advocates educating consumers and making every effort to reduce the toxic load on women's bodies. Vapour is made of 70% USDA Certified Organic Botanicals and 30% Minerals and Vitamins. Since she feels that all women should have access to safe cosmetics and skin care, Vapour has shades for every age and ethnicity.
Krysia puts her beliefs into action. First, her company provides a living wage, flexible hours, health insurance and a nurturing and creative environment for 20 Taoseños. Vapour strives to set an example of a new business paradigm: sustainable and honest with purpose and heart while excelling at receiving national and global attention. And secondly, to give back; 100% of Vapour's proceeds from the sales of HONOR Elixir Plumping Gloss are donated to breast cancer research at The Cleveland Clinic where they are working toward the first breast cancer vaccine. Krysia states, "The untold truth about breast cancer research is that nearly all funding gets funneled into more research on the same treatments: radiation, chemo and surgery. Virtually no money is allocated to adequately test alternative treatment or prevention. It's a cycle that keeps women's options limited and Vapour wants to help change that."
Krysia has been cancer free for four years. She credits her open minded doctors, surgeons and alternative healthcare practitioners including a wide range of healers in Taos. "After this whole experience I am grateful to feel better than I have ever felt: vibrant, strong and balanced. " She finds living in Taos, NM to be a constant source of inspiration. "There is something about the clear quality of the light, the vast sky and the uninterrupted distant horizon in Taos that expands consciousness and seeds dreams. At Vapour it helps us innovate the cutting edge of what is possible with healthy performance makeup."
For more information please visit www.vapourbeauty.com , be the first to know about events and specials by signing up for Vapour VIP emails and become a 'friend' on Vapour's Face Book page.