Rhoda Blake, Co-founder of Taos Ski Valley
Reminiscing with Rhoda: Taos Ski Valley's first lady is secret of resort's success
(Note: This story originally appeared in The Taos News' Raices special section in the fall of 2011)
While Ernie Blake was best known for getting the word out about Taos Ski Valley's challenging slopes (and firing and rehiring people in the same breath), it was matriarch Rhoda Blake, now 93 years young, who actually kept things running.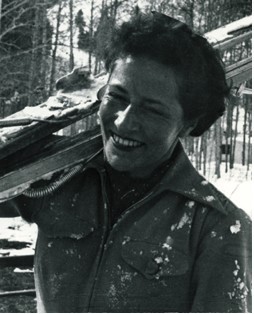 Without Rhoda, family and insiders agree, the ski mountain's roots would never had a chance to grow strong enough to support the famous Ski Valley steeps or the world famous Ernie Blake Snow School.
"There would be no TSV without her," daughter Wendy Stagg said about Rhoda. "Ernie was a marketing genius but could barely change a light bulb much less mount skis, build buildings, etc."
And Ernie Blake himself wasn't shy about admitting his shortcomings and Rhoda's strength.
"Ernie claimed he didn't know how to use a hammer," Walter Widmer, a Swiss ex-pat and one of the "Ski Pioneers," is quoted in the book of the same name (about the making of Taos Ski Valley, 1992, by Rick Richards). "Anything that had to be fixed, painted or put together, it was Rhoda."
Rhoda Limburg Blake was born April 8, 1918 in East End London. Orphaned by the First World War, she was adopted at age 3 through a London Jewish organization and was raised in New York. In an interview in early July this year at her home in Arroyo Seco, Rhoda chuckles and nods in agreement that "Earnest" (as she called Ernie) was not exactly "handy," a word her son Mickey Blake likes to use about his mother.
"Ernest was the marketing guy. He got us mentioned in Ski Magazine before we even had a ski lodge." She particularly remembers the salad days before the lodge was built, when she and Ernie and three children all lived in a 12-foot trailer. "There was five of us. Fortunately the kids were small," Rhoda said, eyes crinkling in amusement. "I don't think we ever anticipated (TSV) would be like this. We always thought it would be like Sipapu (Ski and Summer Resort, which began operations a few years before TSV). For years when it just was the lodges, it was like one big family, it was very friendly. We had costume parties and everyone helped everyone else."
With the first snow of the year, everyone would climb up and pack it down to get the area ready to open. They ran the lifts, sold the tickets, rented skis, fitted boots, taught skiing, cooked, served the meals, washed up and kept the lodge fires burning.
Rhoda notes that Elizabeth Brownell, former owner of the old Thunderbird Lodge, still comes to help boot-pack the slopes, "just like the old days. We packed up and down with long skis, they covered more ground. The first lift was built by a dozen Taos Indians and a donkey."
Besides the large scale of today's ski resort and village, Rhoda says the heady nectar of the early days was the people.
"We had all these characters. We had one employee we nicknamed Kangaroo because he would hop down the mountain. Sweep was pretty much a free-for-all," she says about their initial volunteer ski patrol. (To be sure no one is stranded on the slopes or in a glade at closing time, sweep skiers start at the top of the mountain and ski down, eyes sweeping the terrain on either side of their path, hence the term "sweep.")
"Yung Cho was a Korean who was a patroller. He was so funny we decided we have to keep him," she said. Yung Cho was also one of the first paid ski patrolmen, Ernie was quoted as saying in "Ski Pioneers," "He was the first Korean Olympic skier, and here he shoveled bumps." One of the runs on the front side was named after Yung Cho.
One Japanese man volunteered to be a patroller for free. The only problem was he didn't speak English, but nobody knew that because his girlfriend wrote his introduction letters for him. Hanging around Rhoda and the kids, though, made him think her name was "Mommy." At one point he ran after her calling "Mommy, mommy" to get her attention.
"Well that sure worked," Rhoda said.
Camaraderie and e'sprit de corps was the foundation of the ski culture in the '50s and '60s and she feels that has pretty much been laid aside in favor of frills and big-ticket vacationing.
"I don't think Earnest would be happy with it anymore. Skiing isn't any more an adventure. In the early years we didn't care what kind of accommodations we had, as long as there was a clean bed."
Animals were also a big part of the Ski Valley culture, including pet deer, a herd of pet goats around the St. Bernard, dogs and even a Coatimundi, a South American mammal of the raccoon family.
"It was like Wild Kingdom up here," Rhoda says. "A man came out to see (Hotel St. Bernard), what the snow was like and his wife screamed because a goat was on one of their twin beds.
"We had lots and lots of dogs and one of them always bit somebody," she says, shaking her head at the memory.
Rhoda says the last time she skied was at age 85. "It got so I couldn't see the moguls anymore. I used to ski everyday, except weekends when the mobs showed up. I was torn, because I wanted to see them at the ticket office, but not on the mountain. One time there was only one other skier on the whole mountain and he ran into me!"
Reminiscing with Rhoda about Taos Ski Valley reveals a solid integrity beneath a matter-of-fact nonchalance. And every memory is stamped in wood, steel or rock — like the fact that the first chairlift cost $50,000 and now a small lift costs a million dollars, and that Walter Ruegg built all of them, including the first lift, a Poma rope tow.
"There was a stretch of 30 feet where your feet never touched the ground," Rhoda says, laughing about the newbies who just couldn't get used to being pulled up the slope in mid-air.
Granddaughter Adriana Blake said Ruegg is the oldest employee still living, with 50 seasons to his credit, if you exclude Rhoda herself.
The mother of Peter, Mickey and Wendy Blake, Rhoda has 13 grandchildren and 6 great grandchildren and still lives alone, although grandchildren drop by daily. But Rhoda will have none of their coddling, she likes the run of her place to herself and her animals.
At 93, she says she's still waiting for that deep snow that will afford her a cross country ski run over the barbed wire fence of her property, like in the old days.
Here's to the big storm, Rhoda. You're one in a million.
By Virginia L. Clark, The Taos News