Trudy Valerio Knox Healy, Water Protector
I am a descendant of a several generation Ranchos de Taos family. It's just "home." Taos is the reason I fight for land and water issues. To me the watershed is what puts the water in the pipes. It's conveying the water, getting that water to the people, and creating the policy to do so that matters. I personally identify land and water as the most important issues globally and in New Mexico.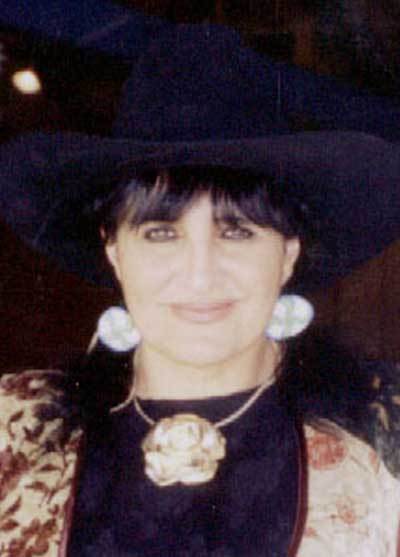 Trudy Valerio developed her father's passion for and dedication to the acequias of Taos. New Mexico's acequia culture originated in the 1500s when Spanish colonists imported their irrigation traditions from eastern and southern Spain. They melded their system with the extant one that Taos Pueblo farmers used to bring water to their crops. From that time to this day, the Taos Valley supports a high concentration of these traditional ditch systems. Water is diverted from the seven rivers that flow from watersheds in the mountains; and irrigation ditches traverse the area's farmland, crisscrossing the valley like a spider web. In northern New Mexico, the Spanish word "acequia" means both the ditch and the community of users who regulate the water for irrigation. Trudy's father Juan I. Valerio served as acequia mayordomo (overseer of ditches or "ditch boss") for 44 years. In her early years, she accompanied him and played in the water as he walked the ditches.
From her father, Trudy learned about the acequia culture. Since he farmed and raised horses, she also learned about land stewardship and animal husbandry. In childhood Trudy rode horses around the village of Ranchos de Taos where she grew up. Besides farming, her father and her mother Mercedes Gonzales Valerio opened El Rancho Dixie Service Station in Ranchos. They worked there while Trudy and her sister Stephanie attended St. Francis School in Ranchos de Taos. Later the gas station was converted into a store. Many Taos residents remember waiting for the bus in front of the Valerio's store. On winter days Trudy's father went in early to warm the store so children could wait inside for the bus, out of the cold.
Juan I. Valerio set another important example for his daughter through his service to the community. On the political scene, he served two terms as a County Commissioner for Taos County. As a member and, for a period, as mayordomo (church steward) of the San Francisco de Asis church in Ranchos de Taos, Valerio was part of a group that helped with the annual remudding of the famous Spanish Colonial adobe. He was instrumental in creating the basketball and tennis courts around the county, and through the Community Action Program for Taos County he helped to provide firewood for the elderly. Whether it was helping neighbors with negotiations, advising them on legal matters or property taxes, or lending a hand during harvest and roundup seasons, Juan I. Valerio was available to help.
For her creativity and love of art, Trudy credits her mother. At the Valerio's gas station, Mercedes met artists and later acquired their paintings and other works. Growing up surrounded by art, Trudy also inherited her family's artistic talent. During the Works Progress Administration in the Depression years of the 1940s, her father made traditional Spanish Colonial furniture. Her great-grandfather José de Gracia Gonzales was a sculptor who came to the Taos area from Chihuahua, Mexico, in the mid-1800s. He earned his living as a santero (carver and/or painter of saints) and created devotional images and altar screens for private patrons and for some of the region's churches into the 1870s. Gonzales also restored altar screens. He overpainted the deteriorating ones at the churches in Arroyo Seco (a charming village northeast of Taos) and at Las Trampas (a mountain village on the High Road to Taos). Said to be the most important Hispanic painter working in New Mexico after 1860, Gonzales's painted altar screens are now considered national treasures.
While Trudy was attending Taos High School, one of her creative outlets became a way to earn money. She worked summers as folk singer. Taos artist Jim Wagner recalls: "We were in the El Patio bar and we walked out back to the patio. There was the cutest little 15-year-old playing the guitar. The little girl was Trudy."
After high school Trudy met and married Robert Knox and left Taos. From 1971 to 1986 the couple cowboyed on some of the largest spreads in northern New Mexico: the Vermejo Park Ranch (Raton), the Elliot "Chope" Phillips Ranch (Valmora), the Diamond A Ranch (Ojo Feliz), and the UU Bar Ranch (Cimarron). The Knox children, Robert Lee and Lena Felice, grew up in this outdoor environment. Lee tells about his mother hauling them around to rodeos and her teaching him how to hunt and fish. Lena remembers Trudy out there "milking cows, pushing cattle, gathering eggs, and getting everyone where they needed to be." Her mother could "work with the best of them. She was a real Wild West cowgirl."
Uncle Bob Maldonado, who worked with Trudy and Bob, agreed. He spoke to Trudy's ranching skills, calling her "a pretty darn good hand," one who was not afraid to get her hands dirty. As Cowboy Bob told it:
I was driving up to my camp one time. I had this old pickup we used as a feed wagon. I was crossing this little bridge and we fell off it. The ice made the bridge slippery. It was cold. There was ice on the river but Trudy got right down there and worked with us to push that truck out of there. Come branding time or something like that she was right in the middle of everything.
During this time Trudy learned of Allan Savory's holistic resource management methods. By rotating herds of cattle from one grazing area to another, grasslands flourished. Moving the cattle prevented overgrazing; their hoof action pushed grass seeds into the ground, bringing on new growth. The ranch Trudy worked on was one of the first to adopt Savory's sustainability method. She later helped him bring five South African chiefs together to learn this method that helped their villages become self-sustaining. Trudy was nominated to the Cowgirl Hall of Fame for this pioneering work.
To supplement the family's income Trudy worked from in the early 1980s as assistant office manager, secretary and/or bookkeeper for Pacific Studs and Pacific Board Products of Texas. In 1985 she worked as head dining room waitress and hostess at the St. James Hotel in Cimarron. There she resumed her performing career, singing and playing the guitar. When her marriage ended, Trudy returned to Taos. She continued performing and became more business savvy when she worked as office administrator, front desk clerk and manager of publicity and promotions at the Taos Lodge. The next year she worked for Stewarts Fine Art as assistant director. Appointed agent for the Mary Cabot Collection, Trudy sold half a million dollars worth of art in two months. Based on this success, she opened her own art venture, the Milagro de Taos Gallery in 1988. She represented over 100 artists, among them the well-respected painter Jim Wagner. In the three years that she ran the gallery, Trudy sold over 400 of Wagner's works. She made such a go of it that Glamour Magazine wrote her gallery up as one of the five places to see in New Mexico.
An interest in Jim Wagner's work brought Edmund Healy into the gallery. Healy then worked as a CPA and an instructor at the University of Maryland and at the Pentagon. His great-grandfather had founded Utah Construction, which headed the six companies that constructed the Hoover Dam and built the water infrastructure for the Empire State Building in New York City. Later as Utah International, the company managed many similar projects around the world before merging with General Electric. Ed, who was then living in Maryland, had grown up in the West. A collector of Wagner's paintings, he had been visiting Taos since the late 1970s. He had fallen in love with New Mexico and after meeting Trudy, fell in love with her. After a successful collaboration on the book, JIM WAGNER, TAOS, an American Artist, Ed asked Trudy to marry him. The Healys now live north of Taos on a place they named Rancho Milagro. The Arroyo Hondo River runs through the ranch as does the Acequia Atalaya. This makes their spread a haven for wildlife. At Rancho Milagro, Ed and Trudy strive to maintain the traditions of Northern New Mexico, and Trudy continues her work with Allan Savory's holistic management international through restoration and through land and water renewal. She had entertained people from the World Bank and ambassadors from many nations who had come to the ranch to witness the this program.
In addition to ranch work, Trudy is co-owner of Rancho Milagro Productions (an enterprise involving art, books, team roping horses and race cars) and a grant maker for the Healy Foundation. She and Ed have funded programs in the arts. In Taos they sponsored the Taos Talking Pictures and the Taos Mountain Film Festival. Most recently they underwrote a two-night performance of "Popay Speaks" by the talented actor, writer and farmer Robert Mirabal from Taos Pueblo. This was their Christmas gift to the Taos community. The Healy Foundation also financed the restoration of altarpieces in churches at Las Trampas and Peñasco, and received the New Mexico Heritage Preservation Award for helping with the restoration of these state treasures.
Like her father, Trudy believes in helping people, her community, and her state. Locally, she has served as a board member for several non-profits, including the Taos Art Association and the Millicent Rogers Museum. In 1999 she founded the reform Democratic Action Group in Taos County, and was elected its treasurer. Her involvement reached the state level when she represented the Democratic Party of Taos as a State Central Committee member. Later she was included on the State Democratic Chairman's Council and the State Democratic Century Circle. Trudy worked on the Transition Team for Governor Bill Richardson—that task involved protecting and promoting New Mexico's environment. She also served on Governor Richardson's Competitive Grant Advisory Team to help secure stimulus money for the state.
Watersheds, rivers and acequias had always interested Trudy—water was her primary passion. This meshed with the Healy Foundation's focus "to ensure that all New Mexico communities are healthy and our focus is land and water issues and projects." When Governor Richardson came into office, Trudy applied for the Water Trust Board, and he appointed her. With her fellow board members, Trudy worked on the Trust's goals, namely "how best to address New Mexico's water needs into the future and how to best allocate precious resources." Ed related the kind of responsibility and work that his wife took on in making water policy:
Trudy was very independent. She forged partnerships and coalitions and got a lot done. Her peers on the Water Trust Board elected her treasurer of the Water Trust Board. Her work as a board member gave us an opportunity with the Healy Foundation to support some projects that were outside the state budget.
The makeup of Water Trust Board encompassed individuals and agencies from across the state, and Trudy forged relationships with them all in order to work together on equitable distribution of water to all people in New Mexico. During her tenure (2001-present), the Water Trust Board has awarded more than $200 million for statewide water projects. As the Irrigation or Conservancy District, Surface Water Representative, Trudy also stands up for watershed projects, the acequias, and all water users. She works to ensure that the acequia associations get technical assistance so that they can secure funding for their projects. The New Mexico Department of Agriculture honored Trudy with the NMDA Secretary's Partnership Award for her contributions and partnering efforts in creating a regulatory training program at New Mexico State University to aid farm industries. Trudy won an award from the Office of the State Engineer, Interstate Stream Commission and the Navajo Nation for the New Mexico Navajo Nation's San Juan Basin Water Rights Settlement for funding the PBS documentary "The Water Haulers." The film brings awareness to the Navajo Nation's lack of water infrastructure and the $900 million needed to bring water to the Navajo Nation.
On the local level, after attending a Town Hall Meeting for the State Water Plan, Trudy served on the Taos County Regional Water Plan's Steering Committee (2004). She continues her participation with the county's Regional Water Plan and is a member of the Atalaya Ditch Association. She helped sponsor the award-winning Nuestras Acequias ("Our Acequias") and secured matching funds to contribute copies of the film to schools throughout New Mexico. The Town of Taos recognized Trudy with a Communitarian Award for the "Save the Water, Save the Communities" program and the Rocky Mountain Youth Corps gave her a nod of appreciation for her outstanding work in protecting New Mexico's watersheds.
Somehow Trudy finds time to pursue her 30-year-long music interests: playing oboe, piano or guitar (which she also instructed). She was a featured singer on Randy Huston's CD "There's A Hole In Daddy's Rope" (2004), rated "a superior album" by Cowboy Magazine, and portrayed La Llorona (The Weeping Woman, from New Mexico folktales) in the movie "The Cry" (2004). She plays the role of a medicine woman in the upcoming film WolfDog. Trudy also finds time to be with friends, and is known for her great sense of humor, sparkly wit, vivacity and intelligence. Her inspiration continues to come from her family. Her children provided her life focus and her grandsons, both well-known race car drivers, taught her "to be steady and focused". Trudy's husband Ed provides her biggest inspiration: "He has taught me that anything is possible and through him I have been able to help make a lot of people's dreams come true."
In 2011 Trudy received the Distinguished Alumnus Award from Leadership New Mexico in recognition of her philanthropy and her focus on water issues throughout the state as part of her efforts to improve the quality of life for all New Mexicans, and for future generations. Former State Engineer John D'Antonio commended Trudy for her sense of fairness, for always wanting "to give voice to people who couldn't speak for themselves, who weren't politically connected." The award ceremony closed with a statement from rancher and fellow Water Trust board member, Preston Stone from Capitan, New Mexico: "Whether it's urban or rural, Trudy truly understands what a New Mexican needs to maintain our culture." From water to education to art, Trudy continues to demonstrate her devotion to Taos and to New Mexico. She urges other women to join her in nurturing people and the natural world, or as her father, Juan I. Valerio always said while sitting at the kitchen table: "Take care of your back yard."
Asked what draws adventurous women to Taos, Trudy responded: "Some say that Taos is the 'last stop of your past lives'. To me, if the mountain lets you stay, then you are here for a reason. Plus, the last stop teaches you patience. (Heehee)."
As for her favorite places in Taos, Trudy likes to support "home grown" businesses. Those and many restaurants in Taos are where she hangs out—at least when she's not outdoors enjoying the mountains and the rivers.
By Elizabeth Cunningham, January, 2012