Susie Fiore, Field Institute of Taos Founder and Director
Field Institute of Taos Founder and Director, Athlete
"It takes a village to raise a child." - African proverb
"Don't ask yourself what the world needs. Ask yourself what makes you come alive, and do that, because what the world needs is people who have come alive." - Howard Thurman
"A small group of thoughtful people could change the world. Indeed, it's the only thing that ever has."
- Margaret Mead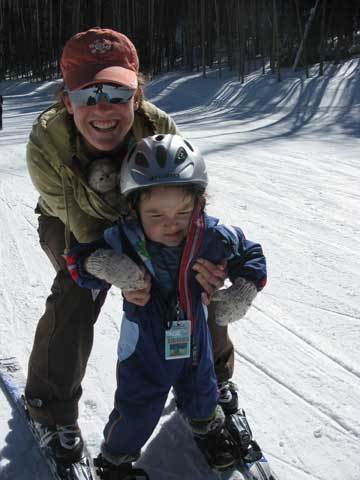 These three quotes resonate for Susie Fiore, and indeed could reasonably be said to be the mantra for her life's work. Her love of children, the outdoors, and of physical fitness – whether hiking, camping, biking, or skiing serves as the core of her persona and her chosen path. Born in California in the 1960's, Susie chose The Colorado College to further her interests and education, graduating in June of 1986 with a B.A. in Anthropology and a minor in Geology. Hired immediately after graduation as an Anthropology Department Assistant (directing archeology field programs and labs), she stayed with the College until a seasonal position as Archeologist with the Carson National Forest brought her to Taos in 1988.
Susie thoroughly enjoyed the work, and the fact that it was seasonal left her with ample time during the winter months to develop new interests in skiing and instructing children. She enthusiastically took on the challenge of program supervisor at the Kinderkafig, (Children's Ski School) at Taos Ski Valley, managing staff while still finding time for on-slope instruction as well as putting in many off-hours on the challenging runs.
Susie remained with both the Carson National Forest and the Kinderkafig program until 1995. However, during those years, her connection to Taos and her observations about some of the opportunity gaps for children put her on a trajectory that her love of the outdoors, science background, and her finely honed management and administrative skills were uniquely qualified to fill.
Acting on that vision in 1996, Susie made the decision to found the local, non-profit Field Institute of Taos with the goal of providing vigorous, hands-on outdoor education and promoting healthy lifestyles. As Susie tells it, "I love that I am able to spend each day in an environment I want to be in, working and playing in a way that I have consciously chosen, in a career where my high energy and enthusiasm can make a positive difference. FIT served about 40 children the first summer and has gradually expanded to over 400 in 2011. Throughout the years, we have added additional sessions, expanded age groups, camping and backpacking trips, Counselor In Training and Junior Counselor programs, after-school mountain bike club, school programs, and a local cycling team. As FIT has grown, I have remained personally involved in daily programs while doing administrative work as well. These programs have now influenced the lives of over 2000 children. I want to continue impacting the lives of youth in a positive way while improving the programs we offer. I believe that being outside in nature, learning and exploring, offers critical educational experiences and growth that can't be obtained in any other way. Today, we need to help our youth cultivate a sense of place and an understanding of the interconnectedness of everything. I would like to see FIT expand more into community events as well as family-oriented activities. One of my dreams is to have the opportunity to see the creation of an environmental education center, in the mountains of Taos Ski Valley, where we could operate existing programs and grow new ones. I have learned an incredible amount through the challenges I have faced personally and professionally over the past 15 years. Each participant in every program has taught me something new and I am so appreciative of the generosity of these young people. I am so lucky to be considered a friend by many of them and to participate in their lives."

Never one to let a moment or an opportunity go to waste, Susie continues to fill her life with other challenges. She became a personal trainer and instructor, then a cycling coach after she started racing mountain bikes in 2000. That year she won the nationals and has raced as a professional since 2002. She also found time to marry in 2002 and adopted a newborn son in 2009.
When asked about the source of her inspiration, Susie is quick to answer, "My grandmother Olga. She was an incredibly strong, independent woman who forged her path in life on her own terms. She was also incredibly fun loving and I have many childhood memories of running around like crazy with her. I think I learned from her that, as long as I am following my heart and believing in my dreams, anything can happen. She packed enough living for several people into her life and did it all with a sense of humor and expansive love for her family and those around her. She knew how to work hard and play hard."
And what are Susie's goals for the future? "I think it's important to strive to balance family, working within the community, and personal goals. I have been fortunate to find a way to feel challenged, grow, use my skills, learn new things and contribute to the community while sharing my passion for the natural world and for active lifestyles. I want to continue to learn and grow personally while being the best mother I can be to my own son. Bringing my son into a lifestyle, culture, and environment that I find to be so enriching has been an amazing experience. It is always a challenge to balance family, personal success as an athlete, and work I am passionate about. I know that there are still many adventures to come for FIT and for me personally. The more each of us knows about our natural surroundings, the more connected we become and the more likely we are to want to protect and preserve the environment."
Why is Taos such a perfect fit for her? "Each day is a gift and in Taos, I feel that I am able to make the most of each day. To me, it's the cultural and ecological diversity…the natural beauty, the uniqueness and the history of cultures. This is where I feel connected to the earth and can breathe. This is an accepting community with a strong sense of place, peopled with many strong, independent women who are confident and believe in following their dreams."
Some of Susie's favorite places? "Whether it's hiking and skiing Kachina Peak, exploring the mountains above Williams Lake, frolicking in an aspen grove in the Tusas Mountains, or riding my bike on the South Boundary trail, each season brings new sensations and joy. I love going to various events at Taos Pueblo. Taos has so many great family, community events. I love the first day of ski season and the Annual Field Institute of Taos 4th of July Rubber Duck Race!"
Her advice for becoming who you are meant to be: "Surround yourself with others who share your passions and are supportive. You need to always be ready to make changes and be adaptable, making the most of teachable moments. Learn to balance family and work and keep practicing walking that fine line. Have fun!"