Sandy Wohlfrom, Travel and Outdoor Photographer
The outdoors gives me a sense of peace and quiet. I love setting out never knowing what might happen. I might get caught in a hailstorm, or find morel mushrooms, or see rainbows. I get huge satisfaction from discovering what's out there. Hiking, climbing and backpacking feeds my sense of adventure.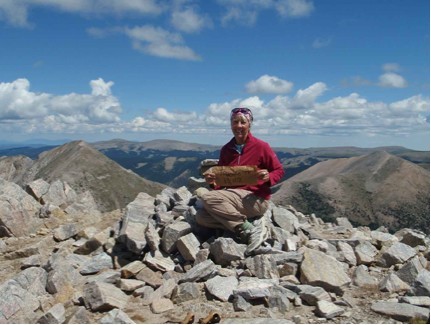 Originally from California, Sandy Wohlfrom came to New Mexico in order to escape the rainy, grey, damp winters of the Northwest. In 1973, while attending Oregon's Mt. Angel College (18 miles northeast of Salem), she opened up SKI Magazine to an article that featured the Taos Ski Valley and thought, "That place has a lot of sun!" A "sort-of" skier when she arrived in Taos, Sandy spent her first year hacking her way down every one of Taos Ski Valley's runs. From her association with the ski school she developed enough expertise to give lessons, and she has taught skiing for over 30 seasons. Sandy challenges herself to ski better every year and she passes her passion for skiing on to her students.

For Sandy it's personally important to stay in shape and opportunities abound in and around Taos. Winters are for skiing and summers for hiking, biking, and playing in the Rio Grande and other rivers. Sometimes her sense of adventure leads Sandy to mountainous regions outside New Mexico. Fifteen years ago, she decided to climb every one of Colorado's 54 "14ers" (peaks with altitudes above 14,000 feet). She completed her goal in 2009, saving the three most difficult climbs-the Maroon Bells and Capital—for last. Sandy's love of being high up on ridge tops where she can see miles of amazing views led her to Kilimanjaro and Mt. Kenya in Tanzania. The sunrise she experienced on Mt. Kilimanjaro boggled her mind as she looked out on the entire continent of Africa—and captured it on camera.

Photography is one of Sandy's other passions. Her father gave her a Kodak box camera when she was six. Since then she has documented the feeling of the places she travels to as well as the daily lives of the people who live there. Her travels have taken her to Cuba, Mexico, Guatemala, Nepal and Tanzania. The All Souls Night in Mexico, Semana Santa (Holy Week) procession in Guatemala and Mani Rimdu festival in Nepal are a few of the special events Sandy photographed. She also enjoys capturing small moments in people's daily lives. Some examples are her photos of butterfly net fishermen in Patzcuaro, Mexico or of Maasai dancers in Tanzania. She says of her work: "Witnessing cultures of many countries brings people and their similarities into focus. Not unlike the indigenous people of our country, many people of our world live within parallel traditions, some still unchanged for centuries."

What keeps Sandy in Taos? Photographing a gorgeous sunset and skiing powder on a stormy day along with the interesting variety of people who live here. And the Truchas Peaks. And ever beckoning adventures in new places, like Sandy's next discovery destination: the Grand Tetons and Yellowstone National Park. She hopes to photograph some amazing sights there and bring them back to her home in the foothills near Taos Ski Valley.

Sandy Wohlfrom's favorite sites and sights: hiking trails up in the mountains and down in the Rio Grande Gorge; Wild and Scenic Rivers.

For more information visit: www.sandywohlfrom.com. For more information on the area trails in the Carson National Forest and on BLM lands, visit: www.fs.fed.us/r3/carson or www.nm.blm.gov/recreation/taos/taos_rec_home.htm .
By Liz Cunningham, 2011