Kendall Clark, Forest Supervisor of Carson National Forest
T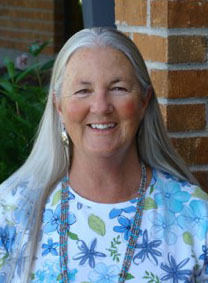 aos is a land filled with prayers. One can feel it emanating from the mountains and all around. I love the light and landscapes, the changing sky and the multi-cultural setting. I feel at home. Taos has a way of letting you know it's OK to be yourself. It's the opposite of Las Vegas – there you go to be someone else – a fantasy. Here, you are yourself, a clear reality. That clarity about who you are and what you want can be very addictive!!
Kendall Clark, the first woman Forest Supervisor on the Carson National Forest (headquartered in Taos), first entered the Forest Service as a seasonal employee in northeast Oregon. With a solid educational background in Forest, Range and Wilderness Management, she started her career as a Recreational Forester in 1988 at the Selway Ranger District (Nez Perce National Forest) in Idaho. Her experience soon led to her first job in Silver City, New Mexico (1991-1995) as the Gila National Forest's Wilderness, Recreation and Trails Program Manager. She served as District and Area Ranger on the Wallowa-Whitman National Forest out of Enterprise (NE), Oregon before the Carson Forest tapped her as its Deputy Forest Supervisor (2004-2006). Then after 2 years as Deputy Supervisor on Colorado's Uncompahgre and Gunnison National Forest, she was hired on to the Carson NF in her present position.
Early in her career, Kendall credits Selway Forest Supervisor Tom Kovalicky and District Ranger Gloria Flora for passing on their passion for both the National Forests and for their employees. Tom believed that every employee could make a unique contribution and he never failed to celebrate the achievements of his staff. He believed in Kendall as did her mentor, Gloria, who defended treasured landscapes and her employees. Another inspiration came from the father of the idea of wilderness Aldo Leopold, author of A Sand County Almanac, who in 1912 became Forest Supervisor on the Carson National Forest.
Throughout her career, Kendall has sought to connect people to the Forest Service lands right outside their doors. Westerners have millions of acres of forest and grasslands available, much of it within driving distance, and Kendall sees her role as stewarding the watersheds, especially in the arid West, that provide water for the surrounding communities. Her goal now is to work with the best scientists to address the changes resulting from climate change. From there Kendall intends to dialog with the community to help create resilience and to help people adapt in the face of this pressing priority. She knows that people share her passion for public lands, and that no matter their differences in perspective, they have one commonality—a love for the land.
During her three years as Forest Supervisor, Kendall has hosted the New Mexico Volunteers for the Outdoors, trail crews and other volunteers to improve trails on the Carson National Forest. Her most recent accomplishment, a two-year effort by the Gallatin trail crew, is the new Wheeler Peak trail. Kendall is now working on a trail in the Valle Vidal, north of Clayton Corrals, to provide access to one of the largest stands of Bristlecone pine and to high altitude grasses. She has plans to involve more schoolchildren in plant identification, and have them help compile a plant list that will serve the community and educate future foresters and stewards of the wilderness.
Kendall Clark's favorite Taos sites and sights: Aspen forests, at all seasons; the Valle Vidal; San Geronimo Day at Taos Pueblo; Mary Jane's; the Farmer's Market at Town Hall.

Hit parade hikes recommended by Kendall Clark and her staff: Yerba Canyon, Italiano, Gavilan, Bull of the Woods, Williams Lake Trail, Columbine Twining Trail, Manzanita Canyon, South Boundary Trail (some of the best mountain biking in the U.S.)
For more information on the area's hiking trails, maps are available at Carson National Forest headquarters at 208 Cruz Alta Road in Taos, phone 575-758-6200 or visit www.fs.fed.us/r3/carson/recreation/trails/hiking.shtml. For kids, check out The Book of Stuff to Do Outside, link at www.discovertheforest.org.
By Elizabeth Cunningham, 2011
Blog host, "Mabel Dodge Luhan and the Remarkable Women of Taos"