Adriana Blake, Taos Ski Valley Marketing Director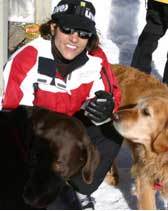 I like to ski Longhorn the very last run of the day because the sun is going down, and as you look down through the canyon onto Taos Valley, everything is painted with this great red-gold color. It's my favorite way to end the day. The light and the quiet are awe inspiring.
The mountain and a passion for skiing called to Adriana Blake's paternal grandfather, Ernie. He and his wife, Rhoda, founded Taos Ski Valley in 1955. Today, with 13 lifts and 110 trails, the Blake enterprise is one of the few U.S. ski resorts still in family hands, and Adriana, a third-generation skier, serves as its Administrative and Marketing manager. She works to ensure that employees and guests alike experience the same sense of adventure and stunning natural beauty that lured the Blake family to this snow basin nestled in the Sangre de Cristo Mountains east of Taos.
Adriana credits both grandmothers with teaching her to be independent, willing to take on any task (even those traditionally assigned to men), to speak her mind, and to be who she is without apology. Her grandmother Rhoda Blake, one of the toughest women Adriana has ever known, provided the backbone in the development of Taos Ski Valley. Starting from scratch, Rhoda operated out of an 11-foot-long camper from which she managed the family and supported her husband as he, sixteen men from Taos Pueblo, and a mule named Lightening built the first lift. Adriana's maternal grandmother, Taoseña Beatrice Deveaux, demonstrated the strength and determination of women descended from 17th-century Spanish Colonial pobladores (settlers) who--when their men were away herding sheep or hunting--fought off Comanche raiders, tended the livestock and gardens, cared for the family, and created community. Like her grandmother Beatrice and her forebears, Adriana is reaping the rewards of living and raising a family in a place where she knows so many people. The mountains, skiing, mountain biking and the love of the outdoors are what holds Adriana to Taos and the community is the force that sustains her.
Adriana Blake's favorite Taos sites and sights:
Seeing where competitors ski at the Taos Ski Valley's Freeride event; Halloween on the Plaza; watching the fall colors change on El Salto mountain from her front porch in the bustling village of Arroyo Seco; witnessing the sunrise on the mountain at Taos Ski Valley because "taking that time at the beginning of the day helps me remember why I live here."
Taos Ski Valley: Today a world class winter sports resort with 2,612 vertical feet of skiing and snowboarding, plus tubing and other winter activities, TSV is known for its challenging terrain and outstanding service. In summer, visitors can ride the lift for a stunning view of Wheeler Peak, New Mexico's highest mountain. For more information, visit skitaos.org
By Elizabeth Cunningham, 2011
Blog host, "Mabel Dodge Luhan and the Remarkable Women of Taos"