Melissa Crabtree, River Guide, Singer-songwriter, Musician
Northern New Mexico is still a wild place to live…and to be a remarkable woman you need to take a step into the wild, creative part of yourself, the part that does not need to conform to what mainstream society thinks women should do or be. Taos embraces alternative lifestyles, folks who want to live on the fringe, folks who want to create a life which is lived from the heart. I believe living from the heart cultivates remarkability.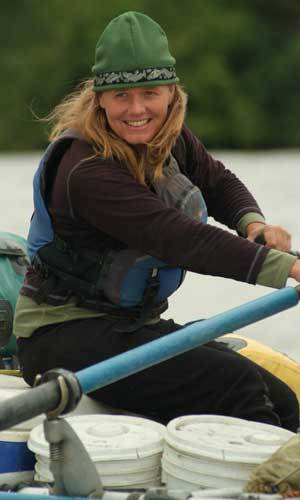 A whole new world opened up to Melissa Crabtree at age thirteen when her father decided to take a job in rural Vermont. Located now away from the city, the outdoors beckoned to her. She hiked the mountains, swam and canoed the rivers, and took up skiing—and in time discovered how deeply her spirituality was based in nature. When Melissa became a ski racer in her teens, she found inspiration in the positive attitude of her friend and Olympic Gold medalist Deb Armstrong, who also loved mountains.
The outdoors lured Melissa to Colorado where she became a raft guide at age eighteen. There she met and was mentored by Martha Clark, one of the first female Grand Canyon River Guides. From then on Melissa devoted her life to guiding trips on rivers and the ocean and in the mountains. She began her career as a backcountry and river guide, and a teacher of outdoor education in 1989. Melissa became a river guide in part to get away from the modern, Western way of living that was destroying so much of the natural world. "Once there, I discovered so much more: I was able to commune directly with nature, and to find myself."
A breakthrough came when Melissa taught for Outward Bound. A co-instructor suggested she apply as a patroller at the ski resort in Alta, Wyoming. She got the job and in 1991 became the first woman hired on the Grand Targhee Ski Patrol, which at the time was an all men's ski patrol. As Melissa gained knowledge about avalanche safety and search and rescue, she also developed a passion for empowering other women to become outdoor guides in these then male-dominated arenas. She was one of the few women raft guides on the Taos Box Canyon in 1997 and was employed by other river runner companies in Idaho, Utah, Oregon, Colorado, California, and Alaska. Now Melissa specializes in guiding sea-kayaking trips and river trips for women in Latin America and the United States.
Melissa's work as a guide allowed her to help others gain access to "completely awe-inspiring, remote places on the earth." She delighted in watching their eyes light up at the sight of a beautiful mountain sunset, or the sight of an eagle in flight. As Melissa puts it, "I got to see the natural world touch them." These trips further deepened her love and respect for the earth, and her understanding of the "positive changes being close to the earth could bring about in others." As a senior staff field instructor with the National Outdoor Leadership School (NOLS), she helped convey the organizations' minimum impact camping philosophy. Melissa and her co-instructors spent three week stretches camping with students in the wilderness, teaching them respect and appreciation for the mountains and how to tread lightly on the earth. She saw how this respect for the wilderness and the earth could translate into people's daily lives and help to create more sustainable lifestyles, "ultimately leading to a healthier planet."
Rivers and mountains became metaphors that guide Melissa's life. She noticed, for example, how rivers never fight against obstacles, but flow around them while mountains never fight against obstacles, but they "patiently hold space until the obstacles are gone." These observations led to Melissa's life motto: "Be patient and go with the flow." These metaphors and her profound love of the earth also informed Melissa's career as a professional singer-songwriter. She has played at notable musical festivals, including the High Sierra Music Festival, Moab Folk Festival, Oregon Country Fair and the Taos Solar Music Festival, and received songwriting awards at the Telluride Bluegrass Festival, Rocky Mountain Folk Festival, Tucson Folk Festival and Kerrville Folk Festival. Asked about where she gets inspiration for her songs, Melissa replied:
My songs are a record of my life which flow through me when I am living outside in the wilderness and on the water. They are a conversation ... between me and the rivers, the ancient canyon walls, the oceans... about life, heart, relationships, and politics. The water is my muse, my friend and my lover, eliciting songs from my heart that speak of my life's journey.
Ten years ago Melissa released her first CD, "Off the Beaten Path," and then toured the country in a vegetable-oil powered van to call attention to the nation's addiction to petroleum. Her song "Biodiesel Van" was featured in the film "Fields of Fuel" which won Best Documentary at the Sundance Film Festival in 2008. Melissa released a new CD this past May and plans to tour, write songs and "sing her heart out" and continue as a wilderness guide in the future.
Why Taos for Melissa? "Being both a river guide and a musician, living in Taos enables me to do the two things that I love all in one day. When I first came to Taos in 1996, I would guide a Rio Grande Box River trip in the morning till 4 p.m. then change clothes and play a show at the Taos Inn, or Eskes, or Caffe Taza, that night. The landscape here is awesome. The wilderness, rivers, amazing sunsets, and gorgeous landscapes inspire me to write songs and live a creative life."
Melissa Crabtree's favorites: "For good music: the Taos Inn; for great hiking: Cebolla Mesa; for a beautiful river trip: the Chama River."
By Elizabeth Cunningham
Blog host, "Mabel Dodge Luhan and the Remarkable Women of Taos"