Dr. Tara Waters Lumpkin, Anthropologist and Conservationist
All around me, including in Taos, NM, I have seen wildlife and other non-human creatures mistreated and their habitat depleted. In general, I perceive that humans believe that we are somehow above or better than other species. I firmly disagree with the premise.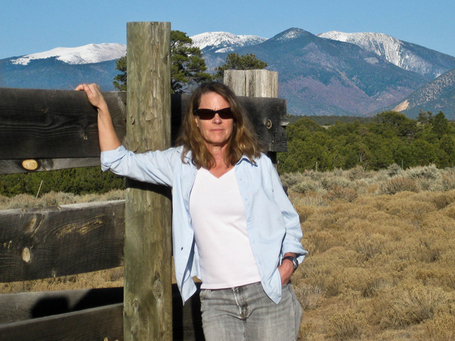 Born in 1959 in Baltimore, MD, Dr. Lumpkin came to Taos as a Wurlitzer fellow in 1990 and stayed, enchanted by the landscape, exquisite environment, and cultural diversity. But, although she has been based here for over twenty years and calls it home, Tara also has worked in many other places: post-genocide Rwanda, Panama, Namibia, Canada, Tibet, and Kenya, among others. She eventually earned a PhD in Environmental and Medical Anthropology. In August and September of 2009, she traveled to South Africa to conduct fieldwork on the concept that the key to protecting biodiversity is "to connect the human animal to the global ecosystem." Upon her return to Taos she formed a nonprofit project called "Izilwane," which means "animals" in Zulu. Feeling that our anthropocentric perception of nature is the root cause of our environmental crisis and biodiversity die-off, she set to work on raising awareness of the Sixth Extinction and our human place in the natural world. Convinced that without other species and healthy ecosystems human beings themselves will not survive, she is seeking to do something about it.
The best way I can think of to change the way people treat other species and nature is to change how they relate to the natural world and its inhabitants.
Hence, the e-zine Izilwane, a participatory, multi-media conservation platform devoted to enhancing how we perceive our human role in relating with other species and ecosystems was born, with the goal "to connect the human animal to the global ecosystem." Izilwane takes an anthropological approach to the biodiversity crisis and sixth extinction, and comes from the academic field of human ecology. Individuals (including youth) from around the world are trained, virtually and in person, to become citizen eco-reporters (using writing, photography, and videography) by the entirely volunteer Izilwane team of editors. Izilwane's core volunteer team also trains other volunteers in nonprofit management (PR, development, social media, and more). Those involved, either as contributors or as management volunteers, become biodiversity advocates who co-create eco-centric models of thinking, living and being, and share their knowledge and experiences with each other and the general public.
Unlike most nonprofits based in Taos, Izilwane wants Taoseños to go beyond the local and link to the global. Its immediate goal is to get funding to work with people in Taos to help them hone their writing, photography, and videography so they can publish on the e-zine. Recently, in 2011, two Izilwane interns in Taos ran a Taos Youth Biodiversity and Art Project for children. Another intern made his first video about the project, which aired at the 2012 Taos Shortz film festival. Dr Lumpkin's ultimate goal is to build a coalition of like-minded people around the globe who see humans as one of many species, rather than as a more important, dominant species. Izilwane provides a platform and clearing center for this cutting-edge concept.
Inspired by luminaries such as Jane Goodall, Mike Fay, and John Gray, Dr. Lumpkin believes that individuals can make a difference. She says, "People are fearful of taking a leap and risking it all to make something happen. Passion is the most important aspect of creating something new. People will resist you and your ideas. Don't take it personally. Just keep on working." Noting the beautiful but harsh physical and economic environment of Taos, Dr. Lumpkin finds that living in Taos has helped her to develop a relentless, no-quit attitude---a personality quirk that is often found in everyday heroes.
Although she works daily at a global level, for her, Taos is a true and trusted base for her own home. When she needs to recharge from the intensity of work, Tara explores the side trails in the canyon on the way to Taos Ski Valley, hikes up the Cañoncito Trail, or heads out to Cebolla Mesa. Each summer she tries to go camping for a few days near the breath-taking Chama River, and in the winter, her favorite skiing experience is to hike the ridge and revel in the expansive views from the top. Closer to home, her favorite restaurants are El Meze with its unusual Spanish food served by the fireplace in winter, the Love Apple which serves regional organic fare in the candlelit Las Placitas Chapel, and Orlando's with its bright, colorful, cheery decor, friendly wait-staff and great Mexican food, the perfect place to grab a bite before the movies. She loves the Agnes Martin exhibit at the Harwood Museum and likes to sit on the bench and look at Martin's minimalist white canvases, which remind her of quiet falling snow.
And then, batteries recharged once again, she gets right back to work.
By Farzana Islam, 2012, Belgium
To learn more about Tara's work, or to get involved with Izilwane, go to www.izilwane.org.
We are always looking for volunteer contributors from Taos, and we also are looking for nonprofit assistants. We want Taoseños to help other Taoseños and other people from around the globe.