Kristina Wilson, Land Conservationist and Philanthropist
Kristina Wilson has much in common with the other Remarkable Women of Taos, both past and present. Like many of them, Kristina is a strong, no-nonsense woman of action unbound by convention or tradition. Over the years her compassionate convictions, vision and love of Taos have guided her in her efforts to preserve land in our community. Through persistent hard work, a great deal of personal generosity and some good natured cajolery, she has helped permanently protect dozens of acres of open and productive lands from development.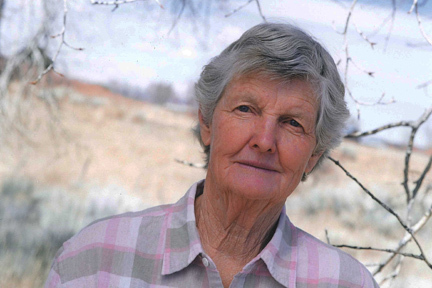 When Kristina Wilson and her pioneering mother arrived in Taos in 1945, she remembers feeling almost overwhelmed by the beauty of Taos … that it was hard to find the words to describe this place. What she recalls even more vividly was how peaceful and quiet the little town was … how silent the nights were … what a welcome respite it was from the energetic hustle and the unremitting stress of the war-time life she and her mother left behind on the east coast.
And so, she made that childhood love of this special place the centerpiece of her life's work. Back in 1988, when Kristina Wilson and a few other concerned citizens founded Taos Land Trust, private land conservation efforts were almost unheard of in Taos and northern New Mexico. These early land conservation pioneers saw how development threatened the beauty and unique nature of Taos and the surrounding small agricultural landscape and lifestyles.
They had watched as tracts of open land were sold off because the owners had no other options but to pay exorbitant inheritance taxes. This group of volunteers wanted to give local families a means to retain ownership of the land … land that had been the heart and soul of the family for generations.
In October of 1991, Taos Land Trust signed their first conservation easement … eight acres of irrigated pasture and woodlands off El Salto Road donated by celebrated Taos writer Frank Waters. Two months later, Kristina Wilson partnered with Terry and Rick Klein to donate an easement on a part of the old New Buffalo Commune in Arroyo Hondo. These easements were the tap roots of a land conservation movement that continues to grow and protect the landscape around us today.
Throughout the 1990's and into the first decade of this century, Kristina led many battles to save important places and open lands around Taos. With the generous assistance of an anonymous philanthropist she found money to protect the beloved Ponce de Leon Hot Springs. Working with the same donor, she secured funds for the construction of the Town of Taos swimming pool, skateboard park and several much-needed neighborhood playgrounds. In 1996 she donated another conservation easement on acreage she owned in Arroyo Seco. Kristina's most recent land conservation achievement is Sunset Park, 10 acres of open space in the meadowlands below Valverde Street in downtown Taos. Her donation of a conservation easement on her own property in the meadow led neighboring landowners to join in and contribute additional acreage to create the park and protect the viewscape toward Taos Mountain in the east and the setting sun in the west.
Kristina Wilson has called Taos home for over sixty years. Her contributions to the community go beyond her efforts to create parks, build playgrounds and save farms or sunset views. Over the years she has started an eclectic assortment of successful enterprises and ventures: generations of Taos weavers learned their craft at her weaving schools and sold their wares in her workshops, she built beautiful adobe homes around our town, she bred and raised llamas in Arroyo Seco, grew raspberries in El Salto.
When asked about her favorite places, Kristina is unhesitating: "The village of Arroyo Seco remains one of my favorite places … I have fond memories of walking along the narrow dirt lanes past fields of grain. I feel close to the land here and have a kinship with the Spanish farmers who cared for crops, the soil and the precious water."
"I have always been a drawn to the mountains … as a source of inspiration and recreation." Kristina was one of the first volunteer ski patrollers at Taos Ski Valley and skiing at TSV has been a joy for most of her life. As an artist she was inspired by the dramatic majesty of the high peaks and their dominance over the landscape.
Kristina is endlessly fascinated by the Gorge and the Rio Grande … "Best accessed in the Wild Rivers area, it is another place of spectacular beauty and a constant reminder of how ancient and timeless this place is."
And finally, Cid's … Cid's Food Market is one Kristina's favorite Taos places … a community gathering point and a source of sustenance for her.
To those of us lucky enough to call her teacher, mentor, friend, mother, grandmother or aunt, Kristina's greatest gift is the wit, wisdom, and love of life she imparts every day.
Arroyo Seco Village is located 9 miles northeast of Taos; www.visitseco.com.
Biography:
Kristina Wilson
Born in June 1929, in Berlin, NH
Degree in Occupational Therapy from Columbia University, New York City
For more information on Kristina Wilson contact Tom McCampbell at Taos Land Trust 575-751-3138 or www.taoslandtrust.org.