Erin Currier, Artist
Erin Currier uses paint – and trash – to create passionate statements about human rights and individual dignity. For her, the message is in the medium.
In less than a decade, Erin Currier has established an enviable reputation as an artist of skill and commitment. A champion of human rights, she creates large, bold portraits of common folk, many of whom she's encountered during extensive travels in so-called Third World countries. While traveling, she studies local cultures, sketches people, learns enough language to get by (on a recent trip, she spent a week in Rabat, Morocco, studying Arabic), and gathers paper trash that she later combines with painting and drawing in her final compositions.
Currier's expression of political fervor is unusual in an art world increasingly dominated by intellectual pretense on the one hand, and superficial pleasantries on the other. Also rare is the exceptional skill with which she creates these ethically charged and emotionally rich portraits. Not surprisingly, she's a rising star with an impressive resume of exhibitions in galleries and museums on three continents, while private and public collectors clamor for her work. And she's 35 years old.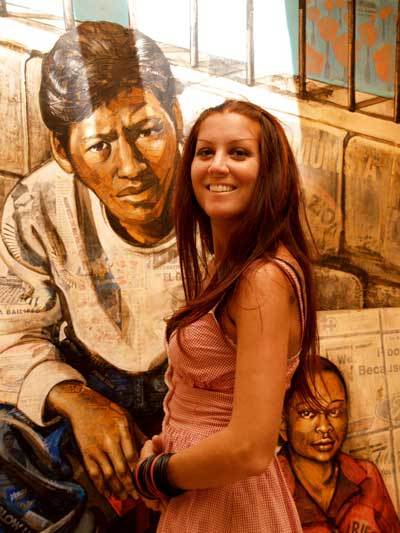 As Chris Hedges, Pulitzer Prize winning reporter and author of War is the Word that Gives Us Meaning , has written of Currier's art: "There are masses of people on this globe, even in our own cities and industrial wastelands, that no one sees, those who have become for us trash. Erin Currier not only makes us see and honor them, she shames us for the lives and things we waste. She makes us aware of our disgusting indulgence, the sickness and violence of our consumer culture. She reminds us that our narcissism has a spiritual and physical price, one that will lead to spiritual and even physical death if left unchecked and unexamined."
Northern New Mexico has been Currier's home base since 1999. "When I moved to New Mexico from New England, (she was born in Haverhill, MA in 1975) I was taken by the sky and light," she says. "But even more so, I loved the cultural traditions that persist. In a country increasingly homogenized by the single dominant and corporate culture that threatens to colonize and destroy all alternatives; I was deeply impressed, in general, by New Mexico's tricultural tradition, and, in particular, by Taos' Hispanic culture, by its retablos, bultos, santos; by its cuisine; costume; and, most of all, its respect for its ancestors, elders, and family. For some years I've done portraits of the annual Taos Fiesta Queens and their courts, which reflect and embody these values. As a socio-political artist, it was, and is, important to me to support and pay homage to these values and to these young women.
"I now live in Santa Fe, but nonetheless feel as connected to Taos as ever. In addition to maintaining close friendships with Taoseños, I feel it is important to honor my artistic roots. Taos was where I began the technique that I continue to employ; it was in Taos' cafes and galleries where I first began to exhibit my work; most significantly, the town encouraged, supported, and championed my work."
Currier continues to exhibit at the Parks Gallery in Taos, and her works of the Fiesta Queens continue to hold places of prominence in the Art in Town Hall exhibits at the Taos Town Hall complex.
By Steve Parks, December, 2011
The Parks Gallery
Photo by Robbie Steinbach